How to Flirt With a Girl – 10 Tips for Flirting With a Women
Flirting is an art that not many have mastered. If flirting is done the right way, no one gets hurt, but it backfires. The flirt or the receiver can end up with a bruised ego or an emotional setback.
Girls are mostly quite sensitive and can determine their intentions pretty fast, faster than we can imagine. How to flirt with a girl is every guy's concern. They don't want to push away girls by doing something wrong and don't want to invite trouble as well.
What is flirting?
Flirting, also known as coquetry, is a form of verbal or written communication by a person to show interest in the other person. It can signify an interest in a long-term relationship or be a mark of amusement.
Flirting can be of two types:
Playful flirting can be through interactions where both parties feel the energy of flirting. These communications are often smooth, and the person flirting should ensure that there are no hurtful comments passed and flirting falls under social etiquette.
Physical flirting means establishing a physical connection alongside the usual emotional one. Here, the flirt will playfully touch the person that adds to the overall setting of the conversation.
However, it is best to have the consent of the other party before touching them.
Why is flirting so important
When flirting is done with good intent, it involves kindness and excitement.
In simple words, flirting is communication. It is important because it helps build a connection between two people. Considering there is also emotional and sexual tension between them, flirting helps start a relationship.
So, why should you learn how to flirt with a girl?
If flirting is avoided, people will be bound to keep their feelings unexpressed. Flirting helps people understand other person's feelings as well. In fact, flirting can also help understand what works for someone and what doesn't and thereby, establishes the ground for future relationships.
Related Reading: What is Flirting? 7 Signs Someone is Into You
How to flirt with a girl in person- 10 tips
Do you often think, "I don't know how to flirt!"
]Most men make mistakes when it comes to how to flirt with a girl over text. They still follow the old age of tradition and try to act smart and end up making a fool of themselves.
Flirting is an art. Let's have a quick look at how to flirt with a girl in person without being stupid and pushing them away.
1. Don't be cheesy
What most men do is they still follow the age-old tradition of being cheesy. They believe that girls would like it when they will try to woo them over with some cheesy lines. Well, no.
When you start a flirty conversation with a girl, you have to act normal and be yourself. The only genuine conversation goes far. Fake ones suffer an untimely death.
2. Approach her in a gentlemanly way
How to flirt subtly?
Many might think that chivalrous gentlemen are extinct now. Not many behave gentlemanly these days, which certainly gives you a plus point if you do so. Girls, no matter what, love men who behave properly and make them feel special.
Keep this in mind when you flirt with her, and you will succeed.
3. Don't be predictable
When looking for how to flirt with a girl, the best thing to remember is 'don't be predictable.'
Being predictable is quite boring. You have to entice her to continue the conversation with you.
By keeping the text minimal and being predictable, you won't be helping yourself at all. The only way to avoid this is to have a conversation that would make her think. This way, she would enjoy the conversation.
4. Avoid seriousness
How to flirt with a girl? One of the answers is to avoid seriousness. You're flirting, and the last thing you would like is to get into serious topics that would put her off.
So, joke about things, talk about light topics and don't get involved in serious matters.
If she shares some things with you, lighten up her mood. She would love it and surely would remember you for months to come.
5. Avoid stupid or confusing references
It is quite natural to make references. We do it quite often when we speak with our peers or someone with similar interests in our regular life. However, this is a complete no-no in 'how to flirt with a girl' rules. You don't want to sound excellent or stupid by making references that may confuse her.
She would like to talk to you only if she feels comfortable. The moment she starts getting references that don't make any sense to her, she will go.
You surely don't want that to happen, do you?
6. Have them pay attention to your lips
It might look like an insignificant idea but try it out as one of the important tips on how to flirt with a girl. Ensure your lips are always moisturized and before you see them approach, apply some lip balm to draw their attention to your lips.
The more attractive your lips will look, the more they will think about you because there's nothing more pleasant than well-cared-for lips.
7. Subtly ask if she is seeing someone
Not all girls are out and open about their personal life. There are some who prefer to keep it hidden and refuse to share information with most people.
If you want to know how to flirt with a shy girl, then please make sure that you don't rush into things and ask her personal questions instantly.
She might get offended and would avoid you for sure. So, ask her subtly if she is seeing someone.
8. Don't just talk; listen to her
This is a common flaw with most men. They tend to share things but when it comes to listening to what others have to say, they doze off. Well, this doesn't apply if you're looking for a better solution on how to flirt with a girl.
You want her to know that you're one of those few men who are good listeners. You want her to share things with you. So, listen to her when she is saying something.
Remember, your text and the way you express yourself would define your feelings. She would judge you on this.
Also Try: What Kind of Flirt Are You Quiz
9. Bump into them
A scene straight out of the movie!
Whenever you both are in a crowded place, bump into them and make it look accidental. Once you both find your balance, flatter them by saying something like, "Oh, I am so sorry. I lose my balance seeing someone pretty like you."
10. Show it sometimes
When you are flirting with someone, it is important to not be subtle all the time.
At times, show it to them. Say things straightforward or let them catch you looking at them. You could also leave them a note with a cute saying.
How to flirt with a girl over text- 10 tips
So, let's have a look at how to subtly flirt with a girl over text since it is the digital age.
How to flirt over text with a girl? Here are some flirt tips for guys.
1. Don't start abruptly
Always set the pace of the conversation. Starting the conversation abruptly is equal to barging into someone's house without knocking on the door.
The first thing that they would do if you behave like that is to block you instantly.
2. Open up
If you're thinking about how to flirt with a girl online, then this is the best solution.
While texting, the words you use to express your feelings are important. They can act in your favor or otherwise.
So, make sure you are behaving properly and not forcing her to chat.
3. Use emojis wisely
Emojis have simplified texting a lot. Everybody is using it to express their feelings and emotions easily. So, make sure that you make the most of it. What most people neglect when they look for answers to how to flirt with a girl is that texting has evolved and is constantly evolving.
Today, we have GIFs and Emojis that can be wisely integrated into texting to make conversation smoother and clearer. So, use them often and wisely.
4. Don't mis-text her
We all have done this. Send a text and then pretend that the text went by mistake or it was meant for someone else. However, this doesn't sound right these days. So, if you are looking for ways on how to flirt with a girl, tick this off from your list. Don't ever mis-text her.
5. Don't take time to respond to her text
Girls like it when men are prompt in their replies. This shows that they're being attentive to them.
So, one of the ways to flirt with a girl is to not take forever to respond to her texts.
The long delays will create a bad impression, and things might not end on a good note.
6. Compliment her character
Complimenting is one of the ways to flirt with a girl over text without being obvious.
When you compliment a girl for her character, it only shows that you are paying respect to her standards and values. Compliments beyond looks have a far deeper impact and especially, if you are sending it in the written form, that is via flirty texts.
Check out this video to know some compliments that will completely impress your crush:
7. Send pictures
Pictures are more thoughtful than words, especially when you are texting the girl. Pictures tend to be more personal. So, you can start by sending pictures of food you are having or selfies. When you both are only friends, pictures will help strengthen the bond.
8. Get personal
You should gradually get personal with the woman. Give her a cute nickname. Start referring to you both as 'we' and 'us.' Ask her how her day went and make sure you empathize with her, whenever the situation demands.
9. Don't be lazy
Don't leave the burden of initiating the conversation on the woman. Avoid sending mere Hi or Hello. Give them something to talk about. Put in extra efforts to think of topics that could interest them, and you could participate in.
10. Send equal number of texts
Be mindful of not sending fewer texts than she does. This will show your disinterest. Also, make sure you don't send more texts than she does else, you will look desperate. Find the balance and ensure you are not the only one initiating the conversation all the time.
Flirty text examples
What are the things to say when flirting over text?
If you are in the initial phase of the relationship and wish to scale up your wooing skills, here are a few flirting conversation examples or flirty conversation starters as ways to flirt with women that you can use as and when the situation demands.
If we have time to like each other's social media pics, we have the time to text, right?
I don't have anything to talk about but just want to drop a 'Hi.'
Have you forgotten that I exist?
I am single, in case you were wondering.
Send me an emoji that reminds you of me.
Sweet dreams. I hope I am in them tonight.
I am not a good flirt, but I do well with attractive people like you.
Your kindness is the most attractive feature.
Takeaway
Flirting doesn't happen at once, and it takes time to build the art. However, it is an important skill to kickstart a relationship and discover your potential partner's interest in you.
Flirting with a girl isn't difficult. If you keep these points on how to flirt with a girl in mind, you will surely make a great impression on the girl you like.
Share this article on
Want to have a happier, healthier marriage?
If you feel disconnected or frustrated about the state of your marriage but want to avoid separation and/or divorce, the marriage.com course meant for married couples is an excellent resource to help you overcome the most challenging aspects of being married.
More On This Topic
You May Also Like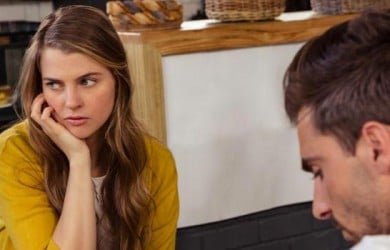 Popular Topics On Married Life