Things to Consider About Internet Relationship Advice
Almost everything today can be done through the use of the internet.
You can shop from the comforts of your own home, you can do and submit work even if you're not in the office, you can date someone and have a legitimate relationship without leaving your house and you can easily find internet relationship advice online without the need to pay for a professional fee and go to consultations and therapies.
This is great news, no doubt! You'd save money too but how sure are you that you're really relying on proven relationship advice?
Pros and cons of internet relationship advice
The internet today is filled with different articles about internet relationship advice or even professional relationship advice, with a simple search of keywords related to your problem, you'd find dozens of related relationship advice free of charge!
It's nice to know that there are free resources that we can use but how are we sure that they are legit?
What are the pros and cons of relying on Internet relationship advice?
Learning some of the pros and cons of searching for free online relationship advice on the internet is a step further into knowing which advice is beneficial and which isn't.
Internet relationship advice online can
Save you money

because you won't have to enroll on therapies.

Allow you to take time to read

in your most convenient time, just save the page and that's it!

Give you the option to s

witch from one article to another

. In case you're not comfortable with the one you've chosen.

Allow you to

share the article with other people

without the need for them to undergo therapy

No need to sign up for long therapy process

. It's easier and faster!

Internet relationship advice

online, however also has its own share of consequences.

You can get relationship advice online free but how about the quality? How sure are you of the article's legitimacy?

Anyone, and we mean anyone can write advice articles based on their experiences and don't get us wrong, but these are okay because it's their first hand experience but it's definitely incomparable to a professional's point of view.

If you are someone who can't balance your emotions, some advice online can do more damage than help. Anyone can tell you to stalk your

partner and get evidence but how far can you go and is this even healthy?
Internet relationship advice: Analyze before you apply
While more and more people are becoming overnight "gurus" in love and relationship, we, as the readers should also know what we are looking for.
A simple guide in making sure that we don't get lost in the Internet hype of to-do's and advice is what's needed to ensure that when we are looking for relationship advice sites, we actually get quality content.
Analyze before you apply.
Read through the different websites that are offering expert advice in relationships and love but make sure that you still know yourself enough to analyze everything before you apply what you're learning.
To understand, let's recognize the things that we all should consider about internet relationship advice online.
Things to consider about internet relationship advice
So, when you're in a situation where you need a clearer mind, where you want to ask for relationship advice online free of charge but want to get quality content, then consider these reminders first before you apply what you read online.
Take time to read and choose
We're in no rush here, while choosing for the right words to search for the best internet relationship advice, we also should take time to filter what really matters.
There can be hundreds of results that we can see and some of them really look convincing especially when they have many followers.
Remember that it's not just the number of followers that we should consider rather, be selective of what you'd be reading. Think of it like window shopping, you can look for the best rated advice but make sure that you will choose the right one.
Listen to your senses
Getting advice online to fix your marriage or relationship shouldn't be taken lightly.
Choosing not to go to the "experts" is a risk for you and your relationship. You'll receive a lot of advice from family, friends and of course online but at the end of the day, trust your gut. You'll still have the final say as to what steps you'll choose to take.
Anyone who has been with an expert or therapist knows that the marriage counseling is all about assisting couples in fixing their relationships. They don't tell them what to do, rather they suggest and help couples realize the best step to take. This is how it should be.
Research for real "experts"
All this advice that you'll find in the internet has its source but how credible are these sources?
Some online relationship advice can come from a broken-hearted college student, it can be from a mom who has failed relationships 4 times, or from a licensed therapist who offers free services or low-cost services online.
It's so easy to be swayed by someone who is a good talker or someone good with words but it's different when you're dealing with a professional and some of us might already know why.
This is your relationship, your partnership that's why it's important that we value an expert's opinion and most of all our own judgment.
Internet relationship advice, in general aims to help everyone experiencing trials with their relationships.
With all the benefits that we can get from these online advice websites, it's really tempting to opt for these instead of enrolling in marriage therapies. However, depending on your case, there are times where it's still best to consult a professional because after all, they were trained for these problems.
If you think it's just a small issue and you know you'll just use this internet advice as guides, then feel free to choose the best website for the best online relationship advice site.
Share this article on
Want to have a happier, healthier marriage?
If you feel disconnected or frustrated about the state of your marriage but want to avoid separation and/or divorce, the marriage.com course meant for married couples is an excellent resource to help you overcome the most challenging aspects of being married.
More On This Topic
You May Also Like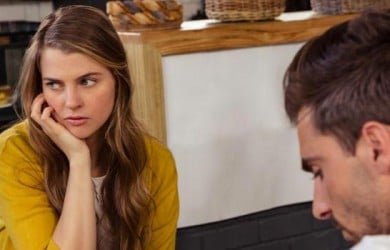 Popular Topics On Married Life