Internet Relationship Advice: Pros, Cons, Things to Consider
Almost everything today can be done through the use of the internet.
You can shop from the comforts of your own home, you can do and submit work even if you're not in the office, you can date someone and have a legitimate relationship without leaving your house, and you can easily find internet relationship advice online without the need to pay for a professional fee and go to consultations and therapies.
This is great news, no doubt! You'd save money, too, but how sure are you that you're really relying on proven relationship advice?
Pros and cons of internet relationship advice
The internet today is filled with different articles about internet relationship advice or even professional relationship advice. With a simple search of keywords related to your problem, you'd find dozens of related relationship advice free of charge!
It's nice to know that there are free resources that we can use, but how are we sure that they are legit?
What are the pros and cons of relying on Internet relationship advice?
Learning some of the pros and cons of searching for free online relationship advice on the internet is a step further into knowing which advice is beneficial and which isn't.
Related Reading: 

20 Pros and Cons of an Open Relationship
Pros of internet relationship advice
Check out these pros of internet relationship advice:
Saves money

because you won't have to enroll in therapies. This means that you will save money on the cost of therapy, and furthermore, you can get access to different therapies through internet resources.

Allows you to take time to read

at your most convenient time. Just save the page, and that's it!

Gives you the option to switch from one article to another

. In case you're not comfortable with the one you've chosen.

Allow you to share the article with other people

without the need for them to undergo therapy.

No need to sign up for a long therapy process

. It's easier and faster!

You can even access videos to guide

you through the different processes of therapy and decision-making. This is especially convenient if you're the kind of person who prefers a visual guide when learning something new.

Relationship experts can answer some of your questions in real-time

, even if they're not available when you call them on the phone. This gives you a chance to ask them about some things that you didn't feel comfortable asking face-to-face and also gives you a chance to learn more about how they think and behave in certain situations.

You get to access a ton of resources from one single platform

. This includes guides for improving your self-esteem and confidence, a guide to achieving your full potential, and many more.

You don't need to travel or go anywhere

in order for your therapist to meet you in person. All you have to do is sit down with your computer and access the resources you need from the comfort of your own home! – You have the convenience and flexibility of using the internet whenever you need it.

You can get easy access to a wide array of information

that you might find difficult to gather on your own. This ranges from tips for successful relationships to information about how to handle certain situations that might arise in your relationship.
Cons of internet relationship advice
There is a lot of relationship advice on the internet. But not all advice is reliable; some dating experts are just trying to sell a product or their own service to make money. Here are a few cons of relationship advice available on the internet:
Confusing information

– if you are confused about the issues brought up by the dating expert, then it's best that you check out other websites for more reliable information.

Advice that is outdated

– because a lot of relationship experts have their own opinions on certain topics, it is possible that their advice on a particular issue may no longer be applicable today.

Relationship advice tailored to fit the needs of the author

– there are a lot of experts who provide advice based on their experiences.

Generalized recommendations that are not specific to your need

s – while there are some topics that almost all couples deal with, there are also certain situations that are very personal and unique to each couple.

Preconceived notions

– most people have certain views on love and relationships that have been shaped by the media or the experiences of other people in their lives.

Biased opinions

– while some experts' opinions are grounded in scientific evidence, others might be based on their own biases or prejudices against a certain group of people.

No guarantees of success

– while there may be a few "quick fixes" that can get you results fast, you need to be aware that there is no foolproof formula for getting the results that you want in a relationship.

Affiliate links

– there are a lot of websites that make money by recommending products and services to people in exchange for monetary compensation. As a result, the advice they offer may not always be objective and may skew towards the product that they are selling.

Lack of credibility

– just because someone has a Ph.D. or a bestselling book doesn't mean that they are an expert on relationship issues.

Costly subscription plans

– in order to gain access to all of the information and resources offered by these websites, you need to pay a monthly fee which can add up over time.
Internet relationship advice: Analyze before you apply
While more and more people are becoming overnight "gurus" in love and relationships, we, as the readers, should also know what we are looking for.
A simple guide in making sure that we don't get lost in the Internet hype of to-do's and advice is what's needed to ensure that when we are looking for relationship advice sites, we actually get quality content.
Analyze before you apply.
Read through the different websites that offer expert advice in relationships and love but make sure that you still know yourself enough to analyze everything before you apply what you're learning.
To understand, let's recognize the things that we all should consider about internet relationship advice online.
Things to consider about internet relationship advice
So, when you're in a situation where you need a clearer mind, where you want to ask for relationship advice online free of charge but want to get quality content, then consider these reminders first before you apply what you read online.
1. Take time to read and choose
We're in no rush here, while choosing the right words to search for the best internet relationship advice, we also should take time to filter what really matters.
There can be hundreds of results that we can see and some of them really look convincing, especially when they have many followers.
Remember that it's not just the number of followers that we should consider. Rather, be selective of what you'd be reading. Think of it like window shopping. You can look for the best-rated advice but make sure that you will choose the right one.
2. Listen to your senses
Getting advice online to fix your marriage or relationship shouldn't be taken lightly.
Choosing not to go to the "experts" is a risk for you and your relationship. You'll receive a lot of advice from family, friends, and of course, online, but at the end of the day, trust your gut. You'll still have the final say as to what steps you'll choose to take.
Anyone who has been with an expert or therapist knows that relationship counseling is all about assisting couples in fixing their relationships. They don't tell them what to do. Rather they suggest and help couples realize the best step to take. This is how it should be.
3. Research for real "experts"
All this advice that you'll find on the internet has its source, but how credible are these sources?
Some online relationship advice can come from a broken-hearted college student. It can be from a mom who has failed relationships four times or from a licensed therapist who offers free services or low-cost services online.
It's so easy to be swayed by someone who is a good talker or someone good with words, but it's different when you're dealing with a professional, and some of us might already know why.
This is your relationship, your partnership. That's why it's important that we value an expert's opinion and, most of all, our own judgment.
Free online relationship advice, in general, aims to help everyone experiencing trials with their relationships.
With all the benefits that we can get from these online advice websites, it's really tempting to opt for these instead of enrolling in marriage therapies. However, depending on your case, there are times when it's still best to consult a professional because after all, they were trained for these problems.
If you think it's just a small issue and you know you'll just use this internet advice as a guide, then feel free to choose the best website for the best online relationship advice site.
Online relationship advice- 5 quick tips to improve your love life
Everyone wants a happy, healthy love life. Whether you're single or in a relationship, there are some simple things you can do to make your love life more fulfilling and successful.
By following these five online relationship tips, you can improve your relationship and create an environment that is more conducive to love and happiness.
Also, check out: 

Online Relationship Advice- 5 Quick Tips to Improve Your Love Life
Can online relationships work?
It's safe to say that we've all had at least one experience with a toxic relationship in our lifetime. Whether you've been in an abusive relationship or you've dated someone who just wasn't right for you, there's no denying that bad relationships can leave you feeling hurt and alone.
However, does that mean that you should never pursue any digital relationships again?
Not necessarily. While some people believe that dating online will never result in a healthy long-term relationship, the truth is that technology has made it easier than ever to find a partner who is right for you.
We live in a technology age, and the following online relationship advice might improve the quality of your dating life.
Is an online relationship a good idea?
Of course, online dating comes with its own set of challenges. Unlike traditional dating methods, you won't have the opportunity to build a relationship with someone in person before you decide whether you want to be together or not.
This means that you have to be careful when selecting your profile photos so that you don't attract the attention of potential scammers.
It's also important to be extremely careful when interacting with strangers online and never give out any personal information unless you are 100% certain that the person is trustworthy. Despite these risks, there are plenty of reasons why people choose to pursue an e-relationship instead of a traditional one.
Takeaway
When seeking a relationship, it is best to seek one in the safest and most secure way possible; choosing a person who you feel comfortable with and whom you can trust is essential in maintaining a good relationship.
So, the next time you're considering jumping into the dating world again, keep in mind that there are many pros and cons of going digital with your search for true love. The most important thing is to remember that the only person you should try to please is yourself.
Share this article on
Want to have a happier, healthier marriage?
If you feel disconnected or frustrated about the state of your marriage but want to avoid separation and/or divorce, the marriage.com course meant for married couples is an excellent resource to help you overcome the most challenging aspects of being married.
More On This Topic
You May Also Like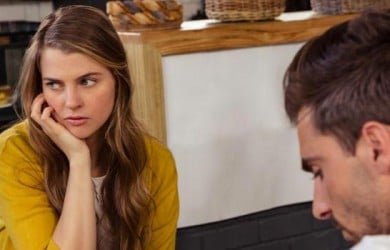 Popular Topics On Married Life