How to Approach Online Dating
The internet has forever changed how we date. Online dating is now the norm, which comes with many benefits, including convenience, increased variety, and efficiency.
What remains the same (and maybe worse), however, is the vulnerability and uncertainty that comes with putting yourself out there.
While technology makes it easier to see who is available, I'd argue it has actually increased the uncertainty factor. And when there's uncertainty, we know worry and anxiety may not be far behind.
As a therapist specializing in anxiety and OCD, I'm trained in various ways that help people work through excessive worry.
But you don't have to have a disorder to find your anxiety go up a level (or two) when dating. Still, you can use these methods to help you through it.
For example, I personally found myself referencing exposure therapy in my own online dating experiences.
Online dating feels an awful lot like an "exposure," which is therapy-speak for doing something you've been avoiding because of anxiety.
Exposure therapy is highly effective. In my therapy practice, I use it to help people face their fears or anything they might be avoiding.
While I could write pages about all that exposure therapy entails, for our purposes here, I'll boil it down to learning how to do hard or unpleasant, uncertain, or uncomfortable things in a systemic way.
Technology and dating
Technology increases the uncertainty factor because it focuses on the options: if you don't like someone, return them for another one — instantly.
"Add to cart" takes on a whole new meaning. Meanwhile, you, the returned merchandise, are left to guess what happened.
Research has shown that the success of online dating hinges on finding an instant connection and immediate chemistry, which research shows are not indicators of long-lasting relationships.
Then we have social media and texting, which have made it easier for people to avoid basic communication skills.
Entire generations of daters may never know what it's like to pick up the phone to get to know someone or to express that they want to go in a different direction.
Online dating has made avoiding too easy — and that has consequences on all sorts of levels.
Both people, the one avoiding and the victim of avoidance, are left to fill in the blanks with stories they make up.
Those stories can become the foundation for second-guessing and low self-esteem. And anxiety.
Also watch: The math of online dating

How to stay grounded?
How to approach online dating? And how to succeed at online dating?
When starting online dating, be curious, open-minded, and grounded, this can help minimize the negativity.
Here are 5 successful online dating tips to help you control and guide your anxiety.
Be aware of your mindset
If you think "I hate that I'm single. These people look awful," then everyone will meet your expectations. If you can retain some curiosity and compassion, you may be pleasantly surprised.
Let yourself acknowledge that this feels like hard work.
The first online dating advice is to remember why you're doing it. Remind yourself that you're going through it because connections, relationships, and intimacy are important to you.
Try not to care about the outcome
So hard. When we look for something too much, we become obsessed with how it'll end and forget the process. We're more likely to be disappointed. Revisit #1 advice for online dating.
Stay in the now
No matter where you are in the process ground yourself in reality instead of what IF or COULD BE.
This is essential. Try to stay mindful and bring yourself back to the present whenever you start to project into the future.
For example, when you're looking at someone's initial pictures and imagining if your friends (or kids) will like him, you are definitely not in the now! Come back.
Change your behaviors, and your thoughts will follow
Identify what behaviors are making your anxiety worse and try to stop doing them.
Some common examples include checking text messages constantly or going over and over the date in conversations with friends.
When you feel you want to do these things, try this tip for online dating and remember that you're stronger than that — they'll pass if you don't engage.
Expect this new way of dating to be hard
And by a new way of dating, I mean your new outlook and perspective. Learning anything new is hard, and it requires repetition and consistency.
Embracing uncertainty
Facing the fears around the future's uncertainty will make life so much easier. You don't know if the other person will like you or if they'll call.
Maybe you had a great time, and they still don't call (so common). Some times you would be deceived or lied to, and many times, your fears will come true. So what? Your focus must stay on how you can bounce forward and not backward.
Follow these internet dating tips to not get caught up in the chasm of online dating anxiety.
Share this article on
Want to have a happier, healthier marriage?
If you feel disconnected or frustrated about the state of your marriage but want to avoid separation and/or divorce, the marriage.com course meant for married couples is an excellent resource to help you overcome the most challenging aspects of being married.
More On This Topic
You May Also Like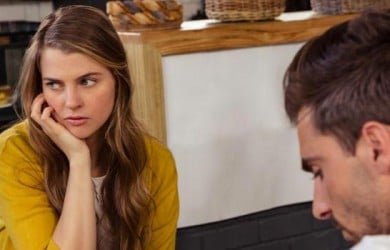 Popular Topics On Married Life