7 Online Dating Mistakes to Avoid
Sometimes you may just meet the one for you at the oddest of places. Now in the rise of online dating apps, the right one might be one swipe away.
Online dating is an awesome way to meet new people–more specifically, single people. It is fairly easy to get started (you only need a phone and a solid internet connection), however, people still stumble and make mistakes.
They either follow their friends' advice, being completely unaware of the mistakes people make when dating online, which may not be the best or they walk into things hoping too much.
This stops them from being successful, which in turn makes them think online dating isn't right for them.
The popular they become, the more bad advice you will find floating about when it comes to online dating. So, here's some good advice instead to help you understand the seven online dating mistakes you should never make.
1. Don't be so picky
All of us are guilty of having the idea of this ideal man or woman in our head but in real life, we are more likely to meet a unicorn than the woman or man of your dreams. And to enforce these ideals onto people you meet online is not helpful at all if you want to score that first date.
However, it is very easy to fall into a trap when looking through profiles online since people put so much about themselves on their profiles and you just end up being pickier than ever.
If you like jazz and they like pop music, it doesn't mean you say no to them immediately—you cannot decide who's not compatible based on music choices alone.
2. Don't send creepy or boring messages
This is definitely one of the deadly mistakes to avoid in online dating.
Nothing makes someone not respond to you like sending them a "What's up?" It's boring and honestly, extremely difficult to respond to, so why don't you choose something from their profile (a common interest or a pet) and ask them questions about that instead?
Firstly, it makes you look like you are genuinely interested in knowing this person,

Secondly, it keeps the conversation going.
Also, do not send any creepy messages or hound them if they are not responding—for all you know they may be too busy or traveling to respond to you.
3. Stop lying on your profile
When you write up your profile, refrain from lying about yourself.
It is never a good idea to lie because your bio is the first thing potential matches will see and if your lie attracts them, it will only hurt you when they will discover that you are not who you say you are.
Don't put things that you do not like or do on your bio, be honest, let it be known in your bio, for example, you like vintage movies or that you have freckles on your nose. Chances are, someone might actually choose you for those things and find your freckle or hobbies adorable.
4. Don't use wrong photos
Speaking about glaring online dating mistakes, you should never make in your life; this one will definitely top the list.
This is self-explanatory but it is always a good idea to use your own, recent photos on your profile. The picture is your match's first introduction to you. So, why would you want it to send the wrong message?
Don't use images that are ten years old or group photos; don't put photos that are intentionally or unintentionally blurred either. Your first introduction need not be perfect but it doesn't have to be something that makes you unrecognizable also.
5. Always consider your safety first
It is easy to get excited and get carried away when you find someone interesting online and they are maybe just what you are looking for in a partner. It is also easy to forget every precaution.
Though hoping it never happens to you, it is a known fact that people use apps to gain information about others or try to harm them, so it is always strongly recommended that you put your safety before anything else.
Don't add your real number on your profile and use an alternative email address; when going out, tell a friend or a family member where you will be and always pick a public place to meet.
Lastly, if your date keeps on insisting to meet at their house or at some remote place for the first date, just say no.
6. Be proactive
You have made the profile, you have put your best selfies on your profile, you have swiped, you have matched but you are not doing anything to initiate anything and are instead waiting for the other party to respond.
What if they are busy or someone else has already snagged their attention while you patiently waited? Be active and if your match is interested in you, take the first step and start talking.
Don't always wait for others to contact you first.
7. Accept failure—you will get other chances
Online dating doesn't really protect you from breakups and heartaches, and even after many dates, you may realize you are not at all compatible with your date.
There's nothing wrong in clearing this out with your date and if they agree, then it's fine, accept the circumstances gracefully. After all, relationships don't come with a manual that everyone can follow, and in the world of online dating, rules even matter less. So not every fling needs a melodramatic end.
You may think it is easier said than done, but you have to be practical, there are literally so many people out there who might be more compatible with you.
Online dating is a maze
The world of online dating is a maze, indeed, but it is not too difficult to navigate.
The first thing you obviously need to remember is to be real, be genuine to others as well, and just because online dating is mostly virtual, it doesn't imply you put on a mask and try to be someone you are not.
Plenty of people create an online persona they think is attractive, but they are more likely to fail because discovery is ultimately inevitable.
So, hope this guide helps you figure out this new and exciting world and help you find the right one! Also, guide you on the seven online dating mistakes you should never make.
Share this article on
Want to have a happier, healthier marriage?
If you feel disconnected or frustrated about the state of your marriage but want to avoid separation and/or divorce, the marriage.com course meant for married couples is an excellent resource to help you overcome the most challenging aspects of being married.
More On This Topic
You May Also Like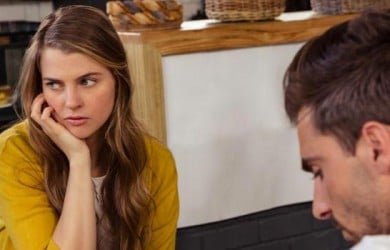 Popular Topics On Married Life