The Difference in Online Dating Behaviors Between Women & Men
People are known to have an urge for romantic relationships. Finding a partner can be challenging nowadays for many reasons: limited social circle, location dependence, busy schedule, and so on. Therefore, online dating appeared as a solution to help people overcome all these challenges and find the person they want to be with.
Online dating is a great way to meet like-minded people who, even though they are miles away from you, can become your partner. But, do men and women behave the same when it comes to online dating? Studies have shown that when people are involved in a romantic relationship, their physical and emotional wellbeing are improved. A happy romantic relationship is considered to be a catalyst for human happiness. So, since online dating has become so popular in helping people develop romantic relationships, can we consider it a tool to make people happier?
What is the difference between online and offline dating?
Because of the people's limited social circle, it has become very difficult to find a romantic partner. People usually ask for the help of their family, priests, or friends to introduce them to a potential partner.
When it comes to offline dating, people can get a potential date by approaching the person directly, being introduced by someone in their social network, or going to a blind date established by a close friend or relative.
Online dating is somehow similar to offline dating. Since people no longer have enough time to socially engage, online dating helps them widen their social circle and browse through different profiles to find the matching partner.
Just as it happens in offline dating, when the user decides to go for online dating, he knows very little about the other party. So, it's the user's responsibility to take things forward.
Do men and women react differently when it comes to online dating?
A study conducted by researchers from Binghamton, Northeastern and Massachusetts Universities discovered that men tend to be more aggressive when they interact on online dating websites. Therefore, they send a lot of private messages to various women.
Men are not so much interested in how attractive they might seem to the other person. It is their interest which is the most important and this makes them send messages to everyone who seems interesting to them.
However, this is not a solution which results in success every time.
Women, on the other hand, have a totally different attitude. They tend to analyze their own attractiveness and think of the chances they have for a successful match before they send a message.
This self-conscious behavior has more success than in the case of men. Therefore, because they send a message only to those who are more likely to reply back, women receive more responses and have chances to develop a romantic relationship faster.
Do men and women have the same goals when they go for online dating?
Men prefer online dating websites, whereas women feel more comfortable when they use online dating apps. What is more is that when people age there is a stronger need for online dating, either for love or casual sex. Moreover, the older participants preferred to use an online dating website instead of an application.
One of the most important motivators for online dating is the sexual relationship.
Men are generally interested in casual sex, while women were actually looking for commitment and hoping to find the love of their life through online dating websites.
However, these patterns suffer some changes when a new factor was taken into consideration, which is "sociosexuality".
There are people who want to have sex only with those with whom they establish an emotional bond. On the other hand, there are people who don't need that much commitment for a sexual relationship. Therefore, when it comes to online dating, unrestricted men and women use online dating websites for casual encounters. The restricted men and women are at the opposite pole, looking for exclusive love when they sign up for an online dating profile.
How picky are men and women in online dating?
Researchers from the Queensland University, Australia, found that men become pickier with age. Their study analyzed the profiles and behaviors of over 40,000 users with ages from 18 to 80. They found interesting differences between the way men and women present themselves when they meet someone online. For instance, women between 18 and 30 are very specific when they talk about themselves. This attitude is associated with their most fertile years when they want to show the best of them to attract the opposite sex. On the other hand, men don't give as many details only until they are after 40. This is also the age when the study showed that men become also pickier than women.
Is online dating permanent?
72% of the American adults prefer online dating sites. USA, China, and UK are the biggest markets at the moment. These numbers show that users are more open to trying the option of online dating and the potential is still growing. However, the differences between genders still exist.
For instance, women are less open than men to find a partner online. This is obvious if we think that men are the ones who send more messages than women even though they don't receive a reply as often as women do.
What is more, a woman around her 20's will be looking for older men to date. When she reaches her 30's, the options change and women will start looking for younger partners. In addition, women pay attention to the level of education and socio-economic factors. On the other hand, men are more preoccupied with the women's attractiveness and physical appearance. Finally, even though online dating wants to demolish the geographic distance barrier, users from the same cities exchange almost half of the total number of messages.
With more than 3 billion people having access to internet every day, it is evident that online dating will grow a lot in the following years. It can be also seen as a wide social network, helping people find a romantic partner. While there are behavioral gender differences between users, online dating has a great contribution to the individual's emotional and physical wellbeing.
Share this article on
Want to have a happier, healthier marriage?
If you feel disconnected or frustrated about the state of your marriage but want to avoid separation and/or divorce, the marriage.com course meant for married couples is an excellent resource to help you overcome the most challenging aspects of being married.
More On This Topic
Recent Articles
You May Also Like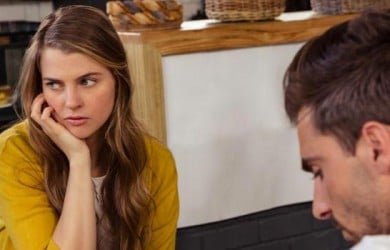 Popular Topics On Married Life