What Is Instant Relationship Syndrome and Why It Is Bad for You
In a society where everyone is in one relationship, it's easy to develop an instant relationship syndrome. Why is moving too fast in a relationship wrong for you? Learn more in this article.
The statement, "love at first sight," is real. You can meet someone in hours, and the chemistry develops almost immediately. You feel like you have known this person your whole life, and they, in turn, understand you more than anyone.
Usually, you will want to use that kind of opportunity to keep this person by your side for all days, months, and years. Then, you begin to show this other person the hint that you want them in your life.
Nothing matters at that moment unless you are satisfied they are your other half. There is nothing wrong with displaying your affection for someone openly. The only problem is the timing. You may be acting in love too soon that the other person becomes wary.
This attitude falls into an instant relationship type. Could you be rushing into a new relationship? Why exactly is it wrong to have instant relationship syndrome?
What is an instant relationship
An instant relationship describes a situation where you think and act like you are already in a relationship with someone. This behavior is triggered by a feeling or attraction which makes you act like someone is already your lover when they have no idea.
An instant relationship syndrome may begin with a casual meet-up – a simple conversation and then the understanding between the individuals click. At that moment, the person with instant relationship syndrome starts picturing a relationship with the other person. They already imagined how life would be with that person in their life.
When someone has an instant relationship syndrome, there is an unconscious commitment and mutual understanding in their mind. The other person may consider them a casual friend, somebody new they just met, or an ordinary acquaintance.
They become fearful when they notice certain behavior indicating that someone feels they are in a relationship. Consequently, it chases them away. In some situations, you don't need to show much – the slightest hint that you want a relationship is enough to make the other person run away.
On the other hand, you don't understand why your attitude can chase a potential spouse away. After all, you thought you were both on the same page. Besides, you may feel there was no way you could have ignored the person.
When a guy wants to be in an instant relationship, he may wonder if rushing into a relationship is the right decision. Or is the relationship too intense too soon? How do you avoid such a situation in the future?
How to avoid falling into an instant relationship: 5 possible ways
If you have experienced instant relationship syndrome before, you know how embarrassing it can be. It takes work to pass on someone who is likable and fulfills all your expectations. You have good intentions, but the timing could be better. Luckily, you can avoid moving too fast in a relationship.
Check out the following tips to shield you from falling for an instant relationship:
1. Calm down
Whenever you meet someone who seems perfect, you should calm down. Remind yourself that this person is new, and it's normal to feel like you do. Rather than think of how to have them as a partner, focus on the conversation, and enjoy it.
2. Set a timeline for yourself
If you can't help yourself from moving too fast in a relationship, you should set a timeline for yourself. Anytime you meet a potential spouse, make it a point to wait at least two months before attempting to date them.
Restricting yourself to such a time frame ensures you have enough time to know them well.
It is important because sometimes you might think you know someone well enough, but you don't. This person may look perfect and exhibit the most down-to-earth attitude, yet have certain attitudes you might not like. Giving yourself time is a way to watch before committing.
3. Focus on communicating
One way to distract yourself from an instant relationship is to spend more time talking than getting affectionate with each other. Communication helps to build understanding between two people. Also, it enables you to know a person more, which can affect your decision.
The best relationship is one where the partners take their time to know each other through intentional communication. Ask lots of questions – it's a way to know your potential partner more and make them like you.
Watch this video for warning signs you are dating the wrong person:
4. Ask meaningful questions
Intentional communication means discussing interesting subjects and asking important questions. Don't just go about asking usual and random questions. Instead, focus on questions that reveal their personality, background, values, and principles.
Questions that revolve around these subject matter reveal who a person is. Basic questions like their favorite meal (although important) might only help you a little. Rather, ask, "What's it like growing up in your?"
Related Reading: 

125 Good Relationship Questions To Ask Your Partner
5. Don't see them often
Another way to avoid rushing into a relationship is to reduce the number of times you see them. Truly, most couples know a lot at the early stage of their relationship. That's because their affection is still new and needs a lot of assurance.
However, if you are a victim of instant relationship syndrome, regularly seeing it initially may not help you. Instead of getting to know the other person better, you become more entangled and impatient. You find it challenging to slow down your feelings.
Therefore, see this new person for two days a week at most. It's one of the best ways to restrain yourself from moving too fast in a relationship.
Instant relationship syndrome: 5 reasons falling too soon is bad for you
Sometimes instant relationships work for some people. However, there is nothing as good as knowing someone to some extent before getting into a relationship with them. Check out the following reasons which show that rushing into a relationship is bad for you.
1. Your feelings might not be clear
One reason to stay clear of rushing into a relationship is that your feelings may be deceiving. You can't be sure what you have for this person is true love. Both lust and love start the same way – a strong attraction to someone.
However, with time you can tell if you have true love. You will need more time to discover your true feelings in time to rush into a relationship or move too fast. On the other hand, true love grows gradually over days, months, and weeks. Therefore, it's important to start a relationship with friendship.
Related Reading: 

12 Reasons Why You Need to Build Friendship Before Relationship
2. It can push the other person away
Another effect of moving too fast in a relationship is that it could signal a red flag to your potential lover. People have different personalities and how they want their relationships.
Some people take their time in their relationship. They like to observe things before making a decision. If you are attracted to such a person, and they smell desperation in you, it will chase them away.
3. It can send other potential partners away
When a guy wants to be in an instant relationship, it can send other potential suitors away. Similarly, saying yes too quickly to someone who might not intend to commit to you might push other potential spouses away.
It becomes clear to everyone that you have already chosen. However, you have not chosen, and the person hasn't either. It's just you and your mind playing games.
4. You might lose your self-esteem
Your self-esteem means self-respect. It is the confidence you have in yourself and your ability. It gives you pride and makes you walk tall. However, you lose respect for yourself if you have instant relationship syndrome.
You act desperately in the presence of someone who might not care about a relationship. It makes you vulnerable, and the other person might take advantage of your feelings.
Related Reading: 

10 Ways On How Low Self Esteem Affects a Relationship
5. The other person might take advantage of you
Finally, people might take advantage of you if you have instant relationship syndrome. When a relationship is too tense too soon, some people might use the opportunity to feed on your weakness. You like this person and want to be in a relationship with them so badly.
Once it becomes obvious, you might become a puppet for them. For example, you may become a victim of fraud dating, or they may extort money from you. It's easy to give in to these situations because you would believe you are acting in love.
Commonly asked questions
Instant Relationship Syndrome, also known as "love at first sight," is a common phenomenon in modern dating culture. This section of the article aims to answer some more questions about its causes, effects, and how to navigate through it.
Is falling in love too fast a red flag?
There is no right or wrong answer to this question. Falling in love too fast can be helpful, and it might not. When partners are on the same page and reciprocate the feeling, falling too quickly is not a problem.
On the other hand, if only one person falls in love too fast and the other person doesn't feel the same way, there might be an issue.
Do quick relationships last?
It is only possible to tell if quick relationships last. Moving fast into a relationship might help some people, and it might not help others. Nonetheless, you and your partner should take time to know each other better and know what you want in the relationship.
Let love take its course
An instant relationship syndrome indicates a behavior that shows you want to be in a relationship with someone very soon. While this is okay, it might go wrong. The reasons it might be bad for you have been explored fully in this article.
It is best to take your time to go through them. If you need more help, you may find relationship counseling helpful.
Share this article on
Want to have a happier, healthier marriage?
If you feel disconnected or frustrated about the state of your marriage but want to avoid separation and/or divorce, the marriage.com course meant for married couples is an excellent resource to help you overcome the most challenging aspects of being married.
More On This Topic
You May Also Like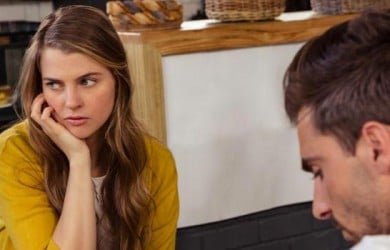 Popular Topics On Married Life