Depression in Marriage: A Reaction to Too Much Anger?
An anger-free marriage is not only a more pleasant one but beneficial for everyone's health, including mental health.
What is anger?
Anger fuels a fight response that can help humans and other animals to survive. When you perceive a threat to your status, safety, values, or desires—that is, to something you want—anger mobilizes to help you get it.
Anger releases cortisol's into the bloodstream, tensing your muscles and increasing your heart rate. These physical chances prepare you to fight to defend yourself. The angrier you feel, the higher the odds that you will strong enough to prevail. The winner! Except….
The price of anger
Alas, your spouse then may respond with a similar anger reaction. Anger can be highly contagious. Two angry spouses? Now you've got a fight on your hands.
Or maybe your spouse will retreat. The price of submission to your anger will be depression. Whoops.
What is the connection between anger in marriage and depression?
When you get angry, the goal may not be to get your spouse to feel depression. Still, by angrily asserting a dominant position to get what you want, you are inviting your spouse to respond by giving up. Giving up triggers depression.
So while anger may win you the war for what you want at the moment, it also wins the booby prize by harming your spouse, the partner you love and depend upon. Anger damages your spouse's affection for you. And it invites your spouse to feel depressed.
Anger, depression and marriage problems
It is unrealistic to expect to never feel a moment's irritation at your spouse. Low-level anger like irritation or frustration often emerges from not feeling listened to, not feeling respected, feeling unfulfilled, from feeling hurt by a spouse's actions, or even from something as simple as your spouse not doing something the way you would like it done.
When hurt engenders the impulse to hurt the other, however, you both become at risk for entering into a whirl of anger. That whirl is likely to include feelings of depression for both of you as well as mutual anger.
A study published in the Journal of Family Psychology in 2007 found that 25 percent of newlyweds admitted to becoming physically aggressive with each other (pushing, slapping) during an argument. This kind of behavior is out of line for mature individuals in a loving relationship. Yet none of the new spouses felt abused or in danger in their relationship and reported being generally happy. Unfortunately, their attitudes are unrealistic.
Anger corrodes love. Anger upsets your partner, engendering depression. Anger is stressful on your body. And anger invites more anger, within you and also in your spouse.
Escalated angry actions such as name-calling, throwing things, or physical aggression make matters even worse. These are verbal or physical abuse. Don't go there.
How much anger is too much in a marriage?
Ideally, any angry voices or actions are too much.
Research from the Gottman Institute, corroborated by numerous other studies, suggests that certain kinds of angry behaviors are particularly linked to negative outcomes such as health issues and higher divorce rates. Vindictiveness, personal attacks, sarcasm, contempt and vicious fighting rank especially high on the list of harmful angry actions.
Interestingly, Dr. Gottman found that eye-rolling, though subtle, was a particularly strong predictor of a couple's eventual divorce.
Some couples that bicker frequently yet were able to successfully soothe and reconnect afterward did tend to stay together in the long run. That still doesn't mean though that bickering is the way to go.
And bickering implies equal power. If, by contrast, one of you tends to become dominating when you argue, say by yelling louder or acting more threatening, the harm done to your partner will be worse, and the odds that you will stay together zoom downward.
Angry spouses raise angry and/or depressed children
Perhaps most tragic is the reality that anger and its Siamese twin depression perpetuate themselves through generations. You most likely learned your anger patterns from one or both of your parents. If your family members used anger to get what they want or resolve conflict, you are at risk for doing so so as well.
The good news, however, is that excessive anger and the depression that anger can induce in your partner can stop with you.
By contrast with popping off in anger, learning how to respectfully and calmly settle differences with your spouse provides a valuable role model for children. In fact, seeing Mom and Dad resolve conflicts peacefully has been shown to increase children's well-being and sense of security.
Sound good? Your kids, your spouse, and you yourself will be the eternal winners.
Share this article on
Want to have a happier, healthier marriage?
If you feel disconnected or frustrated about the state of your marriage but want to avoid separation and/or divorce, the marriage.com course meant for married couples is an excellent resource to help you overcome the most challenging aspects of being married.
Learn More On This Topic
You May Also Like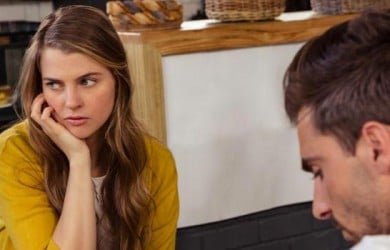 Popular Topics On Married Life