4 Basic Means to Improving Your Relationship with Your Spouse
Many married couples suddenly find themselves in a place where their relationship needs improving – badly. It might be any of the million possibilities of why their marriage isn't working.
And it could be that they are as cold as an icicle or in a daily routine of fights that make hell sound like a nice place to spend your holiday in. But, if you intend to continue living in a marriage, why not make an effort to make it an enjoyable one?
Here are four foundations of every good relationship and how to work on them to fix your marriage.
1. Healthy and constructive communication
By far the most important aspect of any relationship is communication. Constructive communication is a must in business, friendship, and, most certainly, in marriage.
However, in marriage, more than in any other human interaction, communication is often inadequate, or downright toxic.
There are many nuances of unhealthy communication, from withdrawal to verbal aggression.
Regardless of the quality of communication in your marriage, it almost certainly can be improved. Even the happiest of couples always have something to work on in this area. If you wish to improve your relationship, start by analysing the patterns of communication in your marriage. You could take an assertiveness test to determine your communication style, for example.
Then, dedicate some time to learning about healthy communication. For example, avoid the use of attacking "You" language and replace it with "I" sentences instead. Notice the difference between: "You make me so angry" and "I get really upset when you say such a thing".
There are many other similar rules of healthy communication you can and should implement into your relationship to improve it.
2. Accepting your differences
If your marriage isn't what it used to be, it might be because you got stuck on how different you are. Or how annoyed by the differences you are, more precisely. When you first started dating, things were probably very different. You were mesmerized by everything about your then spouse-to-be.
Now, after years have passed, you no longer think that your spouse being the daredevil is so magnetizing as you used to. You used to love his or her free nature, but now it's just the constant point of disagreements between the two of you, especially with children involved.
To improve your relationship, you need to learn to accept your spouse as an individual and respect your differences. You used to love him or her for everything that they are, remember those times. To help you with settling the issues that might arise from your conflicting natures, go back to the first advice in this article.
3. The healing touch
Another area in which many married couples could use some enhancements is physical intimacy. With time and day-to-day stress, most of us lose touch (pun intended) with passion and physical attraction that was so great when they met each other.
The best frequency of sex in marriage is individual, but a physical exchange of affection should always be a part of marriage.
Even if your sexual life is satisfactory it's always good to go back to basics. But, if you're experiencing a dry spell, you should get focused on the following steps even more. Start by reinforcing the foundations of your marriage, your friendship and love for one another. No need to get right to sex.
Then, the same way as when you were just starting to date, begin holding hands again and maybe occasional gentle caressing, nothing sexual. With time move on to petting or non-coital sexual activities. Only after you feel that the excitement once lost has come back to your marriage you should move to renewed passionate sex.
4. Growing as individuals together
One thing that often gets disregarded in marriage, especially when you're both still enchanted with each other, is the necessity of self-development for each spouse individually. People, in their best intentions, start considering themselves as a part of one whole, of a couple.
This is lovely at the beginning of a marriage, but in time it tends to become the leading cause of discontent in the relationship.
Having shared plans is a must in marriage, of course. But, that doesn't mean you should completely abandon your personal ambitions and dreams. On the contrary, a good marriage is characterized by allowing both spouses to pursue their passions and aspirations.
So, if you'd like to improve your relationship, talk with your spouse openly about their and your wishes and how to make them come true. And remember to support each other all the steps on the way.
Share this article on
Want to have a happier, healthier marriage?
If you feel disconnected or frustrated about the state of your marriage but want to avoid separation and/or divorce, the marriage.com course meant for married couples is an excellent resource to help you overcome the most challenging aspects of being married.
More On This Topic
You May Also Like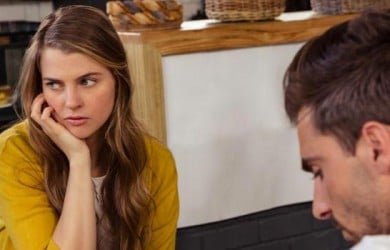 Popular Topics On Married Life