Story Time – How We Met and Married
The amazing thing about love is that it has a way of showing-up and surprising us. Try as we might to keep intimate entanglements at bay as we pursue jobs, higher education, and altruistic projects, love often finds its way into our hearts and vision. And when love shows up, we often are not match for its sweeping power and pull.
Mike kept telling his friends, "I'll never date a freshman." The senior, student body president had his eyes fixed on fixed on graduation, law school, and a career in politics. Having emerged from several difficult relationships, straight-laced Mike was no longer interested in being entangled in another disastrous partnership. "Eyes on the prize," became Mike's mantra, even as a flood of young, available coeds flooded the lush, green campus.
Sally arrived at college with a free spirit and a heart for altruism. Her "hippie attire" and instance on carrying a coffee cup with her at all times, turned heads on the relatively conservative campus. Mike didn't notice Sally at first, as women were always circling him in an attempt to woo the "big man on campus" into a round of flirtation. One day, however, Mike was knocked off his feet by the vixen who arrived at the college in a hippified Chevy sedan. On a Friday afternoon, Mike noticed Sally. Preparing for a speech to the student body, Mike watched Sally march across the quad in a confident manner. "She looked like a dreamer," Mike would later say, "Sally walked with the gate of someone attuned to the rhythms and melodies of the universe." Little did Mike know that Sally had noticed Mike too.
Mike was afraid of connection
Painfully shy despite his outward projection of strength and command, Mike was terrified of connecting with Sally. While they had a few cordial conversations in the days that followed, Mike sensed "she's not interested." Ah, but Sally was interested. In a dance of clandestine attraction, Sally was already pining to connect with Mike in the same way that Mike was hoping to connect with Sally. Mutual interest would soon be confirmed in a delightfully unorthodox way.
Sally tried to get his attention
Mike was a member of his college's small marching band. A sousaphone player, Mike carried the biggest instrument in the band, an instrument with a giant brass bell that faced the sideline. Sally hatched a plan to get his attention. As the band approached the sideline before and after the performance, Sally started to throw small pieces of ice toward Mike's sousaphone bell. Like a seasoned NBA point guard, Sally could precisely toss the ice into the bell of the instrument. Mike didn't notice the sharpshooter at first, but realized someone on the sideline was attempting to garner his attention. Finally, he heard the giggles. There on the sideline, a cadre of young women was giggling and pointing at Mike as he exited the field. Who was at the center of the assembly? Sally from the freshmen class.
From the second half of the football game forward, Sally and Mike were a pair. Fueled by their uncommon "connection story" and their passion to do some good in the world, Sally and Mike drew energy from one another as they continued their undergraduate studies. It wasn't long before the couple discovered that they were nurtured in "different worlds." Despite her hippie persona, Sally was the product of a wealthy family with a pedigreed past. Mike, on the other hand, was a first-generation college student from a blue-collar background. They made it work and made a pact. Sally would finish her undergraduate degree and Mike would complete his graduate work before the considered the prospect of marriage.
Mike proposed to Sally
After three years of a fruitful, long-distance relationship, the proposal finally arrived. Mike met Sally on the football field where the "ice had been thrown," and had his old buddies from the marching band at his side. After serenading Sally with a beautiful, instrumental ballad, Mike removed a borrowed sousaphone from his shoulder, reached into the bell of the instrument, and presented Sally with a one carat piece of "ice." A full circle moment.
They got married
A year later, the unlikely couple married on the quad of their college. It was beautiful spring day replete with blooming azaleas and dogwoods. Once again, the marching band was in attendance, offering the couple a plethora of ballads and dance tunes for their grateful ears and feet. For the next eight hours, a moonlit celebration ensued around the lovers. The next day, after the haze of the celebration waned, the couple boarded a plane with backpacks in tow, and departed for Africa for the beginning of a two-year stint with the Peace Corps.
Who knew that sousaphones had the power to kindle the flames of attraction? Mike and Sally, from different worlds, fanned the flame of relationship after a serendipitous exchange on a football Saturday. The rest, as they say, is history.
Share this article on
Want to have a happier, healthier marriage?
If you feel disconnected or frustrated about the state of your marriage but want to avoid separation and/or divorce, the marriage.com course meant for married couples is an excellent resource to help you overcome the most challenging aspects of being married.
You May Also Like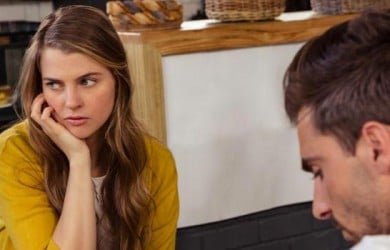 Popular Topics On Married Life