How To Spot A Dangerous Man Before You Get Involved
Unfortunately, the world's harsh reality is that there is no shortage of danger. Be it dangerous situations, significant dangerous events, or dangerous people.
In particular, getting romantically involved with a dangerous person can be extremely harmful to you and your loved ones.
So, learning how to spot a dangerous man is a vital skill that women must possess. The point of learning how to spot a dangerous man or the toxic traits in a man is imperative for your well-being and safety.
As mentioned already, it's not just a matter of your safety. When you're in a romantic relationship or marriage with a dangerous man, the safety of your family members (including your kids) and friends can also be jeopardized!
Learning how to spot a dangerous man is especially important for a woman who has a history of poor or failed romantic relationships. You may find yourself especially susceptible to getting attracted to a dangerous individual.
If you find yourself questioning: "is he dangerous?" continue reading to learn about the various signs of a dangerous person, what makes a man dangerous, and much more.
Categories of dangerous men
In her book, Sandra L. Brown presented the concept of categorizing men into subtypes of danger that teaches women effectively how to spot a dangerous man before considering getting involved in a romantic relationship with a man.
However, some questions and criticisms have been put forward to Brown's categorization of dangerous men. Brown's conceptualization of danger and categorization of men with toxic traits has been criticized for being too generalized or broad by nature.
According to Brown, a man is dangerous if he shows signs of pathological and/or personality disorder(s). Brown has also opined that it isn't worth a woman's time and energy to consider getting involved with such a man because such individuals never change and will always be dangerous.
However, it is up to your judgment to learn and apply what seems right to you and discard what doesn't match your values.
However, it is essential to remember that some of the traits of a dangerous man involve physically, verbally, sexually, financially, and emotionally abusing his partner. Please remember that domestic violence is a heinous crime.
Related Reading: 

How to Deal With Domestic Violence
The 8 main types of dangerous men
Let's now look at the types of dangerous men, as outlined by Brown. Learning about these types of dangerous individuals is imperative to learning how to spot a dangerous man.
The types (as per Brown) are:
1. The permanent clinger
These are the type of men who often label themselves as victims. Such individuals are highly needy. Therefore, they are clingy when in a romantic relationship.
Being with such individuals can be highly draining (both mentally and physically) as the concept of boundaries or personal time and space is non-existent with such partners.
2. The mentally ill man
Irrespective of functioning, such individuals have diagnosed or identifiable mental illnesses. It may just be a singular mental illness or multiple illnesses. The main emphasis is on those individuals with personality disorders by mental illness.
3. The addict
This category of signs of a dangerous man is a catch-all one. Men with substance abuse or addiction issues are dangerous when in relationships.
Addictions include hard drugs, cigarettes, alcohol, gambling, pornography, food, sex, and so on.
4. The parental seeker
This is another unique type of clingy man. Such men usually come off as extremely immature and wish to be forgiven for unacceptable behaviors or actions.
Such men are considered dangerous because being in a romantic relationship or marriage with such a man can be mentally draining and physically draining. Such men expect their partners to care for them as their children.
You can identify an immature partner from the following video:
5. The emotionally unavailable
Another one of the types that you have to keep in mind when it comes to learning how to spot a dangerous man red flags is the emotionally unavailable type. Such men don't want to engage in any emotional intimacy.
There is a high possibility that such emotionally unavailable men are already in another romantic relationship.
Also Try: 

Am I Emotionally Unavailable Quiz
6. The hidden life man
Such a man withholds fundamental information pertinent to their romantic relationship. This includes disease, criminal history, children, marriage, addiction, etc.
7. The violent/abusive man
Such a type may frequently engage in abusive behavior, verbal, financial, emotional, physical, or even sexual (includes non-consensual sex).
Related Reading: 

How to Fix an Abusive Relationship
8. The emotional predator
Psychopathic, sociopathic, or emotionally abusive men who frequently seek pleasure from torturing or tormenting women are emotional predators.
What makes men dangerous?
There are several tell-all signs of danger when it comes to people. When it comes to learning how to tell if someone is dangerous, referring to the categories mentioned above of the dangerous types of individuals is, of course, very helpful.
You have to look for the signs of a dangerous relationship or man apart from the categories mentioned above.
Some direct signs include abuse of any kind, illegal possession of dangerous objects, and addictive behavior. Unusual personality signs are also great for reference.
Related Reading: 

45 Warning Signs of a Toxic Relationship
10 Signs to identify dangerous men before getting involved
Let's take a deep dive into the 10 key signs for learning how to spot a dangerous man:
1. Controlling behavior
Narcissistic individuals tend to exert a lot of controlling behavior.
Examples include controlling what you do, what you wear, who you interact with, etc. Such controlling individuals tend to isolate their significant others from their friends, family members, etc.
Related Reading: 

25 Signs You're in a Controlling Relationship
2. The insatiable need for constant praise
Validation is something that all individuals require. However, narcissistic individuals have an insatiable desire for praise. This is their way of exerting their power and inflated sense of importance.
If a man constantly asks questions along the lines of "I'm amazing, aren't I?" or "Remind me how you're fascinated by my presence in your life" and so on, it's a red flag.
3. Poor behavior with others
Another key sign you have to be on the lookout for when it comes to learning how to spot a dangerous man is their behavior with other individuals. This includes waiters, chauffeurs, relatives, employees under him, friends, etc.
Individuals with toxic traits often perceive other people to be inferior to them. They misbehave or treat others disrespectfully without any sign of regret or remorse.
Related Reading: 

Characteristics of a Toxic Person and Relationship
4. Inability to apologize
Toxic men also have this noticeable inability to apologize for their mistakes or unacceptable behaviors, words, or actions. They use malicious, mean, or hurtful language to offend people and then never apologize for the same.
Such men have very low integrity and zero sense of accountability. They hardly ever accept the blame for anything that they do.
5. The victim card
Manipulative or emotionally predatory men are often masters at playing the victim. Such individuals can be hazardous because they altogether refuse to accept or believe they are ever at fault.
6. Insincerity
Another sign of a dangerous man is the inability to be sincere or commit. This is especially true for those toxic men who are emotionally unavailable. Relationships with such men are like a rollercoaster ride for your emotions.
Long-term commitment from such men is nearly impossible. They are highly insincere. Such men likely turn out to be cheaters.
7. Oversensitivity to criticism
Emotionally unstable men are also compassionate or react very poorly or aggressively to criticism of any kind. This is due to their lack of adaptive coping mechanisms.
Such men will have an explosive reaction to any opinion of yours that goes against what they stand for.
8. Makes you feel guilty (a lot)
Manipulative men are toxic. They are infamous for clouding people's perceptions about what they believe in. This happens because their go-to plan of action is to be the victim.
An easy way to find out if a man is manipulative is to be aware of how often and intensely you experience negative emotions around him. If you feel horrible too often, he may be manipulative.
9. Frequent lying
Although catching someone lying can be difficult to detect quickly, if you have caught someone lying incessantly, it may be a sign that he may be dangerous.
10. He pushes your buttons
Toxic men always try to find ways to intentionally irk the people around them. This especially applies to people that are close to such men. Their goal is to make people feel bad about themselves and raise their sense of self-consciousness.
What should women focus on?
When it comes to learning how to spot a dangerous man, here are a few things that women should consider focusing on:
You feel a constant desire for him to go away from your life for good.

You begin to dread his texts or phone calls.

The constant urge to cry

High levels of self-consciousness (in his presence).

Uncomfortable feelings about his words, actions, behaviors, presence.

You have this strong feeling that the man might be too good to be honest.

Feeling distant or isolated from loved ones.
Conclusion
Now you're well-aware of how to spot a dangerous man, remember to look out for all the signs mentioned above, and please be careful! It is essential to make sure that you stay away from people who can damage your mental health.
Share this article on
Want to have a happier, healthier marriage?
If you feel disconnected or frustrated about the state of your marriage but want to avoid separation and/or divorce, the marriage.com course meant for married couples is an excellent resource to help you overcome the most challenging aspects of being married.
More On This Topic
You May Also Like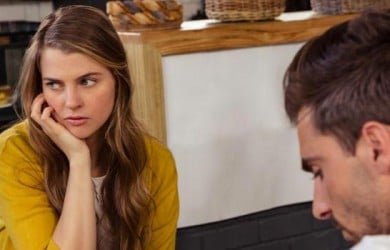 Popular Topics On Married Life