15 Tips on How to Lose Feelings for Someone and Let Them Go
Losing feelings for someone you have loved isn't an easy task. Love and relationships are accompanied by fond memories, which can sometimes stay top of mind when you desperately want to let go of them.
Hence, to effectively get over a breakup, you must know how to lose feelings for someone, even if you believed them to be your soulmate at some point.
Although there may not be any easy way to say this, surveys have shown that most adults may experience heartbreak at some point in their romantic lives. Here's where it gets surprising.
According to a recent post documented by The Telegraph, the average woman will kiss 15 men, enjoy two long-term relationships and get her heart broken two times before she finally meets the man of her dreams.
Although the numbers aren't clear for men, this suggests that you may have to figure out how to lose feelings for someone sometime soon.
Then again, if you're reading this article right now, it may be because you're at that place. No worries, no one's judging you. In this article, you will discover steps you can follow right now to leave your ex where they belong; in your past.
Also, feel free to grab a box of tissues. Don't be ashamed if you feel a tear slipping down your cheek. That's a sign of strength right there.
Can you lose feelings for someone you love?
Think about the last time you fell in love. The feeling was divine, right? Thoughts of your lover filled your mind, and at odd times of the day, you'd catch yourself smiling sheepishly even though you had a lot of work to complete.
Spending time with them was indeed magical. You'd drive straight home every day and rush into their warm embrace because you missed them the whole day.
Now, you may have broken up, and you're probably asking yourself if it is possible to move on from someone you loved wholeheartedly.
The simple answer is "yes, you can." While it is difficult to let go and get over someone you love finally, it is not impossible. Considering that the average American will have up to 5 heartbreaks, it is safe to say that you can lose feelings for someone you have loved in the past.
Your recovery timeline, process, and story will differ from others, but you can get over an ex and still experience the best love has to offer you in the future.
How to stop loving someone who doesn't love you
There's nothing more depressing than being hopelessly in love with someone who doesn't feel the same way you do.
Staying awake all night, pining for the attention, love, and fellowship of someone probably having fun with another 'lover,' is painful. If you have ever been there, you know that it is not an experience you would want to have again.
Here's the sad thing. You can't wish your feelings away. To eliminate them, you must be strategic and follow the right steps. Here are effective tips to help you stop loving someone who doesn't love you.
It would help if you had your energies intact to get your life back on track.
15 tips on how to lose feelings for someone you love
Now that you are seriously trying to figure out how to lose feelings for someone, here are 15 powerful tips for setting you on the right path.
1. Understand that it may take time
Think back to the time when you fell in love at first. It took time for you to realize that you had fallen for them, and it also took some more time to accept them into your life.
With that in mind, it may not be practical to think that your feelings will vanish overnight just because you said your final goodbyes.
Letting go for real may take time. Getting over a breakup almost immediately might be a sign that you weren't that much into the relationship after all.
2. Identify and acknowledge your feelings
On your journey to suppressing your feelings for someone, you may be tempted to stuff your life with many other things and activities to avoid the pain associated with accepting your emotions.
Admitting you are hurt and in pain doesn't make you less human. Instead, it is a sign of strength and a token of your willingness to get out of that sullen emotional state as soon as possible.
Don't rush into a work frenzy or start looking for a rebound because you're hurting. More often than not, those can end you in more trouble.
3. Don't put all the blame on yourself
It is easy to put all the blame on yourself when someone you loved just walked out of your life. So, you may begin to say things like, "he wouldn't have left if only I were slimmer," or "she would have loved me if I were richer."
These are limiting statements and can have long-term adverse effects on your self-esteem. Instead of looking at it from that sullen perspective, consider making a list of why you think your ex left you and rise to the challenge instead.
If you think they took a walk because they don't think you're posh enough, take it upon yourself to improve your social skills. If you think they left because you're poor, work on fixing your finances.
In any case, remember that their exit wasn't all your fault. They left because they wanted to.
4. This is the time for self-care
Self-care prioritizes your mental, physical, emotional, and all-around health. When you are in self-care mode, the only thing that truly matters is making yourself happy and surrounding yourself with positive energy.
While practicing self-care, you should take yourself out of places that remind you of your ex.
If you can move out of the house (or have them move out if you live together), see your favorite movie at the cinema, eat at your favorite restaurant (even if you think the bills are a bit high), or take that trip you have always wanted to go on.
When you care for yourself, you pamper yourself. You allow yourself to heal from the pain and emotional trauma you might have experienced as a result of figuring out how to lose feelings for the one you loved. Practicing self-care is an important part of letting go of the past.
5. As much as possible, avoid rebounds
Studies have shown that rebound relationships are a coping mechanism. More often than not, rebounds will crash and burn in no time as they aren't formed on the deep bonds of loyalty, trust, and love that determine the strength of other relationships.
When you jump into a rebound relationship, you tend to project your pain and insecurities onto your new partner. Hence, you may be cynical, judgemental, or unable to connect with them as much as they want to connect with you.
These emotional challenges can cause the relationship to be more like a roller-coaster of toxicity. As you figure out how to lose feelings for someone, please take "romantic relationships off your to-do list.
6. Instead, focus on forming strong platonic friendships
Away from your relationship life, there are other powerful friendships you must build if you'll live a successful life. One way to stop having feelings for someone is to nurture other valuable relationships in your life.
Can you remember all those close friends you went MIA on when you started seeing your last heartthrob? This may be a good time to schedule a meeting with them and catch up.
The people in your world will play a major role in helping you heal from all the emotional trauma you may be dealing with. Surround yourself with the right people, close friends, and family alike.
7. If necessary, consider talking to them about your decision
"Talk to them about your decision to pull away from them?" you may be asking.
Yes. Consider doing this.
Considering that you were in a relationship with them, there's every possibility that they may feel the same way you feel about them. Pulling back suddenly may leave them hurt and confused. To prevent this, consider talking to them about your feelings and telling them why you have taken your stand.
8. Stop stalking them
One of the things that would come up when you decide to get rid of feelings for someone is the sudden desire to be abreast of everything going on in their lives.
Under the guise of looking for the newest stories from your favorite travel blogs, you'll find yourself scrolling through their Instagram page or almost dialing their number on a warm Tuesday morning, even when you know you should be working.
As you try to lose feelings for someone and let them go once and for all, resist the temptation to stalk them. No matter how interesting their lives suddenly look, focus on taking care of yourself first.
Stalking them will only leave you with a feeling of wistfulness you don't need now.
9. Work on yourself
Now that you have detoxified and let go of the negative emotions you've probably had to deal with, your next focus should be on yourself. Work on improving your career by becoming a more goal-oriented person.
Work on your finances. Work out and build a stronger physique. You need to become the better version of yourself if you want to enjoy everything the future has in store for you.
10. Practice mindfulness and start journaling
Journaling is one way to keep track of your thoughts, let go of steam, and jumpstart your journey back to emotional stability.
It is okay to feel disconnected from the rest of the world for the first few weeks after you decide to move on from an ex, but this is where mindfulness and journaling come in.
Practice meditation. It allows you to control your thoughts and be more productive. Again, journaling will help you identify negative thought patterns and set you on the right path toward complete healing.
11. Learn a new skill
Picking up new skills at this point is critical. New skills will occupy your time, give you something more productive to do (than fuss over what could have been), and help you feel more in control of your life.
Think about all those skills you wished you had before. Now that you're not spending much time with a partner, you probably have more time to learn new skills. Don't hold yourself back.
12. Consider joining a support group
It is easy to beat yourself up and feel like you are against the world until you join a support group and meet people who may be dealing with the same (or similar) challenges.
A support group will give you the emotional strength you need to overcome a breakup. Their stories will inspire you to keep going until you have attained the state of healing you desire.
13. Travel
One thing about traveling is that it gives you something else to fuss over. When you are overwhelmed with new sights, sounds, and cultures, you may not be thinking so much about the exit of an ex from your life.
Please list the places you've always wanted to visit and consider ticking them off one at a time. A little change of scenery can make all the difference, even if you aren't yet ready to travel halfway across the world.
14. Consider art
If painting and drawing have always held some allure for you, this may be the time to explore those interests. Art is one powerful way to express yourself and let go of pent-up emotions. Consider enrolling in an art class for this.
For six simple self-care tips to become a better you, watch this video.
15. Get professional help
If you have tried all we have discussed and you're still unable to lose feelings for someone, you may want to consider getting professional help.
A therapist will help you sort through your jumbled emotions, provide a safe space to bare your heart, and guide you on your journey to healing and self-discovery.
Commonly asked questions
Letting someone go when you have been attached to them in the past can be extremely difficult. It can challenge you and make you question things in a deep way. Here are some questions that may cross your mind if you are in this situation:
How do you know if someone loses feelings for you?
It is easy to know when someone has lost feelings for you. For one, their communication levels drop, and you may even find yourself scrambling for crumbs of their attention.
Also, the passion you had at first begins to wane. The final sign that they're losing feelings for you is that you begin to suspect it.
How long does it take to lose feelings for someone?
There is no set-in-stone rule for this. You can lose your feelings in a few weeks or take years to let go of those feelings.
Most times, it depends on how deeply you loved them, how you prioritize your healing process (and cut all ties with them), and how you are taking care of your needs at the moment.
Give yourself all the time you need.
The takeaway
Seeing as you may experience heartbreak at some point, knowing how to let go of someone may even be considered a life-saving skill. This article has covered 15 foolproof strategies you can apply today to begin healing from your past.
Letting go and losing feelings for someone you love is an important part of growing up. Give yourself all the grace and time you need to heal from the hurt. Also, consider getting help from a qualified therapist in the form of couples therapy as you journey to self-recovery.
Share this article on
Want to have a happier, healthier marriage?
If you feel disconnected or frustrated about the state of your marriage but want to avoid separation and/or divorce, the marriage.com course meant for married couples is an excellent resource to help you overcome the most challenging aspects of being married.
More On This Topic
You May Also Like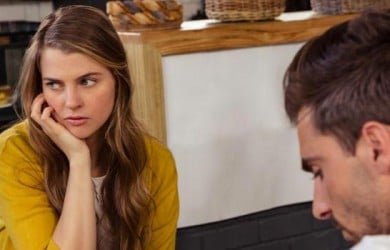 Popular Topics On Married Life