10 Signs a Person Is Incapable of Loving Someone
It should not be surprising to learn that some people don't buy into the concept of love. Such people see love as a fantasy that only exists in romantic novels and movies. To them, love is non-existent, and they believe that people who go on that journey will most likely regret it in the end.
Such people are incapable of love, and one of the primary reasons why they have this notion is because they don't love themselves. If you don't love yourself, it will be impossible for you to love others genuinely. Another reason could be because you have not found the right person yet.
10 true signs that a person is incapable of love
Someone incapable of love might be struggling with creating mature and romantic relationships with people, probably due to their past relationships, childhood experience, or personality type. Such people need help, but it's difficult to tell because they are good at concealing these issues.
You might fall in love with someone incapable of love, and it would be tough because your feelings will not be reciprocated, which can cause the relationship to end.
A research study by Briana S. Nelson Goff et al.; highlights how past trauma affects the intimate relationship of couples, showing how factors like communication, understanding, and sexual intimacy are affected.
Related Reading: 

Negative Experiences of the Past can Affect Your Relationship
Here are ten signs that a person is incapable of love:
1. They blame other people
Someone incapable of love lacks the audacity to accept their wrongdoings. They prefer to blame other people because it helps them feel better and avoid guilt.
These people have no idea about the origin of their problem. So, they prefer to allow other people to take the blame. In their relationship, they are focused on what they stand to gain without considering their partner.
If things don't work out as planned, they don't take responsibility for their actions.
Related Reading: 

The Blame Game Is Destructive to Your Marriage
2. They give excuses
People who cannot love are prone to giving excuses even when they know they are wrong. For instance, if they acted unacceptably to their spouse, they will give excuses for their actions instead of apologizing.
Then, they will expect their spouse to accept their wrongdoings on the premise that they are aware of the cause. Someone incapable of love will always justify themselves when they are caught in the act to prevent accepting blames.
3. They show no interest in becoming a better partner
Someone incapable of love has no interest in improving themselves. The reason is that they have no interest in their partner and the relationship. So, their attention bandwidth begins to decline, and it becomes noticeable.
If they make mistakes in the relationship, they will be reluctant to correct them because of their inability to accept that they are wrong. Their words and actions will reflect that they are getting tired of the relationship, and they are ready to work out if their partner allows them.
It will be difficult getting such people to become better partners because that is not their goal.
Related Reading: 

Signs Your Partner Has Probably Lost Interest in Your Relationship
4. They are not accountable
Anyone incapable of love doesn't fancy the idea of being accountable for both romantic relationships and friendships. The primary reason is that their ability to see their mistakes as they relate with their romantic partners or friends is limited.
While their partners or friends make efforts to be better people in the relationship or friendship, they are oblivious to their efforts. More so, they are not interested in playing their part, and if someone points out their wrongdoing to them, they simply withdraw and move on with their lives.
5. They don't communicate properly
When you are in love with someone, communication will be one of your strongest points. On the other hand, someone who is poor at showing no love will find it challenging to communicate because the interest or spark isn't there.
Therefore, their communication will be forced, and there will be lots of lapses. More so, when they are hurt, they will prefer to keep quiet instead of speaking out. When it gets to the point that they can't handle it, they explode with frustration.
This is why they prefer not to love so that they won't have to bottle up feelings.
Related Reading: 

Lack of Communication- Can It Be Fatal to a Relationship?
6. They are always self-centered
It is okay to look out for yourself at various times, but someone with the inability to love or be loved is always self-absorbed. They find it hard to show genuine concerns to people's plights because they are too busy sorting out theirs.
For instance, if they are in a relationship where their partner faces some difficulty at work, they find it hard to empathize with them. Rather, they make it about themselves, leaving their partner to figure out a solution to their problems. Individuals with the "can't feel love disorder" prefer to always take instead of giving out.
7. They withdraw emotionally
For a relationship to be successful, both partners have to continuously invest their emotions. When one party starts to withdraw, it affects the relationship because the other party might be actively playing their part. Someone who is not being able to love will experience emotional conflicts within them and with other people.
Related Reading: 

Signs You Have an Emotionally Unavailable Partner
8. They worry about other people's opinions
If you have ever asked, "how am I incapable of love" , confirm if you always care about what everyone says concerning you or not. It is normal to hear the opinions of people and consider if you should act on them or not. However, if you always bother about what people will say concerning all your moves, it shows you don't love yourself enough.
On some occasions, it is okay to consider yourself alone. And to balance the equation, you should also look out for other people and what they might be saying about you.
Loving yourself is the first step to trusting your actions and emotions. If you don't love yourself, you won't find security in all you do. Rather, your actions, thoughts, and emotions will depend on everyone's opinions.
9. They are ready to be single forever
Someone who has the "unable to love disorder" has no business being in a relationship because they don't want any commitment. They understand that sustaining a relationship is not an easy task, so they prefer to remain single while caring for themselves.
When people show interest in them, they prefer to cut off such friendships before it grows into something else.
Additionally, since they have the inability to form romantic relationships, they can tell your intentions after a few conversations, and they will be happy to keep their distance. While people around them enjoy their love life, they see it as a mirage.
Related Reading: 

Signs You Might Be Single Forever
10. They give up without putting efforts
An individual who is incapable of love finds it easy to give up when something is not beneficial to them again. Since they don't care about the other party, they can walk away easily without any strain on their conscience.
Reasons why people are incapable of love
If you are wondering why some people find it hard to love, here are some possible reasons that might be responsible for it.
1. Childhood trauma
Some of our experiences during childhood shape how we lead our lives as adults, and this includes love. For example, an individual who received much love from both parents and friends when they were little will grow up to be people with a large capacity to love.
In comparison, a child abandoned by one parent or witnessed domestic violence will grow up with the idea that loving anyone is impossible.
An article by Keiva Brannigan explains how childhood trauma affects romantic relationships and other behaviors and problems typical with adults.
2. The worry of losing yourself in a relationship
A relationship needs in-depth commitment to blossom, but one of the reasons why some people are reluctant to show and express much love is the fear of losing themselves.
The truth is, being in a relationship does not mean that you will lose your identity and fully conform to your partner's will. Some people with this notion have decided not to love because they want to retain their personality, and over time, it prevents them from loving truly.
Related Reading: 

How to Stop Losing Yourself in Relationships
3. They don't want someone to take advantage of them
In a relationship, you need to trust that your partner has your best interests at heart, and they will not capitalize on this to hurt you.
However, it might be challenging to earn this trust, especially if the individual was in a previous relationship where their heart was broken because they trusted fully. Therefore, this tragic event might have shaped their ideologies about love, which will make them decide not to love again.
4. Low self-esteem
One of the main reasons why people have low self-esteem is because they don't love themselves. And before you can genuinely love others, you need to love yourself.
Someone with low self-esteem would find it hard to enjoy their relationship because they don't love themselves, and they don't believe what their partner feels towards them.
Also Try: 

Is Low Self-Esteem Preventing You From Finding Love?
Conclusion
Someone incapable of love needs all the help they can get, and they need constant reassurance in friendships and romantic relationships.
So if you notice that your partner is incapable of love, be their number one source of support and strength. Allow them to see your vulnerability and always remind them of how much they mean to you.
This book by Conrad W Baars, titled: Healing The Unaffirmed, helps partners to perform affirmation therapy on those incapable of loving someone. This therapy brings joy, self-confidence, and peace within the individual unable to love.
Check this video to learn more about people with the inability to love:

Share this article on
Want to have a happier, healthier marriage?
If you feel disconnected or frustrated about the state of your marriage but want to avoid separation and/or divorce, the marriage.com course meant for married couples is an excellent resource to help you overcome the most challenging aspects of being married.
Learn More On This Topic
You May Also Like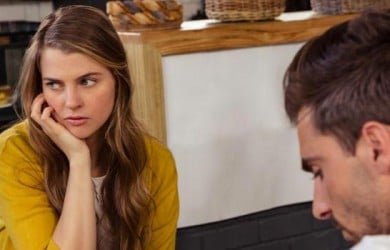 Popular Topics On Married Life