25 High-Value Woman Traits That Set Her Apart
In contemporary discussions surrounding personal development and the pursuit of meaningful relationships, the concept of a "High-Value Woman" has gained notable attention. This notion encapsulates a set of qualities and behaviors that many believe can set an individual apart in various aspects of life, including personal relationships, career, and overall self-fulfillment.
The term "High-Value Woman" is subjective, as it can be defined differently by various people, and it's essential to approach the topic with a balanced and nuanced perspective.
In this exploration, we will delve into traits that are commonly associated with this concept, acknowledging that their significance can vary depending on individual values, cultural context, and personal goals.
Understanding these traits can offer valuable insights for personal growth and self-awareness, but it's essential to remember that the pursuit of a high-value woman identity should be a personal journey rooted in one's own values and aspirations.
What is a high-value woman?
A high-value woman is someone self-conscious of who she is. She knows that she has an important assignment to positively impact her generation in different ways. Therefore, she is focused on her goal to ensure that she leaves an indelible mark behind.
A high-value woman is not afraid to stand up for what she believes in, irrespective of everyone's opinions.
Why is it important to be a high-value woman?
Being a high-value woman is important because it signifies a commitment to self-improvement and self-worth.
Cultivating qualities associated with high value, such as self-confidence, empathy, ambition, and integrity, can lead to more fulfilling relationships and personal growth. This identity can empower women to set healthy boundaries, make better life choices, and foster respect from others.
However, it's crucial to recognize that the concept is subjective and should be defined based on one's own values and aspirations rather than external expectations.
Ultimately, striving to be a high-value woman is a path to self-empowerment and contentment, but it should be authentic and reflective of individual goals.
5 benefits of being a high-value woman
Becoming a high-value woman offers numerous advantages. These qualities lead to healthier, more fulfilling relationships and empower women to achieve their personal and professional goals.
Here are some key benefits of being a high-value woman:
1. Healthy relationships
Being a high-value woman often leads to healthier, more fulfilling relationships. This can include both personal and professional connections, as qualities like self-respect, assertiveness, and effective communication promote mutual respect and understanding.
2. Self-empowerment
Embracing high-value traits encourages self-confidence and personal growth. This empowerment can lead to a more assertive and assertive approach to life, helping women pursue their goals and dreams with determination.
3. Improved well-being
The pursuit of being a high-value woman often involves a focus on self-care and well-being. Prioritizing physical and mental health, stress management, and personal development contributes to overall happiness and life satisfaction.
4. Stronger boundaries
High-value women tend to have clearer boundaries, which are essential for maintaining emotional and mental well-being. This results in a better ability to say "no" when necessary and to protect oneself from toxic or manipulative relationships.
5. Respect and recognition
High-value women often gain respect and recognition in various aspects of life, including their careers. By embodying qualities like integrity, competence, and empathy, they tend to stand out and earn the admiration of colleagues, friends, and partners.
What makes a lady become of high value to a man?
One of the qualities that make a lady become of high value to a man is her ability to be self-sufficient. Many men love ladies who can take care of themselves without any help. Additionally, she is generally kind, confident, inspiring, bold, truthful, dedicated, and honest.
Women of high value are attractive to men because they don't compromise on their principles by following others blindly. She makes her opinion known and backs her claims with facts. But she is also open to being corrected when it is the right thing to do.
25 top traits of a high-value woman
When it comes to what a high-value woman stands for, she is someone who carries value in all ramifications. She is a woman who aspires to impact her world with every skill in her arsenal. To know how to identify such women, here are some traits to look out for:
1. She has high self-esteem
One of the ways to identify a high-value woman is how she carries herself. She believes in herself and will not allow anyone to treat her less.
Such women have usually spent time working to be the best version of themselves by maintaining high self-esteem. Hence, they will not allow the words of anybody to put them down. If she needs to burn the bridge with such people, she will do it.
2. She is kind
Compassion is one of the most potent weapons that high-value women wield. She does not look down on anybody because she knows what it would be like if she were in their shoes. Therefore, she uses her kind heart to make ways for people and change their lives.
3. She is dedicated to learning more
One of the loveable qualities of a high-value woman is she never rests on her accomplishments.
A high-value woman understands that ignorance is a disease and that it is detrimental to stop learning. Hence, she keeps upgrading herself in different aspects of life. This makes it easy for her to impact other people with value because she is committed to learning.
4. She is not malicious
When it comes to keeping ill feelings, high-value women detest this because it is a time-waster. They are focused on getting things done, and they don't like being held down by malice.
Hence, they prefer to sort things out to move forward with other aspects of their lives. A high-value woman knows that malice would be harmful in the long run, so she avoids it.
5. She is not afraid to speak her mind
When expressing her emotions and thoughts vocally, she does not hesitate. If she knows that she might offend others, she will be diplomatic while expressing herself.
Similarly, when it comes to requesting something that will be beneficial to her, she is always bold to speak her mind.
6. Her happiness comes from within
One of the high-value woman traits is the source of her happiness.
Unlike other women who rely on other things for validation and happiness, a high-value woman usually gets her happiness from within. This is why she is usually self-driven and motivated to achieve anything she sets out to do.
Her happiness is palpable. It motivates other people to be happy with themselves.
7. She prioritizes self-care
A high-value woman does not joke about self-care because it is crucial to her well-being. You will find her implementing healthy habits like eating a nutritious diet, sleeping regularly, working out, etc.
Additionally, a high-value woman likes to take a break from work because she needs it to re-strategize and come back stronger.
8. She knows how to delegate
One of the signs she is a high-value woman is her ability to delegate duties so that none will lag. Therefore, she does this meticulously when it is time to delegate tasks. After the delegation, she doesn't leave her subordinates to themselves.
She still looks out for them to ensure that everything is done perfectly. Also, she does not make them feel less of themselves if they make a mistake because she will correct them in love.
9. She trains people to be of high-value
One of the admirable habits of a high-value woman is her interest in training other people to be of high value. A high-value woman knows that the world will be a better place with the joint efforts of other high-value people.
Therefore, she sees this possibility as a chance to right some of the wrongs in her world. Hence, she is committed to making people become high-value and be the best version of themselves.
10. She knows she is flawed
A woman with high standards knows how to accept her flaws and make up for them. She does not create a façade to hide from them. Instead, she allows people to know that she has some weaknesses that she is working on.
She uses this quality to encourage other people who don't want to accept their flaws. Such women are staunch believers that you can fix anything that is broken.
11. She is open-minded
Some people don't like listening to the opinions of others; they are too fixated on theirs to notice that they might be wrong. The case is different when being a high-value woman.
She ensures that even though her opinions are correct, she still listens to what others say. If she wants to correct them, she does it diplomatically without criticizing or making them feel bad.
12. She does not give up
When it comes to knowing your worth as a woman, it involves not giving up. A high-value woman knows that giving up is not an option, especially when living her dreams or achieving goals. Hence, when she falls, she will rise again strengthened.
She does not repeat the same mistake twice because it would be regarded as a failure. When she observes her shortcomings, she works hard to correct the mistakes.
13. She values her peace of mind
A high-value woman walks away from anything that would cost her peace of mind. She knows that her sanity is important to meeting her goals. Therefore, she would ignore every distraction on her way to the top.
If people are bent on making her lose focus, she is prepared to cut ties with them after giving them much grace. A high-value woman walks away from anything that threatens her peace of mind.
14. She is a true feminist
One of the traits of a high-value woman is that she is a true feminist. She is not like other people who may present herself as something that she is not.
A high-value woman carries herself as a woman of value to motivate other women to stand up for themselves. She teaches other women not to engage in behaviors that will sell them short.
15. She spreads positivity
A high-value woman knows how destructive negativity can be. Hence, she strives to show positivity even amid doubt and negative energy. This is why she avoids negative people because their energy will affect hers.
Also, A high-value woman spreads positivity so that people around her can do the same. One of her ultimate goals is for the world to be united in purpose when it comes to positivity.
16. She is brave
One of the core attributes of a high-value woman is bravery. She approaches with bravery and caution when faced with challenges threatening to destroy everything she has worked for. Hence, it would be difficult for her to be put down by anything because she has learned to be brave over time.
17. Her romantic relationship is healthy
When thinking of how to be a high-value woman, one thing to note is that they always have healthy romantic relationships. They respect their partners so much and give them every reason to feel like the luckiest spouse in the world.
Even though they have achieved more than their partner, they don't use it as an excuse to be impolite or disrespectful. They give their partner every chance to have an equal say in the relationship.
18. She makes the right decisions
If you compare a low-value vs high-value woman, one quality that sets them apart is their ability to make good decisions. You will discover that high-value women are great at making the right decision.
When they are at a crossroads, they take ample time to decide what would work best. They don't allow themselves to be rushed or pressured into making a decision that might not pan out well in the future.
19. She leads a balanced life
To be a high-value woman, you need to live a balanced lifestyle. High-value women know how to balance friendships, work, family, career, and personal time.
High-value women are experts at allotting the right time for each important aspect of their lives. High-value women are aware that if one of those aspects suffers, it will affect the rest automatically.
20. She is a great listener
High-value women are great listeners, so they have many people around them. This means that they would attract the love and respect of people because everyone wants someone to hear them out.
If you want to be a high-value woman, one of the traits you need to learn is good listening skills.
21. She detests comparison
A high-value woman does not like comparing herself with anyone because she is unique. Therefore, she tries her best not to be a copycat or duplicate version of anybody. She's always striving to make everything about her unique.
22. She is passionate about her goals
If you have asked questions like what a high-value woman is, one thing you must know is that she is goal-driven. She might not maintain the same energy level daily, but she is consistent when executing her plans because she knows that her goal is for the general good.
23. She loves unconditionally
A high-value woman does not discriminate, as she loves everyone around her. She does not engage in favoritism because she believes everyone should be given a fair chance.
Therefore, if it were within her power, she would give everyone a fair playing ground. She would love her people unconditionally and try to ensure that they are taken care of.
24. She has mentors
One of the reasons a high-value woman would turn out well is mentorship. She is accountable to some people who she learns from. These people guide her on the right path, and she makes sure that they are involved in some of her critical decision-making processes.
25. She is open to corrections
Another way to know a high-value woman is that she is always open to corrections.
If she discovers that she is wrong, she tries her best to make amends for it and learn from her mistakes. This is one of the reasons why she keeps getting better, and it is one of the most admirable, high-value woman examples.
Why is it necessary to chase high-value women?
Chasing high-value women will improve the quality of your life. They possess several wonderful traits that will encourage you to be purposeful about your life.
Generally, high-value women want everyone around them to be successful. Therefore, if you happen to date a high-value woman, you can ensure that your life is headed in the right direction.
Commonly asked questions
Here are the answers to some pressing questions that can help you understand the intricacies of high-value women:
What is the difference between a high-value woman and a high-maintenance woman?
A high-value woman is characterized by qualities like self-respect, empathy, and personal growth, which make her an asset in relationships and life. In contrast, a high-maintenance woman tends to demand excessive attention, often placing a strain on others due to unrealistic expectations and needs.
How can I become more confident?
Building confidence involves self-awareness, setting achievable goals, and embracing self-improvement. It also includes facing fears, practicing self-compassion, and celebrating achievements, no matter how small, to gradually enhance self-assurance.
Watch this video to learn some important behaviors that will boost your confidence:
How can I set ambitious goals and achieve them?
Setting ambitious goals requires clarity, specificity, and a strategic plan. Break them into manageable steps, stay committed, and continuously reassess and adapt your approach. Seek support, stay motivated, and learn from both successes and setbacks.
How can I find a balance between work, personal life, and relationships?
Balancing these facets involves time management, setting priorities, and effective communication. Establish boundaries, delegate tasks when possible, and make self-care a non-negotiable part of your schedule. Remember that it's okay to say no when needed.
What are some ways to show respect for others?
Respect can be demonstrated through active listening, valuing diverse perspectives, and practicing empathy. Honoring people's boundaries and treating them with kindness and courtesy is also essential. Encourage their autonomy, appreciate their contributions, and avoid judgments or stereotypes.
Final thoughts
The concept of high-value woman traits reflects a societal desire to recognize and celebrate qualities that set individuals apart. While some may argue that these traits are a valuable guide for personal growth and empowerment, it's crucial to approach this topic with a nuanced perspective.
What constitutes a high-value woman is subjective and varies across cultures and contexts. Reducing a person's worth to a checklist can be limiting and dismissive of their unique qualities. Moreover, these traits should not be used to judge or exclude others.
Embracing personal growth is commendable, but it's equally important to acknowledge that everyone has their individual strengths and qualities that make them valuable. In a balanced view, it's essential to appreciate diversity and recognize that worth extends beyond a predetermined list of traits.
If you want to know how to get started as a high-value woman, consider going for professional counseling.
Share this article on
Want to have a happier, healthier marriage?
If you feel disconnected or frustrated about the state of your marriage but want to avoid separation and/or divorce, the marriage.com course meant for married couples is an excellent resource to help you overcome the most challenging aspects of being married.
You May Also Like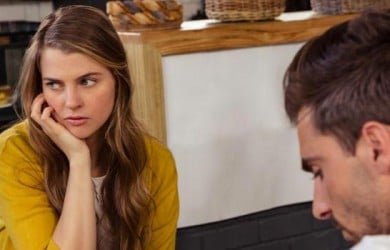 Popular Topics On Married Life