How to Flirt With a Girl Over Text : 11 Tips and Examples
In the age of smartphones and instant messaging, the art of courtship has evolved dramatically. Gone are the days when romantic pursuits were limited to face-to-face interactions or handwritten love letters.
Today, the digital realm offers a new platform for budding romances, and with it comes a new set of rules.
So, how to flirt with a girl over texts?
Flirting over text, while seemingly straightforward, is a nuanced dance that requires a blend of wit, timing, and charm. It's about striking the right balance between being playful and respectful, ensuring that your intentions are clear without coming on too strong.
Whether you're looking to ignite a spark with someone new or add a dash of excitement to an existing relationship, mastering the art of text-flirting can be a game-changer.
Know the dos and don'ts, offering strategies to help you navigate this digital dance with confidence and grace.
What is flirting?
Flirting is a fun and light way people show they might like someone in a more-than-friends way. It's like a playful game where people drop hints to see if the other person feels the same. This can be done with a smile, a joke, a kind word, or even just a look.
People all over the world flirt, no matter where they're from or how old they are. Sometimes, people flirt just to be friendly or because it makes them feel good, not always because they want to date the other person. But whether it's for fun or for love, flirting is all about making a connection.
It's like saying, "Hey, I think you're interesting!" without using those exact words. The key is to be gentle and not pushy, making sure the other person is comfortable and having fun, too.
Why is flirting important?
Flirting is more than just playful banter; it's a fundamental aspect of human interaction that helps us navigate relationships and express interest. Whether you're meeting someone new or trying to flirt with an ex-girlfriend over text, understanding the significance of flirting can be crucial. Here's why:
Flirting allows individuals to explore and express their feelings in a non-verbal manner. Especially when words fall short, a playful tease or a thoughtful message can convey emotions more powerfully.
When you flirt with an ex-girlfriend over text, for instance, it can reignite shared memories and emotions, reminding both of you of the bond you once shared.
Engaging in flirtatious interactions can be a confidence booster. When someone reciprocates your advances, it's an affirmation of your desirability. Conversely, when you're on the receiving end, it's a sign of appreciation and respect from the other person.
Flirting serves as a litmus test for mutual interest. It's a way to gauge the waters without diving in headfirst.
For example, if you're trying to reconnect and flirt with an ex-girlfriend over text, her response (or lack thereof) can provide clarity about her feelings and whether there's potential for rekindling the relationship.
How to flirt with a girl over text: 10 helpful tips
Flirting with a girl over text can be a fun and effective way to build a connection, but it's not always easy to strike the right balance. In this guide, we'll explore helpful tips that will assist you in navigating the world of text-based flirting.
1. Start with a genuine compliment
Begin by recognizing something unique about her. Whether it's her sense of style, her wit, or a recent achievement, a heartfelt compliment can set a positive tone, making her feel valued and appreciated right from the start.
2. Use humor to lighten the mood
A well-timed joke or amusing observation can bridge distances in conversations. When considering how to flirt with a Gemini woman over text, humor is especially effective, given her appreciation for wit and lively exchanges.
3. Ask open-ended questions
Encouraging her to share more about herself demonstrates genuine interest. For instance, if you're exploring how to flirt with an ex-girlfriend through text, asking about her recent experiences or feelings can rekindle old connections and foster deeper conversations.
4. Engage in playful teasing
Light-hearted teasing can add a spark, but it's crucial to ensure it remains respectful and fun. When trying to flirt with an ex-girlfriend over text, revisiting old playful banter can reignite shared moments of laughter.
5. Use emojis wisely
Emojis can convey emotions and nuances that words might miss. If you're learning how to flirt with a Libra woman through text, using balanced and harmonious emojis can resonate with her love for beauty and equilibrium.
6. Reference shared memories or inside jokes
Tapping into past experiences or jokes can evoke feelings of nostalgia. This approach is particularly effective when figuring out how to flirt with an ex-girlfriend over text, as it reminds both of you of the unique bond you once shared.
7. Maintain balance in conversation
While expressing interest is vital, it's equally important to listen actively. When trying to flirt with an ex-girlfriend over text, ensure the dialogue feels mutual, allowing both parties to share, reminisce, and reconnect.
8. Choose the right time
Timing can be crucial. Knowing how to flirt with a girl over text at night can be strategic. Evening chats often allow for more intimate and uninterrupted conversations, setting the stage for deeper conversations and connections.
9. Be genuine and authentic
Authenticity is key in any interaction. Instead of trying to be someone you're not, always be true to yourself. Genuine interactions, especially in tips on how to flirt with a girl over text, resonate more deeply and create lasting impressions.
10. Provide examples and be descriptive
When sharing experiences or feelings, being detailed can paint a vivid picture. If you're looking for how to flirt with a girl over text examples, remember that specific anecdotes and stories can make your messages more engaging, relatable, and memorable.
How to make a girl smile over text: a step-by-step guide
In the digital age, making someone smile through a screen can be as impactful as a face-to-face gesture. Here's a simple three-step guide to brighten a girl's day over text:
1. Personalized compliments
Start by sending a genuine compliment her way. If you're looking to flirt with your girlfriend over text, remind her of a specific quality or memory that you cherish. Personal touches in compliments show that you pay attention and value her uniqueness.
2. Engage her zodiac sign
If you're aware of her zodiac sign, use it to your advantage. For instance, if you're figuring out how to flirt with an Aries woman over text, appeal to her adventurous spirit by suggesting a spontaneous plan or sharing a daring idea. Aries women appreciate enthusiasm and boldness.
3. Revisit shared memories
Tapping into shared experiences can evoke feelings of nostalgia and warmth. Whether you're trying to flirt with an ex-girlfriend over text or reignite an old spark, referencing an inside joke or a cherished memory can instantly bring a smile to her face.
How to start a conversation with a girl over text
Starting a conversation with a girl over text can sometimes feel daunting, but with the right approach, it can be a seamless and enjoyable experience. Here are simple yet effective conversation starters to help you break the ice and have a genuine connection:
Begin with a genuine compliment about a recent photo or achievement.

Ask about a common interest or hobby you've noticed she's passionate about.

Share a light-hearted meme or joke related to a shared interest.

Inquire about her day or any recent adventures she's embarked on.

Recommend a book, movie, or song and ask for her opinion.

Mention a current event or trending topic and ask for her perspective.

Share a personal anecdote or story and ask if she's had a similar experience.

Ask about her plans for the weekend or any upcoming trips.

Comment on a mutual friend's recent post or news to initiate a shared discussion.

Simply express that you were thinking of her and wanted to check-in.
How to keep a girl interested over text: 5 ways
Keeping someone engaged and interested over text can be a challenge. However, with the right strategies, you can not only capture her attention but also foster a deep and meaningful connection.
Here are steps to ensure she remains intrigued and eager to continue the conversation:
1. Master the art of timing and pace
One of the most overlooked aspects of texting is the timing. It's not just about what you say but when and how often you say it. If you're always available and instantly replying, it might come off as if you're not occupied with anything else.
On the other hand, taking too long consistently can make it seem like you're not interested. Find a balance.
Also, understand her schedule. If you know she's at work or busy, respect that space. This pacing allows anticipation to build. Remember, when considering how to flirt with a girl over text, timing can amplify the impact of your words.
2. Engage in deep and meaningful conversations
While it's fun to engage in light-hearted banter, getting into deeper topics can create a stronger bond. Ask her about her dreams, fears, and passions.
Share your own experiences and vulnerabilities. This not only shows that you're genuinely interested in getting to know her on a deeper level but also encourages mutual trust.
When you're figuring out how to flirt with a girl over text, intertwining flirtatious comments with profound topics can create a dynamic conversation that's both fun and meaningful.
3. Use creative and descriptive language
In the absence of facial expressions and tone of voice, words become incredibly powerful in conveying emotions and painting pictures.
Instead of saying, "I had a good day," you could say, "The sunset today painted the sky in hues of orange and pink, reminding me of that evening we spent at the beach." Such descriptions not only share your day but also evoke memories and emotions.
This kind of language, especially when figuring out how to flirt with a girl over text, can make your conversations more vivid and memorable.
Watch this video to learn more about how to communicate your mental health needs without being disrespectful or dismissive:
4. Incorporate multimedia
Texting doesn't have to be limited to words. Share pictures of places you visit, songs that remind you of certain moments, or even videos that make you laugh. These multimedia elements can make conversations more dynamic and engaging.
For instance, if a song's lyrics remind you of her or a shared moment, send it to her with a note like, "This reminded me of our adventure last weekend." Such gestures, combined with the techniques of how to flirt with a girl over text, can make your interactions more personal and captivating.
5. Consistency and genuine interest
While it's essential to keep things exciting, consistency in showing genuine interest is crucial. It's not about texting her 24/7, but regularly checking in, asking about her day, and being there when she wants to share something ensures she knows she's on your mind.
When you're learning how to flirt with a girl over text, intertwining your flirtatious comments with genuine inquiries about her well-being can create a balanced and caring dynamic.
Commonly asked questions
Digital flirting can be tricky, but with the right insights, it becomes an exciting journey. Here are some frequently asked questions to guide you through this modern romance.
What are the best ways to flirt with a girl over text?
Begin with genuine compliments and show interest in her life. Use humor, but ensure it's light-hearted and relatable.
Emojis can convey emotions effectively, and sharing personal anecdotes can create a deeper connection. Always maintain a balance in conversation, ensuring it's a two-way street.
How do you flirt with a girl without being creepy?
Always respect boundaries and avoid overly personal topics unless she initiates. Be genuine in your compliments, avoiding excessive flattery. Pay attention to her responses; if she seems disinterested or uncomfortable, adjust your approach or steer the conversation to neutral topics.
How do you know if a girl is flirting with you over text?
She might send playful or teasing messages, use a lot of emojis, especially winks or blushes, and frequently engage in banter. Compliments, prolonged conversations, and her showing genuine interest in your life are also indicators. She might also initiate conversations often.
How do you keep a conversation going with a girl over text?
Ask open-ended questions, show genuine interest in her responses, and share related experiences from your life. Introduce new topics based on her interests, share multimedia like photos or music, and occasionally throw in light-hearted jokes or memes to keep the vibe fun.
What are some common mistakes to avoid when flirting over text?
Avoid bombarding her with messages, being overly persistent, or using strong language. Misunderstanding tone is common in texts, so be clear in your intentions. Avoid controversial topics unless you're sure of her comfort level, and always steer clear of unsolicited personal remarks or photos.
In a nutshell
Flirting over text is a blend of genuine interest, respect, and understanding the nuances of digital communication. It's essential to be authentic, maintain a balanced conversation, and be attentive to her comfort and boundaries.
By avoiding common pitfalls and focusing on genuine connection, you can create meaningful and engaging text-based interactions.
Share this article on
Want to have a happier, healthier marriage?
If you feel disconnected or frustrated about the state of your marriage but want to avoid separation and/or divorce, the marriage.com course meant for married couples is an excellent resource to help you overcome the most challenging aspects of being married.
You May Also Like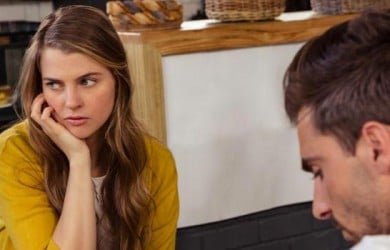 Popular Topics On Married Life