Flirting for Fun vs Flirting with Intent
There is a very blurry line when it comes to differentiating between being friendly or flirty. It, as always, depends upon the person on the receiving end. If a man is at the receiving end, they will probably label a friendly woman to be flirtatious; and a woman would, most likely, label a flirtatious man as someone who is just being friendly.
The line is very blurry, and it all boils down to the intention of the said person. Some people are naturally very charming and forthcoming that they are perceived as a flirt, whereas they never intended that to happen. Therefore, the intention is extremely important.
It often happens with people who are in relationships, that if one of them is a natural flirt or is just a bit too friendly, and is being perceived as a flirt, what should they do?
It is natural for couples to be jealous of potential prospects for their better halves or significant others, especially in the early stages of the relationship, which does lead to men (generally) questioning their relationship.
According to a 2018 meta-analysis, flirting behaviors mostly include smiling, mimicry, physical proximity, laughing, etc. These are necessary initial behaviors that are important for building trust and strengthening the relationship.
Flirting for Fun vs. Flirting with Intent
Another point to ponder is to find types of flirting you might expose yourself to, that is, the difference between friendly flirting or serious flirting. You must know is he flirting or just friendly, or is he really interested in you?
Harmless flirting is one of the types of flirting where the opposite party has a clear cut idea that you are just teasing can be profitable for both parties. It helps with the boost of self-esteem and confidence, and you can end up having a good laugh as well.
However, if the healthy boundaries are not drawn clearly, one can end up with a broken heart.
Flirting for fun
As mentioned above, flirting can do wonders for your morale boost and self-confidence. Dress up, go to the nearest bar, and just let loose. With zero strings attached, you can truly let yourself go without thinking about each and step or word that leaves your mouth.
However, when people flirt with zero aim or intention, it can be considered a tease. There is no intention of taking the relationship forward. The plan, usually, is just to spend some time and never see each other again.
If you are a natural (harmless) flirt or just friends and upsets your significant other, try and understand the reason behind it. No one is asking you to change yourself, but it would be wrong to change your counterpart. Find the reason behind the insecurity and deal with it.
Flirting with intention
A no brainer, when someone is seriously interested in you, they would flirt with intent. They wish to spend quite a significant amount of time together. They have some sort of plan that involves the two of you together.
If you are looking to settle down or feel like you have found the one, this is the kind of flirting to go for.
Though there are cues, certain actions, or movements that cannot be labeled as just flirting in any way or form. For example:
Numerous and unnecessary physical contact
Context of the conversation – deep, meaningful conversational topics
Multiple or out of place compliments
Playfully teasing
You will be their focus of attention and the center of their universe
Prolonged eye contact
The infamous, non-verbal cues
Nonverbal types of flirting
Flirting is a type of social behavior that explains a person's romantic interest in the respondent. There are various types of flirting that are nonverbal but still fall in the category of flirting. These are categorized based on different behaviors because everyone doesn't behave in the same way.
Know these types of flirting below:
1. Sincere flirting
People who approach with sincere flirting style show signs of forming a bond. This is the kind of flirting with intent.
2. Traditional flirting
This is one of the types of flirting that is based on gender roles, and the man is expected to approach and show signs he's flirting with intent or just flirting.
3. Polite flirting
This is one of the types of flirting that adheres to the social norms and makes sure no behavior is deemed inappropriate.
In the video below, Mrs. Midwest talks about elegant flirting and provides tips to avoid oversexualizing yourself. She focuses on elegant, mysterious, refined, graceful, and kind ways of flirting. Hear her out:
Nutshell
If you are in love, if you have found the one, then a little bit of flirting or being friendly will not matter; because you will understand your better half, you will know that they are yours and vice versa and no power on earth will be able to change that.
However, that kind of intimacy and understanding takes time and effort. Nothing of importance is easy to achieve. It is up to you then how you de-escalate the situation and think of the big picture.
Share this article on
Want to have a happier, healthier marriage?
If you feel disconnected or frustrated about the state of your marriage but want to avoid separation and/or divorce, the marriage.com course meant for married couples is an excellent resource to help you overcome the most challenging aspects of being married.
More On This Topic
You May Also Like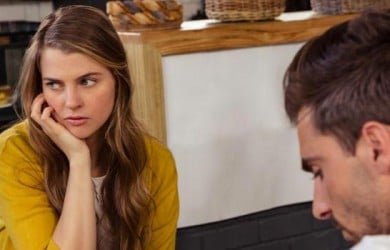 Popular Topics On Married Life