Finding the Right Partner- Don't Look for Similar Traits
Almost everyone has heard the saying "opposite attracts" and due to every Nicholas Sparks book present today, we have been conditioned in believing that two completely and totally different people will get on their stallion and ride off into the sunset together. But sorry to burst your bubble people, this is not the case.
Recently a lot of studying has been done on this saying, and it turns out that opposites being attracted to one another is a misconception. By this logic, people tend to believe that whatever they don't bring to the relationship their significant other will and vice versa. This is far from the truth.
The reality of this situation is that what you perceive as new and different can attract you a lot at first because it is in the very nature of us humans to be curious. But when it comes to being in a long-term relationship, there can be a lot of problems that arise.
Let's talk about friendship
Maybe you have noticed that when it comes to finding friends, you always approach people who share your interests and goals; people who have similar taste in music and alike hobbies; this is what helps in keeping this union for a long time.
Romantic relationships are no different than friendships. Many people tend to think that couples should be as good as friends as they are lovers.
Primarily because being friends will make you enjoy your life and enrich your relationship at the same time. However, being friends is also important because one of the limited passion you feel for each other dies down, friendship helps in strengthening your relationship and making it last.
If two people have absolutely nothing in common then once the attraction and passion die down, they will end up getting bored with one another and head towards monotony.
Short-term attraction
There is no doubt that being with a person who has some differences can help teach you things and also help you grow. But there will come a period when your arguments and discussions over small things will start to take place and sooner or later your relationship will wear out; this is inevitable due to a large number of differences you start seeing before yourself.
These arguments can get very hard to handle especially if the difference is between your life interests, goals, and values; if this is the case, then your relationship may get doomed. The only way to save this relationship is if one partner is willing to alter their goals and interest for the other partner; unfortunately, this is incredibly common as most people try to become the photocopy of their partner in order to make their relationship survive.
What problems arise between different people?
1. Empathy issues
Empathizing with a person who thinks differently as you can be very difficult.
How do you expect to get inside someone's head that you are not in agreement with?
This can prove to be very infuriating and complicated and give birth to even more complications.
These complications come up because, in order to manage and have a successful relationship, partners should be able to understand one other and if they are entirely different, then it can be difficult to be empathetic towards one another.
2. Boredom
If you have nothing mutual with your partner, then you may end up getting bored. Since you will have different taste in music, books, movies, and hobbies, you might find yourself getting bored with your partner in your free time.
Instead, you will opt for going out with your friends instead of staying home on a Sunday, thus drifting apart from your significant other.
There will come a time when you will not have anything to discuss or talk about your partner, and you may end up throwing the towel in your relationship.
3. Parenting
How do you expect to raise your children if you and your partner have different values, ethics and views on education?
The path to parenting can be a huge failure because it will lead to a lot of discussions and arguments; each partner will try to convince the other one of their method and all through this disagreement you might end up confusing your children.
4. Coexistence issues
If you are organized, and your partner is messy and chaotic, then you might find it very hard to coexist with one another.
At first, you may find this hilarious and funny but as time will pass by it will become hard for you to tolerate your partner's existence.
Bottom line
In the end, people being attracted to differences is outweighed by their attraction to similarity. People persist in thinking that opposites attract when in truth partners who are similar to one another complement each other over time.
Share this article on
Want to have a happier, healthier marriage?
If you feel disconnected or frustrated about the state of your marriage but want to avoid separation and/or divorce, the marriage.com course meant for married couples is an excellent resource to help you overcome the most challenging aspects of being married.
More On This Topic
Recent Articles
You May Also Like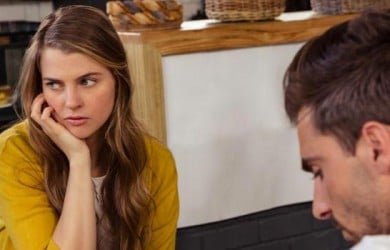 Popular Topics On Married Life