5 Tips for Dealing with an Emotionally Closed off Husband
In the early 2000's, ABC debuted "The Bachelor" and "The Bachelorette" reality shows featuring the journey of an eligible single on their quest for love.
Sixteen years later, fans of the show, affectionately terming themselves, "Bachelor Nation", continue to tune in weekly to watch 25 suitors compete for the Bachelor or Bachelorette's heart.
Letting your emotional walls come down
If you have ever tuned into an episode, it is likely that you may have noticed common themes and repeated expressions. In addition to repeatedly hearing the phrases, "Will you accept this rose?" and "I can really see myself falling in love", there is at least one reference in every episode about being emotionally vulnerable and "letting your walls come down."
Managing relationships with emotional intelligence
In every season, it never fails to surprise me that the Bachelor or "Bachelorette" immediately seems to zero in on the one emotionally closed off the suitor, while pleading with them week after week to be emotionally vulnerable and to "let their walls down."
Emotional intelligence is the ability to identify emotions, to distinguish and tag them appropriately, and to utilize them to guide thinking and behavior.
Emotional intelligence allows one to be cognizant, to navigate social interactions, and to manage relationships prudently and with empathy.
Putting up the wall in a protective fashion
What does emotionally closed off means? When one is being closed off they do not allow themselves to be emotionally vulnerable, or emotionally close to anyone, as they fear getting hurt, sometimes it is due to social conditioning or their different interpretation of interpersonal bonding.
There are several factors that could negatively impact emotional intelligence in childhood, including emotional trauma, insecure parental attachment, and emotional neglect. In adulthood, deterrents to emotional vulnerability can include emotional abuse, grief, adultery, and dishonesty, as individuals "put their walls up" in a protective fashion.
Usually, women have the edge over men in factors of emotional intelligence and are often drawn to men who are emotionally guarded. These women fall in love and marry these emotionally unavailable men with the confidence and sole intent of "tearing his walls down."
As dealing with an emotionally unavailable husband can be a challenging and formidable task, these women eventually concede and find themselves trapped in marriages with closed off husbands. Living with an emotionally unavailable husband can be very taxing for a wife and yet they display optimism and try to change an emotionally closed off partner.
Similarly, it is often the case that the Bachelorette will inevitably have one of these emotionally unavailable suitors in the final three, while sometimes even choosing them in the end.
An unhealthy, unwavering optimism
You have to credit these women for their unwavering optimism, but I also wonder if they remotely consider the possibility that "tearing down" the walls may be harder than they anticipated. These women are left wondering, "how to break down his emotional walls?" Wondering how to connect with an emotionally unavailable husband? Here are some handy demolition tools.
Nevertheless, if you happen to be the Bachelorette, or a woman dealing with an emotionally unavailable husband, I offer you some demolition tools to help you break down his walls and improve your emotional intimacy in the process.
1. Give space
When husbands emotionally withdraw, it is often instinctual for wives to persistently approach an emotionally unavailable husband.
In a perverse, cyclical game of marital "Cat and Mouse", the emotionally unavailable husband runs away, the wife incessantly follows, causing the husband to run further and the wife to follow faster. The best tactic is to allow your emotionally unavailable husband the space that he needs to figure out his emotional blockade.
Emotionally unavailable husbands build walls for a reason, as it is their best attempt to avoid further emotional pain. Their walls allow them protection and control from outside forces that could potentially hurt, or emotionally incapacitate them.
Do emotionally unavailable husbands change? There is no simple and definite answer to that but the more important thing is to respect their walls, understand why they exist, and allow space for your partner to work through emotional issues.
When my husband's grandfather passed away, he went through a very difficult grieving process in which he became emotionally unavailable for a period of time.
In the days following his grandfather's death, I was constantly asking my husband if he was ok while inquiring about what I could do to make him feel better. Of course, there was nothing that I could do to bring his grandfather back or to alleviate his grieving process, but it took me several weeks to figure that out.
Finally, I learned to allow my emotionally unavailable husband the space that he needed to emotionally work out and process his feelings, which eventually prompted him to seek me out for support.
Giving your emotionally unavailable husband unpressured space to process his emotions will provide them with an opportunity to miss you and to eventually seek you out.
2. Emotional presence
This tip may seem highly paradoxical to giving space to an emotionally unavailable husband, but in fact, is to be utilized in conjunction with space. While allowing your partner the space that he needs, make sure that you are emotionally present when he does feel safe enough to approach.
Try to put aside your hurt and have an open heart while he discusses stressors, frustrations, and fears. This may be difficult, as I am sure that your instinct will be to share your own. However, if you emotionally unload, it is likely that he will become emotionally bombarded and quickly retreat again.
With each successful emotional encounter, it will register in his brain as another time that his heart was safe and protected with you during a moment of emotional risk.
3. You do you
Another way that you can help your emotionally closed off husband is by "Doing You." It is incredibly frustrating to lack control, so seek control in domains where you have it. What to say to an emotionally unavailable man? If your man needs space so be it, but it is important to understand the difference between total engagement and need for a reasonable space for a stipulated period of time.
So, what's the foremost thing to do, when you have recognized your spouse as an emotionally unavailable husband?
Strengthen your own emotional state by setting and achieving goals, engaging in hobbies and interests, and socializing with people that emotionally "fill you" up. If you are happy, confident, and emotionally present, your husband will see you as a strong beacon and you will have a distraction to deter you from putting your sole focus on him.
When my husband lost his grandfather, I feel like I spent every waking moment worrying about him and trying to intervene.
For those first few weeks, my focus was permanently seared on him and little else. Conversations with my girlfriends sought advice on how to make him feel better, personal time was spent researching grief, and my true interests were set aside in a haphazard heap in the corner.
Finally, once I was struck by my epiphany, I learned to distract myself by reading, going out with friends, and trying to learn Spanish in my spare time. Unfortunately, my self-taught Spanish was more like "Spanglish", but thankfully it assisted me in passing the time and not focusing so much on my husband.
Thus, I cannot stress the importance of doing you while you wait for your partner to come around.
4. Value and appreciate
It is important to be mindful that giving space and shifting focus to you does not mean that you become chilly, or emotionally distant towards him. Continue to verbalize your appreciation for him and infuse positivity into your marriage.
Be encouraging and depict that you value him by regaling him with small acts of kindness each day. I would steer clear of any type of criticism, even if it is meant to be constructive, and shy away from the negatives.
If he is already working through his own emotional process, he is already vulnerable and will not respond well to the disapproval of any kind.
5. Seek help when necessary
Let's face it, life is hard, unpredictable, and forever changing.
Just when you think that you have things together and all your ducks are in a row, something inevitably happens that results in your ducks going completely out of alignment.
Individual counseling can assist you with proactive feedback and validation, while individual counseling can assist your partner in exploring why his walls were built, how it is impacting his marriage, and how he can knock them down.
Marital counseling may also be beneficial, whether in lieu of or in addition to individual counseling. Marital counseling will incorporate a professional third party to help you and your spouse process feelings, foster understanding, and to garner solutions.
Share this article on
Want to have a happier, healthier marriage?
If you feel disconnected or frustrated about the state of your marriage but want to avoid separation and/or divorce, the marriage.com course meant for married couples is an excellent resource to help you overcome the most challenging aspects of being married.
More On This Topic
You May Also Like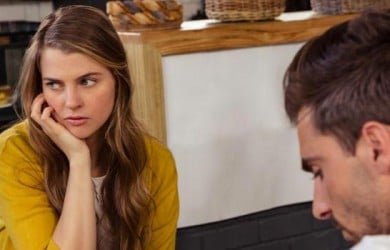 Popular Topics On Married Life