Dating Someone with Kids – How Ready Are You?
Do you already see yourself having kids or are you someone who's excited to live their life to the fullest? What if you find yourself drawn to this person who completes you and where you see yourself being with them for a long time, in short – what if you meet "the one" but it turns out that you are dating someone with kids!
What would be your initial reaction? Can you say that you are matured enough to enter this type of relationship or would you already devise a plan to never call back?
What to expect when you're dating someone with kids
Before proceeding, be warned that dating someone with kids isn't for the weak – remember that. Whether you are dating a single parent or dating someone going through a divorce with kids – expect changes and lots of it too!
When you decide to date someone with kids, expect that this person would want you to be as honest as possible regarding their children. Most of the time, after being a single parent for a long time – a person would be scared to go on a date especially with a single person fearing that they wouldn't understand their situation or would demand more time than they are willing to give.
Expect that you'll have to adjust too. Accepting the fact that dating someone with kids is also signing up to be willing to adjust depending on the needs of your partner's children.
This isn't limited to time or availability but rather with how you deal with your partner's children.
Expect that you and the kids will take time to be "okay" with each other. Don't rush things. It may take months and even years to get used to things and situations so don't force yourself or you'll get disappointed.
Pros and cons of dating someone with kids
Dating someone with kids pros and cons is often asked to find out if it has some good side too and yes that's right, it does have advantages too. It shouldn't be an issue at all but it's understandable if you are having doubts – after all, this is a big responsibility and sometimes, you might need to question yourself if you are ready or not.
Advantages of dating someone with kids
They believe in commitment because even after a failed relationship, if they are brave enough to go back to the dating scene then it means that they are both ready and committed.

If you are

dating someone with kids

, then most likely they are in no rush of having another one. So you can take it easy about having your own child.

You have the upper hand in seeing who this person really is especially around their child. You'll be able to see what this person is like as a parent and as a spouse.

You may find it beneficial that if you are dating someone with a kid; they most likely don't want to get married yet or wants to take a time off as a spouse. No pressure there.
Disadvantages of dating someone with kids
One of the hardest parts of dating someone with kids is that you will have to adjust along with your partner's schedule of their kids. It's not just "you and me" that would come first but rather "the kids, then you and me".
If you are matured enough to go through a relationship with someone who already has children then expect that their kids would always come first and there will be times where you have to sacrifice your needs and wants to give way to the children.
Expect that there will be abrupt changes in every plan that you have with your partner. No matter how accurate you plan things such as vacations, children may have their own plans and sometimes, a tantrum can already cause so much change.
Some useful advice
Falling for someone and seeing a future together? That's great but what if they have kids? You might need to get all the advice that you can get as well as some "me" time to contemplate if you are really ready for this new chapter of your life.
Dating someone with kids advice for everyone will include but is not limited to the following:
Your partner's kids will always be the priority. Whether you need to be picked up or it may be a fever and you want your partner to take care of you – if they are needed by the kids then you will know that they will come first. Are you ready to give way to children?

Allow things to fall into place – don't force

your partner's kids

to accept you in an instant. In fact, it may take a whole while longer for them to accept another person in their lives and you just have to respect that. Take it slowly even with yourself. You don't have to love them immediately – you just have to let them in your heart.

Don't make it a big deal if they may seem distant or aloof at times. They are kids and sometimes, especially if they are a product of divorce, these children need time to accept the change that is happening around them – just let them be.

How mature are you to accept the fact that their ex will always be a part of their life? They have children and they might also have a set up where they have to drop off the child every weekend so they will always have communication – is that something that you are okay with?

If you love your partner, then you will have to love their kids too. Just think of them as a package. You just don't make your partner choose who's important because this will never work and is totally unfair. Don't go into a relationship with someone who has a child kid if you know in your heart that you can't accept the child. It's not that you will have to be the mother or the father of that child; you just have to learn to love and accept them as a part of the person you love.
Dating someone with kids is not a walk in a park. It will take lots of understanding, adjustments, and of course patience but what are these small changes compared to the happiness that this person will bring to you? Love is strong enough and is abundant enough to be shared with your partner and their children.
Share this article on
Want to have a happier, healthier marriage?
If you feel disconnected or frustrated about the state of your marriage but want to avoid separation and/or divorce, the marriage.com course meant for married couples is an excellent resource to help you overcome the most challenging aspects of being married.
More On This Topic
You May Also Like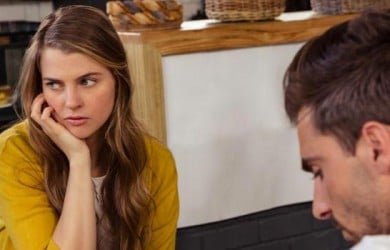 Popular Topics On Married Life