Top 10 Tips for Dating a Divorced Woman
Are you contemplating or are already in a relationship with a divorced woman? Do you sense there might be differences between dating a never-married person and one who has a failed marriage behind her?
The approach and care of dating a divorced woman are a little different than that of becoming involved with a never-married person.
But don't let that dissuade you from moving forward with your love interest. You will find that dating a divorced woman can be an incredibly rich experience, as she knows what the stakes are when it comes to true love.
1. She has some baggage, so be mindful of that
Your partner has experienced one of the saddest events she can be faced with in life: the knowledge that her marriage failed, despite all the best efforts.
This may make her cautious in her approach to dating and falling in love because she knows from experience that even if everything begins all rosy and wonderful, the end game may not be successful.
2. Take care to reassure her that your intentions are good
Your girlfriend may need some extra reassurance that you are aware of the hurt she has experienced in the past, and you would never intentionally cause her pain.
This shows her that you are sensitive and in tune with what she has gone through, and not just someone taking advantage of her vulnerability and fragile sense of self.
3. Understand why she is who she is
The divorced woman's needs are different from those of the never-married one.
She has gone through the worst: a sense of defeat, possibly rejection if her ex-partner cheated on her and left her for another woman, a feeling of aloneness and low self-esteem. This may be her framework for how she perceives the world, and especially men, right now.
Also watch:

4. Step lightly, she is fragile
You may end up falling in love with this woman so you need to respect her timetable in terms of intimacy and commitment.
She is fearful of repeating a mistake and may take longer to establish those two relationship benchmarks with you. Be honest about your own needs, without forcing them on her, initiate a conversation about readiness and communication.
5. She's tough
One thing you will notice about dating a divorced woman is how resilient, tough and self-sufficient she is.
This may surprise you if you've been used to dating someone who has not been through this significant life-change. She has been on her own, perhaps with children, and therefore has the impression that she needs to be both the woman and the man in the relationship.
She may feel like she can't count on another person in the event of an emergency. She may seem like she's tough, but know that underneath that persona, she would love to know you've got her back and will always be there for her.
You can remind her of this in many ways: telling her that it is ok to lean on you, being present for her when you sense she needs you, and offering to help (with household tasks, or repair work, or just taking her car in for a tune-up.)
6. Celebrate her
She's probably gotten used to her unsung accomplishments. A promotion at work, fixing something in the house, excellent time-management skills that would astonish the most powerful CEO.
You see all this. Tell her that you recognize how amazing she is. She may not have heard a compliment like that in a long time.
7. Don't be a game-player
If your pattern is more of a love-'em-and-leave-'em type, stay away from the divorced women.
They do not go into relationships lightly, as they have already been burned. Their hearts are scarred and if you play with them, you could do some real damage.
So if your intentions are not serious nor long-term, you'd be better matched with someone who is on the same page as you.
8. Let her deal with the ex-spouse
Divorced women come with ex-spouses, and those can be an issue for any new partner.
No matter what you think of her ex, let her deal with him. Be an active listener if she rants about him, nodding your head and saying "That sounds awful!" but nothing more. Don't offer to go see him to try and settle any scores.
When your paths cross, shake his hand and say "hello" no matter what you are feeling about him. As the divorce moves further and further into the past, their relationship will be less and less intense.
9. Tread carefully when children are part of the mix
When you date a divorced woman who has children, you are dating a packaged deal.
Expect to have some less than ideal moments with the children. Whether they are small or grown, your presence in their mother's life may not be accepted with joyous high-fives. Their loyalty will always be with their father.
Take your time to show them that you are a sincere, reliable, stable and kind man who loves their mother. Once they feel secure in this, they will warm up to you, too.
10. There are loads of great things about dating a divorced woman
For instance, she knows the value of a good relationship and will make an effort to keep things fresh, interesting and lively between you two.
She will have developed patience and good communication skills so the bond you will make will be solid and enriching. She will have better-developed skills in areas such as empathy, patience, listening, negotiating, and emotion-managing due to her divorce experience.
Enjoy with this woman: she's a full-fledged grown-up!
Share this article on
Want to have a happier, healthier marriage?
If you feel disconnected or frustrated about the state of your marriage but want to avoid separation and/or divorce, the marriage.com course meant for married couples is an excellent resource to help you overcome the most challenging aspects of being married.
More On This Topic
You May Also Like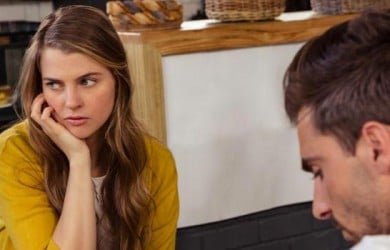 Popular Topics On Married Life