Cutting People Off: When It's the Right Time and How to Do It
Most of the time, we try to keep the people we love and care for close to us. But nobody is perfect, and if you're seeing the signs of tons of negativity that they bring with them, it's time to take some action. In such a case, instead of adding value and happiness to our lives, we end up fed up.
This is how toxic people affect us. By merely talking to them, they can physically, emotionally, and mentally drain you.
Cutting people off of your life is the only solution to ensure peace of mind and better mental health.
Why it's important to cut toxic people out of your life?
Because of the pandemic, many people are taking a stand and helping each other to ensure that every one of us has a support system. In recent years, the importance of mental health has come to light, and we are being enlightened by the reality that most people have battles to win.
Mental health is important.
Toxic people of all types cause a person's mental health to deteriorate. We don't want and need this now. These people, who are close to us and those we love, can affect us negatively by influencing negative thoughts and emotions.
They bring with them twisted judgments and poor decisions that infect us, and slowly, we are left exhausted and unproductive.
Unknowingly, we start dealing with stress and conflict, but ask yourself, do you deserve this? Why are you tolerating it?
The psychology behind cutting someone off is to protect yourself and your mental health.
When should you cut someone out of your life?
Cutting people out of your life is not a simple decision. It would be painful to think of letting go of someone you've known your whole life, a best friend, or an ex-partner, but you have to do it.
Cutting someone off for your own good is not a bad choice. You have to think of yourself and your mental health. That is why you are choosing yourself over drama, toxic mindsets, and other problems that these people are giving you.
When do you decide that it's time to start cutting toxic people out of your life?
Related Reading:

 7 Signs of a Toxic Person and How Do You Deal With One
1. When you don't feel happy around them
You've been thinking about this for a while, haven't you?
Cutting off family or a best friend since you were kids is heart-wrenching, but you don't feel happy when you're with them.
Instead of bringing happiness to your life, they are the ones who bring you down and put you in situations that you would never want to be in.
Your instincts tell you to start cutting people off because when you're with them, you don't feel happy anymore.
Related Reading:

  15 Signs You Are Pretending to Be Happy in Your Relationship
2. They are surrounded with negativity
Whenever they message you, all they do is complain. They create this heavy atmosphere that is surrounded with negativity. These people always hate, complain, get envious, and curse, and they think you would feel happy listening and seeing them like this.
This is one of the signs you should cut off your family or friend, and don't feel guilty about it.
3. They take everything they can
Relationships are all about give and take. This applies to family, friends, and even your partner, but what if they only take what they can and refuse to give?
For example, cutting off a friend you have feelings for because they only know you when it's convenient for them is the right choice.
Letting toxic people become manipulative and use you for their own good is never a good sign. Remember that any type of relationship should not feel like an obligation or a burden.
4. When trust is broken
How to know when to cut someone off? It's when they have broken your trust. When someone's trust is broken, it would be so hard to bring it back, and sometimes you can't.
If you know you can no longer trust someone, what's stopping you from cutting people off?
Related Reading: 

 How to Resolve Trust Issues in a Relationship – Expert Advice
5. When you feel like they want to drag you down
Slowly cutting people off is the best course of action when it's clear that they only have bad intentions for you.
What if your friend always asks you to try drugs? What if a family member wants you to reconcile with an abusive partner and won't listen to you?
If you feel threatened by these actions, it's better to move on and learn how to cut someone off.
How do you cut off someone you love?
You may find yourself overthinking all aspects before cutting off a person. How do guys feel when you cut them off? What if I decide to cut off a family member? Is it possible to learn how to cut someone out of your life forever but won't hurt them?
We understand the hesitation. Cutting someone off without warning can cause these people to get angry or stir issues within your family. Of course, we're concerned about that too.
Remember this:
There is only one way to start cutting people off, and that is to walk away. Remove yourself from the endless drama and negativity.
It's true that learning how to cut someone off nicely can sometimes work, but it can backfire, and the toxic person can twist the situation.
So the best course of cutting someone off without explanation is to completely ignore them. If you decide to cut him off completely from your life, make sure there is no turning back.
Here are some tips on how to cut off communication with someone you love or care about.
1. Cutting people off is a process
Deciding to let go of a person who has been a part of your life for many years is difficult, and it won't happen overnight.
You may struggle and try giving them another chance, but in the end, you realize that it's time to let go.
Once you do, expect them to come back. They can promise to be better or they can get angry. You might need to distance yourself from them many times before they give up.
Related Reading: 

 

Why & How to Emotionally Detach Yourself From Someone You Love
2. Don't try to explain yourself
"Why do I cut people off? People ask me this when they feel that I'm cutting them off."
It's normal for toxic people to confront you about this and, in some situations, can even throw the blame on you.
They would ask for an explanation and twist it or get angry. This can cause issues, so it's better to keep it short, or better yet, don't explain yourself when you know this person will just twist the story.
3. Do it in a public place, or when others are around
It happens, some toxic people carry so much hate and anger that when they realize you're cutting them off, they can get violent and uncontrollable.
If you need to talk about it, do it in a public place.
4. Block all communication
"What does it mean to cut someone off? Should I just stop seeing this person? Or block all communication?"
Social media and all our technology offer us so many ways to contact each other. That's why learning how to cut contact with someone can be a challenge.
One can simply create a new account and call you. Still, try your best not to give them access to come after you and bully you. Enough of all the toxic attitudes, and it's time to choose yourself.
Block them on all social media channels, and when someone tries to send you a message, don't open it.
Related Reading:

  The Importance of Communication in Relationships
5. Don't let them use this as an issue
Toxic people will try to intimidate you and start arguing. They love drama, and this is an opportunity for them. In case they return, try your best not to feed their hunger for trouble.
There is no reason to have a debate. You want to leave this toxic relationship, and that's what you are doing. Don't explain and make them understand because they won't.
Arguing will only make it worse.
Patrick Teahan LICSW, a childhood trauma therapist, talks about the 7 types of toxic family systems.
6. A letter is much better
"Should I cut him off without explaining?"
If you feel bad about cutting people off, then instead of talking to them and explaining the situation or the reason you're cutting them off from your life, why not write a letter?
It could be the best way to explain the situation without giving them the chance to start a debate or get enraged. This would also be your last form of communication with them.
Tip:
Don't just focus on what you don't like about them or their toxic attitude. You can thank them for the years they were okay, the memories you shared, and so much more.
Related Reading: 

15 Tips on How to Write a Love Letter
7. Choose distance instead of separation
What if you have a best friend who suddenly changed? This person started being negative and refuses to change. They're not toxic, just negative.
You can opt to try distancing yourself from them. Instead of always being there, try to be busy with other things. Instead of allowing them to rant all day about how negative life is, try to give them short advice and go on with your day.
Soon, you'll see how you can distance yourself from this person.
Related Reading: 

 10 Things You Must Know Before Separating From Your Husband
5 types of people you need to cut out of your life
Cutting people off is a step that will improve your life. Here are the people who you should let go for your mental health and happiness.
1. The vampire who sucks your energy
This is the person who can drain you of your happiness and energy, even when you're just talking on the phone or texting. They are always there to suck the energy out of you.
Just listening to their constant whining, their negative opinion of others, and just how they share hate can leave you exhausted mentally, physically, and emotionally.
Related Reading: 

7 Symptoms of Emotional Exhaustion & Tips to Recover From It
2. The one who's selfish
We all know someone who can make themselves the center of attention. If one friend suffers from anxiety, suddenly, this person does too. If another friend gets promoted, this toxic person talks about their work achievements, too. Steer clear from this type of people who feed on attention.
3. The person who loves to rain on your parade
We value a family or friend who would be there for us and let us know when we're making bad choices, but what if it becomes too much?
This person will always drag you back to earth and will let you know you should keep it real.
Like when you started a small business, this person, instead of supporting you, will tell you not to expect too much because you're not that good.
4. Always the victim
Some people just don't want to be happy. Other people will always look on the bright side of things, but this person would do the exact opposite.
They are addicted to sadness, drama, and negativity. Why, you may ask?
It's because this allows people to pity them. This drama will make them the victim. Trying to fix their problem or even give solutions won't work. They will sulk and act depressed and will drain you of your energy.
Related Reading:

 What Do You Do When Negativity Takes Over Your Relationship
5. The know-it-all
Whenever you have a topic, this person will feel excited and will share their input to educate you. They are the experts in everything and will allow no one else to be better.
They believe they're wise and will question every decision you make. These people want you to listen to them but won't do it when they need to.
Conclusion
Most of us would want to please other people, especially those we love. We want to see them smile and be happy, and we want to be an excellent partner, friend, and family to them, but to what extent?
If we don't set boundaries, there will be people who will take advantage of us to where our mental health and emotions are affected.
It's not selfish to choose yourself first.
Cutting people off doesn't mean you hate them. It just means that you love yourself and know when to give up on toxic relationships. Maybe, they would realize this and start making changes for their own good as well.
Remember that you deserve to be happy and live a peaceful life.
Share this article on
Want to have a happier, healthier marriage?
If you feel disconnected or frustrated about the state of your marriage but want to avoid separation and/or divorce, the marriage.com course meant for married couples is an excellent resource to help you overcome the most challenging aspects of being married.
Learn More On This Topic
You May Also Like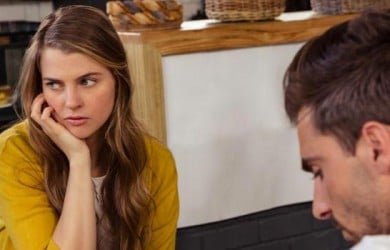 Popular Topics On Married Life