4 Keys to Create the Marriage You've Always Wanted
After six years of dating – we met in the 5th grade but she wouldn't date me until the 11th – and 38 years of marriage, my wife and I are enjoying the absolute best years of our relationship.
It has been anything but easy and there were times when we both thought it might be easier to call it quits. Can you and your spouse relate?
The following four keys to lasting love were not only instrumental in keeping us together, they brought us the marital harmony and security that we enjoy today.
These universal principles will have a profoundly positive impact on your marriage as you put them into practice.
These keys to lifelong love will help you understand how to have the marriage you've always wanted.
1. What's your love language?
To better understand your spouse, you must fully understand yourself. An amazingly practical tool that will give you fresh insights into your internal wiring is Dr. Gary Chapman's book, The 5 Love Languages.
It's sold 12 million copies and has been translated into over 50 languages. You and your spouse can take a love language assessment free of charge at
The results will indicate which of the five primary languages you speak. However, there are many dialects within each of the primary languages.
Take the assessment, print out the results, and discuss with each other your top language(s). Talk about the many nuances of your love language and give each other example of when they spoke your language like a native.
2. Husbands love your wives.
It's no surprise that the Bible directs husbands to love their wives. But the original Greek word for this type of love is much fuller than the English word.
Afterall, how can the word love adequately express your feelings for your spouse and your favorite food, movie, shoes, hobby, or a sports team? The kind of love God instructs husbands to lavish on their wives is selfless and nonreciprocal.
This kind of love always costs. It may cost money, energy, time, or effort, but it always costs. And this biblical kind of love doesn't demand anything in return. Easy? Not at all.
The only way husbands can give this kind of love is by continually asking God for his help. And the husband desperately needs his wife to tell him every time he gets it right.
It's also a huge help when the wife commits to being an easy-to-selflessly-love kind of wife by fully respecting her husband.
3. Wives respect your husbands.
It is a surprise that God does not tell wives to love their husbands but rather to respect and admire them. Multiple independent surveys and university studies have confirmed what the Bible teaches.
A man's greatest need, by design, is to feel respected. Husbands, as you take the 5 Love Languages assessment, replace the word love with the word respect.
It will help you to answer the questions more easily. Wives, you can't effectively honor and respect him on your own. It doesn't come naturally for you.
Therefore, ask God to help you. And understand this: the place your husband most needs to feel respected is with his work.
Husbands make sure you tell your wife every time you feel respected and admired. You give her the kind of love she needs by striving to be the kind of husband that is easy to respect.
4. W.A.I.T.
Why am I talking? God gave you two ears and one mouth so make sure you use them proportionally! To be a successful listener you must make your spouse feel heard.
If you've been married more than a few minutes, you are well aware of the natural tendency we all have to want to be heard rather than to want to listen. Fight the temptation to get your point across.
Discipline yourself to W.A.I.T. Keep asking questions until your spouse is convinced you understand and appreciate their point of view. Remember to speak their love language as you listen.
Give your marriage everything you've got by doing your part. Ask God to strengthen you each day. Commit to practicing these principles and you will honor God and inspire your spouse, kids, friends, and everyone else in your network of influence. Follow these 4 keys to create the marriage you've always dreamed of.
Share this article on
Want to have a happier, healthier marriage?
If you feel disconnected or frustrated about the state of your marriage but want to avoid separation and/or divorce, the marriage.com course meant for married couples is an excellent resource to help you overcome the most challenging aspects of being married.
More On This Topic
Recent Articles
You May Also Like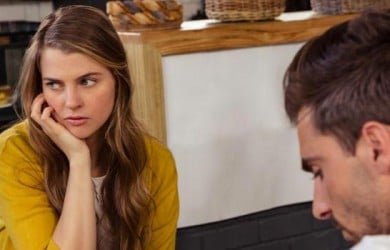 Popular Topics On Married Life