Capstones vs. Cornerstones: Is Marrying Later Always Better?
Marriage is still a significant personal accomplishment for almost all people. It continues to be one of their primary life goals, but in modern times it's viewed more as an honorable accomplishment than a mundane position.
There has been a massive shift in how people get married in the past half-century. This transition is sometimes referred to as a change from "Cornerstone" to "Capstone" in some contexts. This is the primary distinction between marriages within the Boomer generation and those within the Millennial generation.
The marriages that baby boomers had were known as "cornerstone" marriages, whereas the marriages of millennials have been known as "capstone" marriages. With that said, this article will guide you into capstone vs. cornerstone.
Definition of capstone in marriage
With regards to capstone vs. cornerstone, a capstone marriage is a symbol that signifies the achievement of two young adults who have reached a fundamental measure of self, mental, and asset management and achievement.
So if you're asking yourself, what is a capstone, it's more accurate to say that marriage is the culmination of a lengthy and fruitful transition into the adult world than it is to say that it's the cornerstone of the lives of young adults.
What is it like finding happiness in capstone marriages? Watch this video to know more.
Definition of cornerstone in marriage
If you're wondering what a cornerstone is, keep reading to find out. Cornerstone marriages arose in the cases of our grandparents and great-grandparents, in which marriages were founded on a shared commitment made when both parties were young adults to build up their lives together.
People get married young, and their spouses become the center of their lives. It was common knowledge that challenges would eventually emerge, and everyone involved would have to work together to overcome them.
Capstones vs. cornerstones differences
According to recent polls on capstone vs. cornerstone, there is widespread approval of a capstone marriage. For example, the results of a recent nationwide study of people between the ages of 18 and 33 indicated that there is considerable support for delaying marriage.
Marrying later in life for them ensures that both sides are more mature. It increases the likelihood that they will have a successful marriage, gives them more time to accomplish their individual goals, and gives individuals more time to arrange their finances.
It also gives couples more time to evaluate the chances of the marriage of a potential partner and more time to prepare to be a better partner personally. Most respondents (almost two-thirds) believed that waiting till later in life to start a family increased the likelihood that the marriage would last.
The present generation is focused on bettering themselves by pursuing higher education and extracurricular activities to achieve the highest level of autonomy possible when they reach adulthood. They want to feel complete and at ease within themselves before anything else.
They are interested in doing many different things before committing to a marriage commitment. After they have taken care of the fundamental issues, they will be ready to "settle down" and start a family at that point.
However, for some modern young adults, the cornerstone vs. capstone marriage for the 21st century remains elusive. A marriage built on a cornerstone does not negate the necessity of reaching a specific level of maturity before getting married.
Around twenty percent of people have their first marriage between 18 and 19, even though this is a more risky decision. Between the ages of 18 and 21, a significant amount of developing and personal growth takes place.
Careful match selection and purposeful preparation for the institution of marriage would be the key pillars of the modified cornerstone concept. Spending time and networking in productive areas to find a suitable mate would be an essential step in the meticulous selection process.
A marriage built on a cornerstone model focuses on the process of forging a "we-identity" instead of connecting "I-dentities." A marriage based on the cornerstone model is, therefore, in some ways, an act of cultural resistance to a society that places a high emphasis on individuality and material.
One challenge faced by cornerstone marriages is the gradual drifting apart of the couple. Because they married at an inappropriately young age, their differing perspectives on various topics caused friction between them, ultimately resulting in a divorce.
It may work well for some people but does not mean it will work for everyone. The number of marriages that end in divorce is on the rise, and dissatisfaction in the relationship, financial strain, or fundamental differences may be contributing factors.
Traditionally, getting married was the defining moment of entering adulthood and the foundation of a successful life.
This is the final step after laying all the other bricks and mortar, but today's generation doesn't want to return to a time when men, especially women, had little or no choice other than to marry early.
It's time to reconsider the idea that marriage should be held until everything else is sorted out.
What does the cornerstone signify in a marriage?
Many people in a relationship seek meaningful connections with their partners, but achieving this aim can be difficult for many. When it comes to a relationship, it's not just about the sex or the finances; instead, there's something more fundamental at play that affects everything.
Because of this, it's essential to have the following fundamental cornerstones to support the development of a great, healthy, and stable relationship:
1. The commitment to each other
True commitment means you're 100% there for your partner and your relationship, no matter what. It's important to make a promise, but one made from the heart is the greatest. Partners that are personally committed prioritize their relationship and emotional link above everything else and choose to be together out of their own free will rather than out of obligation.
There is no substitute for one's dedication. Because the feelings about each other govern how they treat them, personal commitment strengthens the partnership. Like the other pillars, commitment develops through time.
2. Trust
The foundation of any healthy relationship is built on trust. You feel safe in the relationship when you trust that your spouse will stand with you no matter what.
When you trust one another, you don't second-guess yourself or worry that your spouse will reject, judge, or make fun of you for expressing true feelings and thoughts.
As with commitment, trust takes time to develop. When two people commit to each other and have pleasant experiences together, they learn they can count on each other, which builds trust in their relationship.
Related Reading: 

15 Ways on How to Build Trust in a Relationship
3. Supporting one another
You turn to a stable relationship when your spouse becomes the person you turn to. You turn to them for guidance and support when facing a crisis in your relationship and other areas of your life.
Supporting one another helps you feel a stronger connection because you take responsibility for your spouse's challenges. There are various expressions of support.
There are obvious things, such as assisting with chores around the house and providing financial support. Positive relationships daily are another factor.
When couples have respect, kindness, and affection for one another as a regular part of their routine, it makes them feel better about themselves, the relationship, and one another.
Related Reading: 

20 Steps to Becoming a Supportive Partner
4. Fidelity
While faithfulness alone does not guarantee that a relationship will stay unchanged, infidelity almost always results in the breakup of a relationship. It's one of the most significant factors that might undermine the steadiness of a couple.
Cheating is the most effective way to destroy trust and commitment, yet it's also the transgression that requires the most effort to rectify. Cheating is considered a grave transgression that even people who have engaged in the practice themselves consider unethical.
5. The love for each other
Your love for one another is vital to the relationship's success. A selfless act of your love is when you are willing to adapt, accept, and adjust for the sake of your partner.
This demonstrates the genuineness of your love. It's not simple to be with a person who may be your complete opposite, but the two of you constantly come up with ways to make things work out for the better.
Related Reading: 

11 Tips on How to Increase Love in a Relationship
The takeaway
There are many ways to make things work out for couples who have gotten into the cornerstone marriage and are traveling through the bumpy road of the relationship. Couples should not just end things just because they are difficult.
You might want to consider going to marriage counseling or taking some courses together so that the two of you can better grasp the problem and develop various ways to make things work out.
It used to be that marriage was more about "security." Still, in today's world, where an increasing number of women can support themselves financially, they view marriage as having more of a "meaning" to their lives.
Therefore, in light of the significant paradigm change that is currently taking place in the institution of marriage, it's essential to recognize and comprehend this change. Because navigating this transformation is necessary to discover answers to the challenges of the modern era.
Therefore, the only way to solve contemporary marital issues in capstone vs. cornerstone is through in-depth interviews with both partners, cutting-edge counseling and therapy, and a more cooperative, equitable strategy in which both partners commit to resolving issues.
Share this article on
Want to have a happier, healthier marriage?
If you feel disconnected or frustrated about the state of your marriage but want to avoid separation and/or divorce, the marriage.com course meant for married couples is an excellent resource to help you overcome the most challenging aspects of being married.
More On This Topic
You May Also Like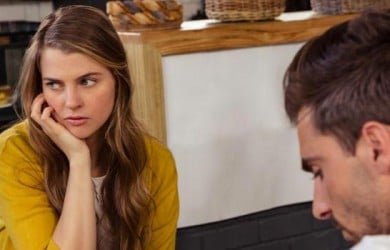 Popular Topics On Married Life