6 Signs Your Relationship Is Moving In The Direction Of Marriage
There is more written on the signs that your marriage is headed for divorce court these days that few are looking at the alternative—when you are headed for the altar.
How do you know that your relationship is going to be ever-lasting? In the realm of the courtship dance, there are significant junctures that designate that a connection is moving in the direction of marriage. Do you remember yours?
Connection is about moments and moving towards commitment involves a trail of them. In listening to marriage vows yesterday at a wedding of first-timers I heard them share the 'moments' that they each felt that their bond grew stronger and each one's moment that they indeed knew he/she was the one.
When you recall those memories, they might include one or more of the following, many that I witnessed yesterday.
1. When your steps become in-sync
In the journey towards connection there is attunement. When you start finishing each other's ideas, anticipate each other's needs and become each other's anchor there is movement in that direction. Seemingly unromantic, Dana announced . .
"It was at the moment one morning that he put my clothes in his dry-cleaning bag that I knew it was going to be a while".
For Stu, that moment came when Dana called for an urgent doctor's appointment for him on a day he had a big business meeting. It is within these moments that the "I" becomes "we" and the "you" becomes "us"; the couple-ship is forming.
2. When you reach for your partner before anyone else
When you realize that you reach for your partner before anyone else, you discover that your partner is your best friend. In the beginning, all relationships are obsessional and according to Dr. Helen Fisher, love is an addiction. You are the most important people to each other and sometimes the only people for a while in each other's lives. That partners value each other—at least at the outset—to the exclusion of others, is a sign of early couple-ship development.
When couples remove themselves, albeit temporarily, from their world, it is not always a bad sign. It is soon enough that they re-enter their world a bit differently, now as a pair and not as individuals. Their shifting or relationship priorities is a sign that they are headed to spend their lives together.
According to Peter . .
"I noticed that I would isolate Jan alone and was worried that it was unhealthy but after a few months I re-introduced her into my circles . . . that's when I knew that she would be around for a long while".
For Jan, it was something else . .
"When I was told of some extensive dental work that was needed I went right to Peter instead of my mom."
3. When he/she becomes your accountability partner
As the dance continues, steps become more synchronized. In a forming relationship, partners become each other's accountability partner. They 'check in' on each other which is a healthy and defining part of a relationship and partners. Those who do this are being responsible to each other first. The "GM" and "GN" texts are a part of this, welcoming the day and acknowledging the separation in the early stages. Relationships that are taking those steps are signs that things are becoming serious.
For Gwen, the reporting of medical news was an important moment . .
"When I got the call from Doug following the visit to his orthopedic surgeon I realized …it was at that moment I knew that Doug cared about me enough to share this timely information and we were become a unit".
This check in for her was a sign of his increasing love and affection.
4. When you have the "us talk"
Heading to the altar is precipitated by increasing amounts of 'us' talk-that is, you consider yourselves a couple-ship. Going from the 'I' to the 'we' is significant in that it defines the space of the couple.
For Sara, it was on an airplane as they were getting ready to depart . .
"When I overheard Dan ask the airplane steward if they could move to seats up front because "'we' have a short layover", I heard something in his voice and at that moment, I stepped a bit closer to him in our union."
5. When you shut down your online dating apps
When Amanda decided to check out of match.com she knew it was the right time. She had been there on the app periodically to pursue her new hits and randomly check for Jordan's online status. But now she no longer felt the need to have her options open or keep checks on her partner.
That said, shutting down your online dating and dating apps is a sign that your relationship is at least headed for monogamy, a precursor, typically, to the altar. Although people today when dating often 'leave their options open' as it is way too easy with the access we have with dating apps. Once those are closed the deal is done at least in the mind of one, which often leads to the other doing the same.
Amanda reported . . .
"We had 'the talk' and I asked Jordan about his online presence, which I pretty much knew from periodic checks. He said he was no longer needing to look and was shutting down his account. For me, that was a critical step."
6. When you truly believe in each other
Probably the single most important aspect to a healthy connection is the notion that partners believe in each other. When Stephanie realized that Jake would help her get through their weekend with her family she knew she could turn to him for anything.
"When he told me he would be joining me, knowing how challenging being home would be, and that he would be a buffer I knew he was there for the long run".
As we start to connect we find ourselves taking our partner's advice. Respect, admiration or even temporary idealism-the 'I believe in you', begins to take form. Respect is paramount and when that develops, especially along with the other signs. It could mean that a more permanent situation is in form.
Age, attractiveness, intelligence and success doesn't really matter. Neither does the bedroom; as a sex-therapist, it doesn't surprise me that these moments are rarely about sex. It's the moments of connection that matters. It is those moments and more as we grow together that we need to hold onto and remember.
Share this article on
Want to have a happier, healthier marriage?
If you feel disconnected or frustrated about the state of your marriage but want to avoid separation and/or divorce, the marriage.com course meant for married couples is an excellent resource to help you overcome the most challenging aspects of being married.
Learn More On This Topic
You May Also Like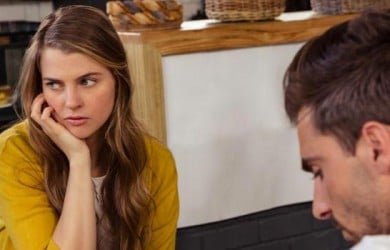 Popular Topics On Married Life