How to Set Expectations for Second Marriage After 40
Many people think it can be risky to have a second marriage after 40. At this age, you are more likely to have second thoughts about remarrying the second time. However, this should not make you worry. Meeting the right person is still possible in your forties.
Continue reading to understand what you can expect when you try your hand at marriage second time around.
Related Reading: 

6 Challenges of Second Marriages and how to overcome them
How common is a second marriage after 40?
Research shows that there has been an overall increase in divorces in most countries, even though the degree varies from country to country.
Many couples choose to end their marriage because of feeling unhappy and dissatisfied. However, this does not mean that they do not believe in marriage. They may get married to someone they have better compatibility with a second time.
Data shows that the number of divorced people remarrying after 40 is relatively high. It is understandable as it takes a while to divorce and move on from their first marriage.
Suppose you have been thinking about how frequently people get married again after 40. In that case, you understand that most of them are willing to give it another shot.
Related Reading: 

11 Surprising Divorce Facts and Statistics
Is marrying the second time more successful?
You might have thought that if one partner or both have been married before, your second marriage after 40 has better chances of success. That is because of experience. They have likely learned more from their past relationship, so they are wiser and more mature.
Research shows that this is not the case. The likelihood of getting divorced in second marriages after 40 is higher. However, successful remarriages reported a higher level of satisfaction than successful first marriages.
Although people are calmer, more mature, and wiser, they are also more fixed in their approach. This can result in making second weddings over 40 a little weaker. Nevertheless, some people find a way to compromise and make their second marriages work. This makes it harder to adjust to a new partner.
Here are some of the reasons why second marriage after 40 do not succeed:
Still affected from the previous relationship

Different views on finances, family, and intimacy

Not compatible with children from a previous marriage

Exes getting involved in the relationship

Rushing into marriage before moving on from the first failed marriage
Also Try: 

Second Marriage Quiz- Is Getting Married The Second Time A Good Idea?
What you can expect when you marry the second time after 40
Weddings after 40 act as a ray of sunshine for those looking for a fresh new start. It marks the fact that there is hope and so many more possibilities in life after a divorce.
Here are some things that you can expect when you marry for the second time after 40:
You might make comparisons of your current spouse to your previous partner in your second marriage after 40. It is inevitable to have your previous partner as a point of comparison for the people you go out with.
Nevertheless, you have to remember that each person is different. Your new partner can be positively different compared to your previous one.
You may no longer be the same carefree and youthful person once you get into your second marriage. You cannot act thoughtlessly. You need to be accountable for your actions and beliefs. This is your chance to take advantage of having a good and loving marriage.
You can expect that you will have differences in your opinions, perspectives, and choices in your second marriage after 40. However, this is what will make your marriage and relationship stronger. It is best to enjoy these differences and deeply learn more about each other.
If you need to compromise once or twice in your marriage, it is okay. You can work on accepting the request of each other and solving your problem by compromising a little when you often have arguments and fights. You have to keep in mind that doing this does not make you less.
Related Reading: 

Marriage Is Not About Your Happiness but Is About Compromise
5 ways to make second marriages after 40 succeed
Making second marriages after 40 can be a bit more challenging. But, if you know what to expect, you can prepare yourself for them in advance. So, here are some tips that will help make it more manageable:
1. Stop making comparisons
As mentioned, it is natural to compare your previous spouse to your new partner. However, you should make an effort not to do this. Moreover, you should not discuss how you compare the two of them to your partner if you want to make your second marriage better.
If you aim to gain an advantage, your relationship will probably get damaged permanently. A perfect partner does not exist, so you may find similar or lacking behavior that lets you think of your ex.
Making comparisons constantly can make your current spouse feel hurt and not enough. This is more crucial if this is your partner's first marriage.
Related Reading: 

10 Reasons You Should Never Compare Relationships or Your Partner
2. Reflect on yourself
You need to reflect on yourself if your first marriage did not succeed. You can ask yourself what you did that could have caused the marriage to fail or what you could have done to save it.
By reflecting, you will likely discover new things about yourself. This can help in improving yourself and not committing the same mistakes in your second marriage after 40​​.
Being responsible means you accept the consequences of your actions and learn from them so that you can have a better life. It is your responsibility to prioritize your interests and learn to be vulnerable and receptive to your partner.
If you are getting married after 40 for a second time, you utilize your failed marriage to get the happiness you want. Since you have this chance, you better opt to do it right.
A person's chance in marriage after 40 depends on their personality and matching with the right person. However, the most important thing is to make the relationship work by making the mistakes from the previous marriage right.
3. Be honest
Most people are proud of their honesty. However, this can cause them to be thoughtless of their behavior and actions, especially when it comes to a second marriage after 40.
As a result, this can permanently damage their partner's feelings and the relationship. It is indeed true that you have to be honest, but brutally doing it can brutally hurt your relationship. With empathy and kindness, you can counterbalance honesty.
The emotional quotient of couples is crucial when remarrying after 40 and wanting to make the relationship a success. That is because there is lost trust and bitterness from the previous relationship.
There can be a lot of emotional and concrete baggage. For example, you accept your spouse's children and try to adjust your setup. Then, you also need to learn how to manage things that trigger you, such as security and trust issues.
At this point in their lives, couples are independent. Therefore, they seek respect and acceptance for their lives. Being realistic and truthful means accepting that your relationship is not similar to love stories in movies. Pure companionship is likely the central core of the relationship.
Watch this video to learn more about the power of transparency and honesty in marriage:
4. You can't have it your way all the time
This means being considerate to your partner's expectations, perspectives, and desires in your second marriage after 40. Understandably, you lived your life differently before your second marriage. However, if you are not willing to adjust, your marriage can result in a disaster.
You can think of creating a strong second marriage to skating on thin ice. Feelings are sensitive, and the pain from the past relationship still stings. Therefore, it is important to accommodate in your relationship and make your partner feel that they are part of your life. You do this even if it means having to compromise.
5. Recognize differences
Disagreements are inevitable with couples. Yes, a second marriage after 40 is not spared from this​​.
However, you should not trigger past trauma because of these disagreements. You should not give yourself up when you have your second marriage after 40 simply because you are too focused on wanting to make it work this time. You will just end up feeling bitter and unhappy.
What you can do is to identify and accept your difference. It does not matter how long you have been married. That is because the most important thing in making relationships work is to make ample space for both of you to develop and be unique.
Collaborating, being generous, and progressing together is what second marriage is all about. You do not need to think about the divorce rates and success stories of people who married the second time after 40.
You should not worry too much if you can make another marriage in your 40s or think about the reasons why second marriages do not work. You need to focus on giving your best in the relationship and letting things fall into place.
Bottom line
Finally, you have a better understanding of second marriages after 40. Getting married the second time can be romantic, familiar, and frightening.
It is natural to wonder what will happen differently in your second marriage. The feeling can be more evident when you are in your 40s. However, understanding the expectations and what you can do to make your second marriage work can help you overcome this and live happily ever after.
Share this article on
Want to have a happier, healthier marriage?
If you feel disconnected or frustrated about the state of your marriage but want to avoid separation and/or divorce, the marriage.com course meant for married couples is an excellent resource to help you overcome the most challenging aspects of being married.
Learn More On This Topic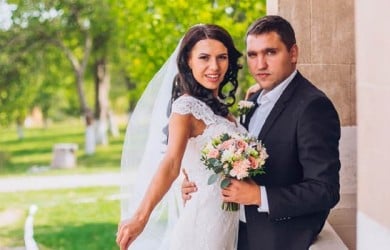 You May Also Like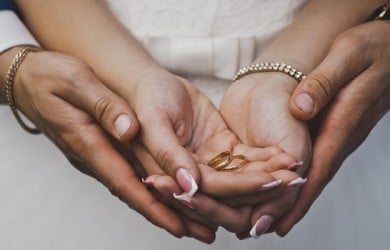 Popular Topics On Getting Married