11 Ways How Second Pregnancy Differs From the First One
Entering motherhood once again, but this time for the second round is a unique adventure with both familiar and new elements. The second pregnancy journey brings changes in how your body feels, how you think and plan, and how you handle more than one child.
While the excitement of pregnancy remains, the second time around is different – from how you experience it physically to how you manage everything.
Know the special differences in your second pregnancy compared to the first of the remarkable path each pregnancy follows.
What is second pregnancy?
A second pregnancy refers to the experience of being pregnant for the second time after having already given birth to a child. While some aspects might resemble the first pregnancy, differences arise.
The body might react differently, and emotions could vary due to existing maternal responsibilities.
Comparatively, the anticipation and excitement might be more tempered with experience. Balancing the needs of the growing family, especially if there are older siblings, adds a new dimension.
Each pregnancy journey is distinct, influenced by past experiences, evolving family dynamics, and the unique nature of each child being brought into the world for the second time.
5 common second pregnancy symptoms
Experiencing signs of second pregnancy is a blend of familiarity and uniqueness. While some symptoms may reappear from the first pregnancy, others might surprise you. Here are 5 common symptoms for second pregnancy that distinguish it from the first:
1. Stronger awareness of fetal movements
During your second pregnancy, you might notice fetal movements earlier and more distinctly than in your first. This heightened awareness could be due to your familiarity with the sensation or the fact that you're more attuned to your body's signals.
Feeling those gentle flutters or tiny kicks can create an even stronger bond between you and your unborn child.
2. Increased vaginal discharge
An increase in vaginal discharge, known as leukorrhea, is a typical symptom of pregnancy. However, second-time mothers might experience this more prominently. This is often due to hormonal changes and increased blood flow to the pelvic area.
While it can be uncomfortable, it's usually a normal part of the pregnancy process. Nonetheless, if you're concerned, it's always best to consult your healthcare provider.
3. Faster belly growth
Your body has already been through pregnancy once, so it's more prepared for the changes this time around. As a result, you might find that your belly grows faster and becomes more prominent in the early stages of your second pregnancy.
This can be attributed to your abdominal muscles being more relaxed from the previous pregnancy.
4. Increased back pain
With your first pregnancy, the ligaments in your pelvis and lower back experienced stretching for the first time. In your second pregnancy, these ligaments might already be looser, potentially leading to increased back pain earlier on. The additional strain of caring for your first child might also contribute to this discomfort.
Engaging in gentle exercises and practicing good posture can help alleviate some of the discomforts.
5. Braxton hicks contractions
Braxton Hicks contractions, also known as "false labor," are sporadic uterine contractions that can start as early as the second trimester. During a second pregnancy, these contractions might be more noticeable due to your familiarity with the sensation.
They're a normal part of the body's preparation for labor, but if they become regular or painful, it's essential to consult your healthcare provider to rule out preterm labor.
11 ways how second pregnancy is different from your first
Wondering what to expect with second pregnancy? Experiencing a second pregnancy is an exciting and transformative journey that carries both similarities and notable differences compared to your first pregnancy.
From physical changes to emotional adjustments, here are 11 ways in which a second pregnancy differs from your initial experience:
1. Physical changes
How soon do you show with second pregnancy? One of the most apparent differences is how your body responds to a second pregnancy. Your uterus and abdominal muscles have already been through the stretching process, so you might notice your belly growing more rapidly this time around.
Additionally, when it comes to physical differences between first and second pregnancy, your skin might stretch more easily, possibly leading to the earlier appearance of stretch marks.
2. Fetal movements
During your second pregnancy, you're likely to recognize fetal movements earlier and more distinctly. Having felt these sensations before, you're attuned to the subtle flutters and kicks, deepening your connection with your unborn baby.
3. Breast changes
Your breasts might undergo changes more rapidly in a second pregnancy as your body remembers the process from the first time. Tenderness, enlargement, and darkening of the areolas could occur earlier due to the body's familiarity with hormonal shifts.
4. Morning sickness
While you might have experienced morning sickness in your first pregnancy, it doesn't necessarily mean you'll have it the same way the second time.
Morning sickness might be less severe or absent altogether, as your body's response to hormones can vary from one pregnancy to another.
5. Fatigue
Balancing the demands of pregnancy while caring for your first child can lead to increased fatigue during a second pregnancy. You're likely to have less time for rest and relaxation, making self-care and adequate sleep even more important.
6. Emotional changes
Emotionally, a second pregnancy can be different. You might have a stronger sense of confidence and preparedness, as you've been through pregnancy and childbirth before.
However, concerns about dividing your attention between two children and managing their needs might also lead to emotional adjustments.


7. Less monitoring
With your first pregnancy, you might have visited your healthcare provider more frequently for check-ups and ultrasounds. During a second pregnancy, the monitoring might be less intense unless there are specific complications.
Your provider will still ensure your health and the baby's well-being, but the process could feel less novel.
8. Work and lifestyle adjustments
Balancing work and pregnancy might come with new considerations during a second pregnancy. You likely have work and parenting experience, which might help you manage your time better.
However, the physical demands of pregnancy combined with your existing responsibilities can necessitate adjustments to your daily routine.
9. Sibling dynamics
If you already have a child, your understanding of pregnancy and impending siblinghood adds a dynamic layer. Preparing your firstborn for the arrival of a new sibling involves explaining the changes and ensuring they feel included and loved throughout the process.
10. Birth plan and delivery
Your approach to birthing might change in your second pregnancy. If your first birth experience was positive, you might choose a similar plan.
Conversely, if there were challenges or complications, you might explore different options. Knowing what to expect during labor and delivery can influence your decisions.


11. Parenting perspective
With a second pregnancy, your perspective on parenting might evolve. Lessons learned from raising your first child can shape your approach to pregnancy, childbirth, and parenting the second time around.
You might have greater insight into what works best for your family and be more confident in your choices.
Commonly asked questions
Curious about the nuances of your second pregnancy journey? These questions will help you understand the differences with second pregnancy, potential complications, childbirth classes, preparations, fetal movements, and more. Unveil the unique path that each subsequent pregnancy paints.
Is second pregnancy better than the first?
Whether a second pregnancy is better than the first varies for each individual. While you might feel more confident due to prior experience, challenges like managing multiple children can arise. It's a unique journey with its own set of joys and adjustments.
Are there any potential second pregnancy complications?
Second pregnancies can come with potential complications, just like the first. Conditions like gestational diabetes or preeclampsia might occur again. Regular prenatal check-ups and open communication with your healthcare provider are crucial to address any concerns.
Should I attend childbirth classes again for my second pregnancy?
Attending childbirth classes during a second pregnancy is optional, but it can be one of the helpful second pregnancy tips you will find out there. However, they can be beneficial to refresh your knowledge and address any new questions. You might also find classes focused on sibling preparation valuable.
How to prepare during your second pregnancy?
Preparing for a second pregnancy involves considering the needs of your growing family. Update your birth plan, involve your older child in preparations, and ensure a support system is in place for both pregnancy and postpartum.
Bailey Gaddis, a certified hypnotherapist, certified birthing doula, HypnoBirthing(R) practitioner, and HypnoMothering(R) practitioner, explains how your 2nd pregnancy and birth experience could be different from the 1st:
When will I start feeling movements during my second pregnancy?
Feeling fetal movements during a second pregnancy can occur earlier, often around 16-20 weeks. This increased awareness is due to familiarity with the sensation and can deepen your connection with your baby.
Every pregnancy is special!
A second pregnancy is a unique journey, blending familiarity with new experiences. While physical changes and potential complications exist, the wisdom gained from the first pregnancy can shape a more confident approach.
These are simple tips. They'll help you feel more prepared and confident as you go through this journey again. Whether it's attending childbirth classes again or adjusting to the dynamics of multiple children, embracing this distinct journey enriches your path to motherhood.
Share this article on
Want to have a happier, healthier marriage?
If you feel disconnected or frustrated about the state of your marriage but want to avoid separation and/or divorce, the marriage.com course meant for married couples is an excellent resource to help you overcome the most challenging aspects of being married.
Learn More On This Topic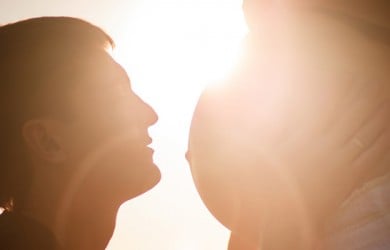 You May Also Like