5 Tips to Pull off Working at Home, Parenting and Marriage
It's not uncommon for modern parents to leverage the rise of technology and embrace all of the perks that it brings – including abandoning the traditional 9-5 office life and choosing to work from home. Now, there's no denying that working from home can be great.
If you schedule your days just right, you can spend enough time with your kids, tend to all of the household chores, and have enough time to devote to your loving spouse.
No matter if you're working together, or if only one of you is considering a switch to this new lifestyle, though, there are plenty of important considerations you need to take into account to make it work.
From setting some basic ground rules all the way to creating a healthy work-life balance at home, here is how working parents share parenting and household.
1. Setting office hours and basic ground rules
Looking for tips on a happy marriage for working moms?
First things first, it's important to keep in mind that working from home is not just about having the freedom to work in your pajamas.
Well, it's that, yes, but it's also about being well-organized and understanding that this is just like any other job, meaning that if you want to make this work in the long run, you need to create your own office hours, and set up basic ground rules for your kids and your spouse.
Think about it, if you don't set ground rules, then your kids and your spouse will think that you being home means you're free to cook, clean, run to the store, and tend to every little chore around the house.
Of course, this is no way to run a professional business, nor is it a good way to stay productive throughout the day.
Be sure to set your office hours, during which you're absolutely unavailable to anyone who is not your client or your boss, and you will be able to focus on your job.
2. Managing your relationship with your spouse
One of the reasons some marriages function well over the years and decades is that spouses don't have to look at each other all day long.
Hey, it's normal, so don't worry about it if you're finding it difficult to concentrate on the task at hand in the first few weeks. Things tend to get even more complicated if your partner is also working from home, because all of a sudden, you're all there all of the time.
This takes some getting used to, and the best way to make it work with your partner is to maintain honest and transparent communication, delegate chores and household duties, and most importantly, have your own space to work.
Unless you're completely fine with both of you working in the living room next to each other, you will need to create your own workspace where you can focus and maintain productivity.
3. Creating your workspace and getting organized
One of the key elements of a thriving stay-at-home career is to build a healthy and positive work environment that is clean and clutter-free, organized, stress-free, and decorated to your exact liking.
What's more, this space needs to be functional as well, because you can't really expect to get much work done on a laptop perched atop a kitchen counter.
No matter how small your home office might be, it's important to make it your own, and design with all of the office essentials in mind such as a Winc stationary that has all of the supplies you might need to stay organized, productive, and on schedule.
Some of the basic supplies include pencils and notebooks, folders, envelopes, separators and organizers, and of course, dedicated idea books.
Neatly organize all of this with color-coded stickers and markers, and label every shelf and drawer to make the space as productive as possible.
4. Set a strict schedule and devise a healthy routine
So what are some of the simple ways moms can balance work and family?
When working from home, it can be quite easy to lose track of time, work until the late hours of the evening, and adopt an unhealthy routine.
Needless to say, this is not a good long-term plan, because at some point something is going to start slipping through the cracks.
It's important that you work just enough, keeping in mind your personal needs, as well as the needs of your family. Create a strict work schedule, allow yourself a couple of healthy breaks during the day to tend to other chores, and be sure to clock out at the same time every day if you can – it will mean all the difference for your emotional and physical well-being.
5. Hire someone to help you take care of kids
People who don't work at home love to think that those of us who do have all the free time in the world to take care of the kids, oh, and walk the dog while we're at it.
In reality, though, working from home is just like any other job, so don't fool yourself into thinking that you're going to have more free time than usual.
Instead, be realistic and hire someone to take care of the kids while you're working. This way, you'll know that the kids are fine, you'll be able to focus on the task at hand, and you will have more mental clarity and energy to build your career.
Working from home might seem like an amazing prospect at first glance, but there is a lot of planning and preparation needed to actually make it work on a daily basis, especially if you're a parent and someone's partner.
Follow these tips and advice for working parents, and you should have no problem creating a healthy balance while reaching for your professional goals.
Share this article on
Want to have a happier, healthier marriage?
If you feel disconnected or frustrated about the state of your marriage but want to avoid separation and/or divorce, the marriage.com course meant for married couples is an excellent resource to help you overcome the most challenging aspects of being married.
More On This Topic
You May Also Like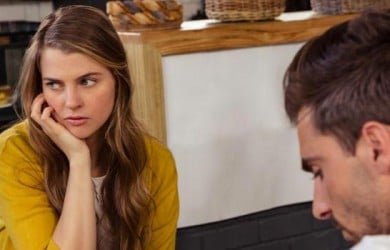 Popular Topics On Married Life