How to De-Stress After a Long Day of Stay-at-Home Parenting
Parenting requires a lot of hard work, especially when it comes to balancing raising kids with maintaining a social life, keeping up with your work, and — most importantly — not neglecting your physical and mental health.
This is a tough balancing act as we will often prioritize our parental duties over ensuring that we can make up for the pressures of being a parent.
This is even more pronounced for stay-at-home parents who work as remote freelancers or focus on family & home full-time. It's easy to become consumed by the routine, both the good and the bad, of parenthood.
Do the daily chores, ensure that kids follow their schedules, and take on whatever emergencies may arise.
All of this can lead you to neglect yourself. By the end of each day, you feel too drained (both emotionally and physically) to reward yourself. But it is vital to make 'me-time' to recharge your parenting batteries.
There are many ways to de-stress, and most of these don't need to be a time-consuming activity. Our bodies are hard-wired to take respite where they can find it so that we can bounce back without exerting much effort.
1. Take a nap
A quick snooze is the tried-and-tested method of de-stressing that can make all the difference. Dedicating a bit of time to rest your eyes in a quiet environment could change your entire mentality.
Get a pair of silicone earplugs, an eye mask, and hideaway. You'll wake up rejuvenated and once-again ready for your parenting duties.
A life hack that could also work for you is drinking coffee right before your nap. That way, you can get the rest from a micro nap (between 15–30 minutes) without worrying about oversleeping.
2. Video games
If the kids can do it, so can you! Older generations view video games as a pastime activity that is not intended for them. This could not be more wrong.
As people grow older, most of their hobbies tend to have an air of passivity to them (watching movies, TV shows, sports, etc.). Video games involve direct contributions from both your reflexes and your intellect.
This is a welcome distraction from your daily routine, and depending on your choice of the game, it can relieve stress as well as keep your brain sharp.
So when the kids are asleep, pick up your game console controller and put on a fun game. It might turn out that you're better at it than you think!
Also watch:
3. Try cannabidiol (CBD) products
As legislation surrounding cannabis is becoming more lenient, CBD products are gaining popularity. These cannabis products are ideal for people who want to try cannabis for their many benefits without getting an actual high. They help relieve anxiety, improve sleep, and manage pain.
CBD products come in many forms, including edibles, lotions, and even bath bombs. With subtle effects that don't take long to kick in, they are ideal for parents to unwind after a long day. It's as simple as eating a delicious gummy or dropping a bath bomb into your bathtub.
Many cannabidiol products are available online and in dispensaries, and they could add an extra layer of relaxation to your de-stressing routine.
4. Exercise
Exercise may sound like a counter-intuitive cliché for busy parents. Even the thought of physical exercise might be off-putting to those who want to relax.
Exercise is scientifically proven to release endorphins, our happy hormones. Combined with the growing satisfaction of the sight of yourself in the mirror, this acts as a terrific de-stressor.
While it does take some getting used to, exercise is actually an amazing way to de-stress. Once you get into the habit of finishing up a long day with a dedicated exercise routine, it becomes more addictive—and healthier—than any drug.
5. Gardening
Gardening is another cliché, but not without good reason. We enjoy gardening because it is the easiest way we can see the fruits of our labor. Being outside, even if it's in your backyard, also helps reduce anxiety and stress.
Find a little patch of land for yourself and pick something edible to plant. Opt for an easy beginner crop, something that requires low maintenance and does not easily perish. Tomatoes, apples, and strawberries are great choices.
When you eventually collect the results of your efforts, you can use them in another popular de-stressing method: cooking!
Conclusion
These are only a few examples of how you can wind down after a long day of taking care of your home. The most important thing is to find the methods that best suit your personality and help you achieve your personal goals.
Never neglect yourself because it will hurt your social, family, and professional life.
Share this article on
Want to have a happier, healthier marriage?
If you feel disconnected or frustrated about the state of your marriage but want to avoid separation and/or divorce, the marriage.com course meant for married couples is an excellent resource to help you overcome the most challenging aspects of being married.
More On This Topic
You May Also Like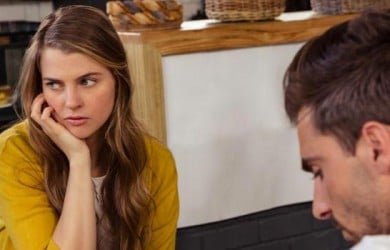 Popular Topics On Married Life