How to Keep Your Relationship Alive While Working From Home
With more and more people working from home, tension can creep in, and you may feel the spark in your relationship has fizzled as you struggle for space and alone time. Do you find you and your partner quarreling over minor concerns, or maybe just the sight of your partner is beginning to annoy you? When there's too much-imposed togetherness, this can happen.
It takes a lot to keep your relationship alive, read on to know more tips to revive spark in your relationship.
Related Reading: 

18 Ways to Keep Your Love Alive in Marriage
How can working from home affect your relationship?
While working from home can seem like a boon, the reality is far from it. People are attending more meetings than before. They have increased screen time which directly affects your relationship.
Due to the over-exhaustion, couples argue more than before. People have less time to invest so the communication gap in relationships increases.
Work from home keeps you on your toes as you know that a single mail can disrupt a good conversation, meal, date, movie night, etc. Working from home has increased the workload and made balancing our professional and personal lives challenging.
When both the couple work together in one place, venting out work frustration also becomes a challenge. As a result, couples verbally fight or completely ignore each other.
Working from home has created more bitter moments for couples than before.
Why is finding the right balance between work and relationship is important?
We ignore little things when it comes to relationships. Finding the right balance between work and relationship is crucial, or else most of the time will be consumed by your work, and you will be left with lesser quality time to spend with your loved ones and family.
Maintaining a good work-life balance means protecting your relationship, mental health, physical health, and energy. If you want to feel good about working from home, you need to manage your time to create a work-life balance.
Also Try: 

Work and Life Quiz: Finding a Balance
To know more about how to maintain the work life balance, watch this video by best selling author Simon Sinek:
5 Tips on how to keep your relationship strong while working from home
Here are a few ideas to help you cope with cramped quarters and find that sweet spot of balance in your work and personal relationship.
1. Keep the lines of communication open
Discuss your needs and work out a schedule that accommodates both of you. For example, if you want to join a yoga class at 7 am, ask your partner to handle the kids while you attend every Monday and Wednesday in the living room.
On the other days, they get the space at a time that works for both of you. In other words, negotiate your space. We all need alone time; some need it more than others.
Tell your partner exactly what you want. When you talk about schedules, avoid being vague, it will help. Tell your partner exactly what you want, "I need time to work on my project alone for four hours a week." No one is a mind reader, so be specific to avoid confusion and frustration.
Related Reading: 

Open Communication In a Relationship: How to Make it Work
2. Make having fun together a priority
Working side by side or in the same house doesn't count as quality time together. Schedule time spent together doing things you enjoy, walking, dancing, bike riding, or even cooking while music is playing on your phone.
Rekindle regularly, and if schedules are tight, even every other week will work. Think of your time and energy as an investment in your relationship. Remember, continuous efforts are required in keeping your relationship alive.
Relationships need attention, like a bank account, you can't keep taking money out and expect to thrive. Imagine your life without your partner and be grateful for their gifts; remember to laugh together.
3. Give each other space
Everyone needs that. Maybe one of you needs it more than the other. It is the flip side of spending quality time together, so honor it and get creative with alone time. Go for a drive, go to the store by yourself, and take turns letting each other have the place to themselves.
All relationships, even great ones, revolve around space and togetherness. Both are essential. If your partner says they need alone time, recognize that it has nothing to do with you. This keeps your relationship strong.
Part of giving each other space also means not phoning, not texting. When someone needs space, they need time to allow their minds to wander and imagine.
Texting interrupts that process and can make your partner feel as if they didn't get the quality alone time they craved, which may cause resentment. No calls, no text, no interrupting the space-time matrix.
Related Reading: 

How Much Space in a Relationship Is Normal?
4. Don't play the blame game
Do not take your frustration out on your partner if something is messed up. Take responsibility for your actions and try to find a solution. It is easy to blame something or someone else. Try to overcome the challenges together.
5. Avoid extreme measures
Do not over-exhaust yourself either in work or in maintaining your relationship. Both things are important and will work out, but if you feel that you need to work on both simultaneously, your body will burn out.
Instead, categorize working on both. Plan your day smartly to make time for work, relationships, and yourself.
Conclusion
If you face challenges in keeping your relationship alive while working from home, please don't be harsh on yourself. All of us are trying to make the better out of the situation, and with the tips mentioned above, you can keep your relationship spark glowing.
Share this article on
Want to have a happier, healthier marriage?
If you feel disconnected or frustrated about the state of your marriage but want to avoid separation and/or divorce, the marriage.com course meant for married couples is an excellent resource to help you overcome the most challenging aspects of being married.
More On This Topic
Recent Articles
You May Also Like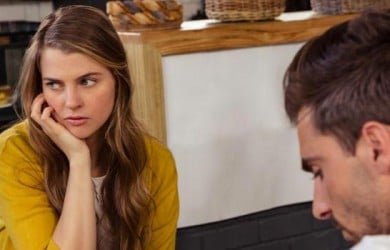 Popular Topics On Married Life