4 Effective Tips for Parenting With a Mental Illness
If you've been diagnosed with a mental illness, you may worry how it will affect your parenting because parenting with mental illness can be cumbersome and worrisome at the same time. It's only natural to be concerned.
But with the right support, you can still be a good parent while managing a mental illness, says Joy Sereda.
How mental illness in a parent can affect children?
Sereda, a registered psychotherapist, clinical counselor, and social worker, shares that children have a hard time understanding abstract things – things they can't see or touch. This means a child may struggle to understand what a mental health issue is.
Kids are naturally self-focused. So, in the case of parenting with mental illness, children will often think they've done something wrong. They may think it's their fault, and that they are the reason their parent is angry, worried, or withdrawn.
Mental illness and parenting is can pose problems in the development of the child. When a parent is experiencing a mental health issue, they may:
have difficulty communicating with their child(ren)

have issues meeting their child(ren)'s needs

have trouble tolerating the demands and

stresses of parenthood

lack patience

misinterpret things

have a more emotional response to something than what's expected
"Kids pick up on these things. They will start to feel anxious when there's a disconnect," says Sereda. "This will lead a child to have an emotional reaction."
To help prevent children from blaming themselves, Sereda says it's important they are educated about the mental illness in a way that is appropriate to their age level. "We need to help the kids understand why their parents are having these symptoms and what the symptoms are."
Talking about mental illness with children
Sereda says when talking to your child(ren) about your mental illness, pick the language they can identify with. "For example, if you have a young child, you wouldn't say, 'I have a generalized anxiety disorder.'"
Instead, explain as simply as possible how your mental health affects how you feel and how you behave:
"I have something call anxiety. Sometimes, it gives me thoughts that make me worry about things."

"I have something call depression. And sometimes, it means I feel super sad and have a hard time noticing the happy things around me. It makes it hard for me to get things organized and plan things."
Next, it's important to get ahead of any fears they may have. "It's not like a cold – it's not contagious.' And make sure they know they didn't do anything to cause it. You want to get rid of any of those self-critical thoughts that may be brewing in their minds."
Related Reading:

 What Mental Health Issues Are a Deal Breaker in Marriage?
How to support children of parents with mental illness
Children of parents with mental illness can face various issues. Know the ways to support them:
1. Let friends and family help
The support of family members and friends can be helpful for both child and parent. It can be as simple as offering to take the child out with you and your kids. It gives the parent a break and gives the child a chance to connect with peers.
2. Connect with your child's educators
To make your child's teacher, principal, and/or support person aware that a parent is struggling. "If the child's exhibiting some behaviors or emotions, this helps the educators understand where it's coming from," Sereda says you'll also want to share with your child's teacher if mental health is in the curriculum.
It's important they know there's a child in the class with lived experience.
3. Connect with support groups
"See what peer and support groups are in your community. They can help children build resilience and confidence and grow their social network," says Sereda.
4. Keep track of their mental well-being
You want to keep an eye out for changes in your child. "All kids are in a constant state of change as they grow. But it's important to recognize not all changes are due to growth spurts, hormones, teenage years, etc. Some red flags to look out for are:
If they're avoiding friends, especially if they're a teenager.

Changes in sleep including an increase in nightmares, not sleeping through the night or oversleeping.

Changes in eating habits

including any extreme focus on weight

Emotional outbursts and/or reports of conflict at school that are out of character.

If they're constantly worrying or seeking reassurance.

If they appear sad, down, or have low energy.

If you suspect they're using

drugs or alcohol

.

Changes that aren't age-appropriate. For example, a teen stops caring about how they look.

Any changes that are affecting how they function at school or in the family unit.
"We want to watch for the intensity of these changes and the duration. If your teen comes home and shares they don't want to see their friend, it could be they had a disagreement. But if it goes on for weeks, something else could be going on," shares Sereda.
Tips for parenting with a mental illness
Parenting with mental illness is a difficult job. It involves balancing your own needs with your child's. You have to juggle a lot of responsibilities, manage your time and support your child. If you're dealing with a mental health issue, it can make parenting feel even harder.
Parents who are parenting with a mental illness are some of the strongest parents out there.
Related Reading: 

Parenting Tips for a Loving Parent-Child Bond
These pointers can help you deal with some of the challenges:
1. Accept help from friends and family
Make sure you don't parent in isolation. "Don't let your mental health symptoms become a barrier for you to access support for parenting. Take friends and family up on taking your kids to the park or for ice cream. It's important for them to get out and for you to get a break."
2. Look after yourself
"Make sure you have supports to take care of yourself. You'll be better able to care for your child and respond to them in warm and loving ways when you are being kind to yourself."
Related Reading: 

Taking Care of Each Other in Marriage-Mind, Body, and Spirit
3. A mental health issue doesn't make you a bad parent
"In fact, you're a strong parent because you're parenting when you're not feeling well."
4. Make sure you have a trusted adult in your life
"They should know your kids' needs and routines (medical, school, extracurriculars, etc.). If you do experience a mental health issue or crisis, this person can be there to support your child. Make your kids aware too. For example, 'If mom/dad is having a bad day, auntie will be here to take care of you.
You will always be safe even if mom/dad isn't feeling well.' "
Getting help for mental illness
If you're looking to get support, the first step is to connect with a professional. This can include:
Employee Assistance Program (EAP)
If you have an EAP available through your work, they'll connect you with a mental health professional for the short term. They will then connect you with a professional for long-term support, as well as other mental health resources.
Your family doctor can rule out physical concerns and can share with you the treatment options available. If you feel it's significant, you would like to explore medication and/or you'd like a diagnosis, you can ask for a referral to a psychiatrist.
Registered psychotherapist, psychologist, mental health counsellor or social worker for therapy including Cognitive Behavioral Therapy (CBT).
It can also be helpful to connect with non-profit organizations that provide support. "A lot of organizations offer peer groups and other resources and information. It's important to connect with other people who understand."
If you're looking for information online, seek out these credible organizations that specialize in what you're being treated for – and don't turn to social media.
Once you've found a recovery and treatment plan that works best for you, it's great to add things like meditation and physical exercise to your routine.
Tips for friends and family
How to deal with a parent with mental illness? Parents with mental illness raising children definitely need the support of friends and family. Check out these tips for family and friends:
Recognize that these are the parents with mental health issues you know and love.

Think about how you would help a friend if they just had major surgery. It's likely you'd take their kids out, do school drop off or pick-up and bring them meals.

Offer help proactively. Your friend probably won't call if you say, "Let me know if you need anything." It's fine to ask what they need help with and if nothing comes back start offering. Meals, shopping, taking the kids to the park, and so on.

Offer help in a non-judgemental way. For example, "You seem to be going through a difficult time right now. Can I take the kids off your hands for a bit?"

Having a mentally ill parent or living with a mentally ill parent can be difficult for the child. Recognize it's a health issue, not a

personality issue

or a flaw in their character.

Show you're an ally. If your friend knows you're an ally and not influenced by mental health stigma, they'll hopefully approach you early in the process.

Be available but also set boundaries because you want to be their friend but not their therapist. It's important to recognize when you're taking on an emotional toll. That's when you should recommend they talk to their therapist. It's ok to say, "This is heavy stuff. You should talk to your therapist about this. I don't think I can help you with this."
Check out this video about setting boundaries with a caregiver:
If you feel your friend can't ensure the safety of their children, it's important to connect with community and government services. They can help put things in place to help your friend until they recover.
Takeaway
Parenting with mental illness can be hard. They are both connected in multiple ways and with the right support, not only will the child have a healthy development but it will also help manage mental health of both the parents well.
For more information on supporting someone with mental health, read Mental Health 101: Caring for others.
Share this article on
Want to have a happier, healthier marriage?
If you feel disconnected or frustrated about the state of your marriage but want to avoid separation and/or divorce, the marriage.com course meant for married couples is an excellent resource to help you overcome the most challenging aspects of being married.
More On This Topic
You May Also Like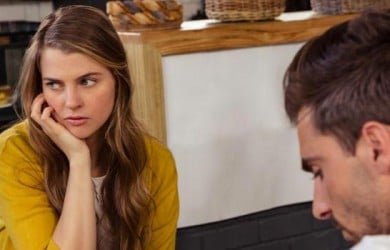 Popular Topics On Married Life