8 Parenting Mistakes Every Parent Must Avoid!
Parenting is one of the most important yet most complicated jobs in the world. After all, you are shaping an individual's personality for life.
And just like any other complicated job, common parenting mistakes can be made which can lead to so many vulnerabilities in the child.
Wrong actions by parents at certain points done consistently can instill the wrong mindset or habits in the child.
Eventually, these negative patterns implanted within the child could bring negative effects for his whole life leading him to suffer as an adult in society.
For example, some parents following an uninvolved parenting style would have their children not so attached to them as they grow up.
We've gathered the most common modern-day parenting mistakes you should avoid making at any cost because they can have a serious impact on their children.
1. Talking but not listening
One area parents lag is listening to their children. The problem with many parents is that they handle the responsibility of teaching everything to their children to keep talking.
This eventually develops some kind of egotistical behavior inside their hearts which makes them lecture their kids all the time. However, it's important to pay equal attention to listening to what your children have to say.
Talking gives only one-sided instructions the child has to obey while listening to your child's thoughts would bring a two-way communication between you two.
Otherwise, you'd start seeing repulsion from your kid's side.
2. Associating huge expectations with your children
Another significant mistake parents should avoid is to set massive expectations with thier kids.
Expectations from parents itself isn't a bad thing at all. In fact, parents having some positive expectations from their children help them stay motivated and driven.
However, parents also have been seen to go beyond the limit when it comes to these expectations which indirectly make these expectations unrealistic for the children. These expectations can be in any form; academic, sports, etc.
From his early childhood days to him being an adult, if he gets in the trap of fulfilling your demands and expectations, he'd not be able to think or act freely ever.

3. Making them chase perfection
One of the most common parenting mistakes to avoid is when parents want their children to be perfect in almost everything.
It does nothing helpful for the children and just puts them in a rut of constant insecurity making them eventually doubt themselves and their capabilities.
Alternatively what you as parents should be doing is to admire your children based on their effort instead of the results they are getting.
It'd make the child feel appreciated and have a positive reinforcement on him making him thrive better next time.
4. Not building up their self-esteem
The character of an individual has 'self-esteem' as a critical part of it, yet it's the most ignored field by parents. Many parents cast judgments on their kids very easily without thinking of the words they are choosing.
It's good to criticize but for your kids, you also have to be critical about when and where to do it. Parents would criticize their kids on their weaknesses and rarely appreciate them on their strengths.
Children going through an environment on this pattern repeatedly can lose confidence and their self-esteem can be damaged for life.
5. Always compare them with other children
Your kids are unique in their own way, and shouldn't ever be compared with other children in any terms.
For example, what most of the parents do if their child is not performing well academically is that they praise their school friends for a higher score in a test.
This, when done constantly, give a feeling of insecurity and takes out his confidence from the child.
Every child is made unique in some way; they all have their unique attributes. And this can be done in any form by parents.
They can compare academic performance, in sports, in a debate competition or even in beauty.
Praising every other child but yours in front of him would make him feel less and he can develop a pessimistic mentality as he grows up.
6. Putting limits and boundaries inappropriately
Limits and boundaries are massively important for parenting. But most of the parents put them into use inappropriately. The word 'Inappropriate' itself defines that it can be one way or another.
Meaning; parents would either be extremely strict with restricting their children or there would be no restrictions at all. Children aren't safe in any of the cases.
There need to be well-defined boundaries set by parents and each of them should make sense.
For example, forbidding your 12-year-old child not to go out after 7 pm is fine and you can explain the reason, but not letting him wear what he wants or have his favorite haircut, etc. is not fine.
7. Making them too much soft
Another thing often misunderstood by parents is helping their children solving each and every problem of their life. Parents are often seen to be soft towards their children and want them to have a life full of easiness.
They wouldn't put any burden on the child even if its minor things like cleaning their room etc.
The child would now have a sense of security on his back for the whole life which means he won't be able to hold the burden of responsibilities as he grows up.
Thus keep your children accountable to you and encourage them to learn 'problem-solving' making them a critical thinker.
8. Wrong choice of punishment
Punishment itself isn't a bad thing at all. The problem lies in the way most parents understand the concept of punishment today.
First of all, there should be a threshold of how bad should a parent punish even if it's the worst-case scenario.
Secondly, there should be awareness around the fact that different age groups of children require different forms and levels of punishment concerning the scenario.
For example, if your teen child drank alcohol you should ground him for some days and maybe taking back some luxuries would be fine.
However, the same punishment shouldn't be there if he just came back home an hour late than what you decided.
Conclusion
Parenting is a hard job and it definitely seems like you have to pay close attention to the details otherwise you could lose it.
However, the reality is you just have to be a little sensible and make sure everything is followed by a logical approach.
This way you won't have to take unnecessary tension and pressure of insignificant things in your parenting. Also, this would help you not fall into a cycle of inconsistent parenting.
Of course, just like any other important process parenting would have errors and minor problems in various forms like resistance from children, etc.
But that would only change into a real problem when the flawed behavior would be continued from your side for a long consistent period.
Parenting should work as mutual cooperation which the parent should be leading.
Meaning; the parents should make sure the child understands everything correctly and obeys accurately. And the right course of action for the implementation is also required.
Share this article on
Want to have a happier, healthier marriage?
If you feel disconnected or frustrated about the state of your marriage but want to avoid separation and/or divorce, the marriage.com course meant for married couples is an excellent resource to help you overcome the most challenging aspects of being married.
More On This Topic
You May Also Like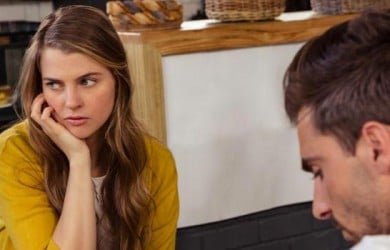 Popular Topics On Married Life