7 Financial Mistakes Newlyweds Should Avoid
Getting married is a beautiful phase of our lives, but it's also hectic. At this time, thinking about newlywed finances is the last thing we could do.
It might seem irrelevant right now, but financial mistakes are common with the newlyweds. Money can often become the root cause of arguments.
Managing finances for newly married couples can seem to be a daunting task. It is therefore important to start planning your finances right from the inception.
To help you keep your calm and streamline your finances proceeding the wedding, let's talk about the seven financial mistakes that you, as newlyweds, should avoid to have a happy and successful marriage.
1. No Budget
Not having a budget is the first financial mistake that newlyweds often make.
Of course, after marriage, you are so likely to be in the awe of a newlywed feel. You wish to hang around together, party all weekends, buy new dresses and are in the mood to enjoy to the fullest.
But remember that expending more than what you have, results in debt. And, settling this debt becomes one of the significant reasons for arguments amongst the couples.
So do not go over budget.
What you can do here is, prepare a newlyweds budget, set aside a specific portion of money for your parties, shopping, etc. and try not to go beyond the set limit.
2. Not understanding the financial habits of your partner
Now, this is a priority.
After you start living together, in very less time, you get to know the financial habits of each other, such as the pattern of expenditure, savings, financial goals, etc.
For instance, your partner may love to eat out, but you don't? What if you tend to spend lavishly on vacations, but your partner isn't comfortable with it?
So, the essential financial advice for newlyweds is to not ignore the financial habits of your partner.
Remember, mutual understanding is the foundation of a happy married life. So, observe and talk about these financial habits as your relationship grows.
3. Not being honest about your financial history
Budget and financial habit is something that you can track and work it out together.
But, not knowing the financial history of one another will lead to a big financial dip in the future. And, this is a very common financial mistake that every newlywed couple makes.
If you have any financial history that your partner should know, you should make it known to them as soon as possible.
Examples include a loan (payment due post-marriage) for the business you started, a loan for your brother or sisters education, or any kind of financial issue which you think is essential for your partner to know.
Do not be dishonest with your partner. By telling each other about your financial issues, you can also figure out how to counter these problems together.
4. Ignoring financial goals
Now, this is something that can be a financial mistake of a lifetime.
If you, as a couple, do not decide on your financial goals at the right time, it can cost you a big deal in the near future.
Individually, you both know each other well, in terms of what you want in life. It may happen that you may be thinking of buying a house sometime soon, but your spouse is looking to buy a car.
So here would be a clash of future goals, which can be sorted by not ignoring each other's financial goals and discussing in advance about it.
5. No investments
Now, after you have worked your financial goals on pen paper, avoid the financial mistake of just letting it be there.
Work it out and decide as to which investments you wish to pool in together to reach your financial goals.
Just talking about investments and not contributing to it in actuality, may create future insecurity between the couples.
6. Spending without discussing
We might ignore miscellaneous expenditures, but decisions such as replacing your old furniture, getting the house painted, buying a home theatre, replacing your existing ACs, etc. without mutual discussion often lead to huge disagreements.
It may happen that your partner may be planning something else at that time and may not be happy with such a decision of yours.
So, the best here is to avoid spending without talking about it.
As a couple, you can discuss your take on your future financial decisions.
Watch this video to gain insights into combining finances after marriage:
7. Excessive use of credit cards
Using credit cards frequently to please your partner can make you live by paychecks every month. This reinforces the importance of financial planning for newlyweds.
It is always pleasing to give expensive gifts, surprises to your partner as newlyweds, but remember, you can postpone these desires.
You cannot exhaust all your cash and credit pleasing your partner.
If a sudden emergency comes up and you have already used the credit card limit (which you had kept for emergencies), or if there is a low cash balance in your account, what would you do?
So, avoid this financial mistake of going on a money-spending spree. Use simple things to surprise each other rather than going highly expensive.
We all have our share of financial mistakes, for sure, as a married couple.
But, if we value each others' advice and respect each others' take on things, it will surely blossom as a happy marriage with surely less financial mistakes.
Share this article on
Want to have a happier, healthier marriage?
If you feel disconnected or frustrated about the state of your marriage but want to avoid separation and/or divorce, the marriage.com course meant for married couples is an excellent resource to help you overcome the most challenging aspects of being married.
Learn More On This Topic
You May Also Like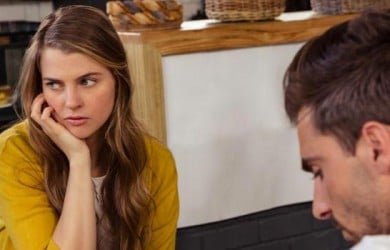 Popular Topics On Married Life