4 Warning Signs of a Miserable Marriage
Holy matrimony is a pure bond between two individuals in which they're united in unison and merged into one person; it marks the journey of a lifetime where two partners are tied together for eternity through thick and thin or sickness or good health; with a promise to always be at each other's side no matter how complicated the circumstances get.
In mechanistic terms, it's an ironclad contract that legalizes the relationship between a man and woman certified by the Law itself, but in its spiritual essence, it combines two halves of the same soul together to complete it, hence the term soulmates.
Maintaining an ideal marriage is extremely rare
Although the concept of marriage itself is beautiful in its divinity, unfortunately, we reside in an imperfect world, and maintaining an ideal marriage is extremely rare.
People often get trapped in a miserable marriage with either an emotionally or physically abusive partner, or they get sucked in in an arranged marriage where there is literally no compatibility between the two parties, maybe there's a huge communication gap between the two spouses or too many interfering forces that disrupt the relationship.
Marriages are not that pretty in real life, and in this article, we'll go through some of the most prevalent manifestations of unhealthy marriages that are too common.
1. Your spouse isn't your first priority
Your friends, close relatives, and your parents are indeed an important part of your life; they've played a vital role in developing you as a person, and they've loved you and taken care of you first before your spouse even knew you existed.
Undoubtedly you owe them your love and loyalty, but these same people need to understand that they need to take a back seat when it comes to your spouse.
In our society we somehow assume that we have a say in somebody else's personal lives especially telling them how to live their lives; this is only a mere assumption, and we must understand our social boundaries.
If you're too busy listening to what your relatives have to say about your wife/husband or if you always prioritize your parents, brothers/sisters, or friends over your spouse then you won't have an adequate relation with your spouse.
No matter whatever happens your wife/husband comes first! If they don't, you need to start asking questions from yourself and your spouse as well that where your marriage stands. This right here is a toxic sign, and you'll commonly find it in our society.
2. Your partner is manipulative/ abusive
Ponder carefully about this and recall the last time you spoke to your spouse kindly just to get a passive-aggressive hatred laden response from him/her.
You'll realize that this isn't the first time you received such a reaction, this happens on a regular basis.
Think about all the times you've looked for support or shared an exciting achievement with your spouse, but they either make you feel guilty for feeling depressed or they completely knock you down by one-upping your good news rendering it insignificant.
Right here is a venomous partner who internally either hates you or hates themselves on a deeper level.
Does your spouse hit you and then somehow holds you responsible for it?
Does he/she blame you for their incompetence and make you feel as if you're the inept one? Do they harshly scrutinize you or vindictively criticize you for just merely being yourself?
If so, then it's an obvious fact that you're not happy no not in the least, you're suffocating in this abrupt emotional and mental concoction called marriage. Be weary that you could be this spouse as well. Note that women are mostly passive aggressive while males commonly opt for physical aggression.
3. Miscommunication and false assumptions
Is your marriage loosely built upon worries, negative anticipations, and harmful assumptions?
Suppose your husband receives a text message, and while conversing with you, he silently replies and engages in the conversation again. You feel as if he's talking to someone special on his phone, and he doesn't love you; now know that's only an assumption, not the ultimate reality he might've just texted "I Love You" to his mom.
What if you see your wife talking to her male colleague and you suspect that she's unfaithful with you, while she's just asking about tomorrow's case files.
You both don't talk and silently harbor hatred, hurt, and suspicion against one another, you feel deceived and betrayed and further isolate yourself either you give one another the cold shoulder, or you taunt you verbally attack your spouse for something they didn't do.
This only caves the distance between you even deeper and leaves you both confused and depressed, potentially ending your marriage.
Please trust and respect your partners and communicate any doubts or issues you might have; give them a chance to work on them.
4. Infidelity
This major red flag can go both ways; cheating is not just physical, but it's emotional too.
Suppose you have a good-looking work friend in your office place, and you can't help but be drawn to him; you go out for some coffee and have a wonderful conversation, and he's all you can think about even when you're with your husband.
After much time this becomes your favorite hobby, and you barely spend time with your husband, this can happen vice versa as well.
You are not physically cheating on your spouse, but on an emotional scale you are, and it's a painful experience for your husband/wife.
Hold yourself by the collar and ask yourself what's really going on; is it because you're not happy in this marriage or is it some trait about your spouse that pushes you away from them?
Wrapping up
Don't leave this to chance when you know there's trouble in paradise. Work in unison at ironing out the conflicts in marriage, if you spot these cracks in your relationship.
Share this article on
Want to have a happier, healthier marriage?
If you feel disconnected or frustrated about the state of your marriage but want to avoid separation and/or divorce, the marriage.com course meant for married couples is an excellent resource to help you overcome the most challenging aspects of being married.
More On This Topic
You May Also Like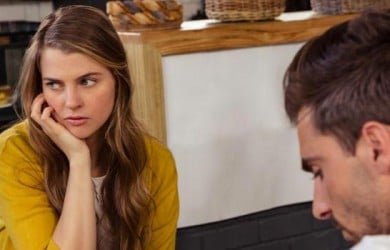 Popular Topics On Married Life