Why Do Men Come Back After No Contact: 23 Strong Reasons
Does no contact work on men? People employ the no-contact rule for different reasons, including to get rid of their ex or to get their attention. Regardless of the result, one thing is sure – the no-contact male psychology works most of the time.
But the question is, why do men come back after no contact? What is the no-contact male psychology? What goes on in the male mind after no contact? Learn the answers to these questions in the following paragraphs.
What is the no contact rule?
The "no contact rule" is like pressing pause on your relationship. It means you stop reaching out to your ex or someone you need space from. It's a way to give both of you time to heal, reflect, and decide what you want.
Think of it as a breather for your heart. The idea is to take a break from each other to clear your thoughts, heal, and figure out where you want things to go. It's like giving your emotions some space to breathe and regroup before deciding what's next.
Read more about the no contact rule here.
Does no contact make him come back to you?
Using the no-contact male psychology means cutting off all means of communication with a man to either end the relationship, get his attention, or make him miss you. That means no calls, no emails, no texts, no emails, no DMs, or constant checking on social media.
Many people want to know whether no contact works on men. Do men always come back after no contact from their partner? To begin with, when you use the no-contact rule on your ex or partner, you snatch the freedom to communicate with them.
The mind, after no contact, becomes occupied and buzzing. He wonders what happened, reaches out, and demands what's wrong. He might feel unworthy or inadequate. When you refuse to talk to him, it further pushes them to pursue you.
Some things your ex might do to get the freedom of talking to you include asking about you from your mutual friends, talking to your friends and family members, or getting angry at you.
Men respond to no contact because of the curiosity present in every human. This curiosity pushes your partner to return so he can know why you behaved as you did. For instance, when someone suddenly stops speaking to you, it's expected that you find out why they act that way.
Imagine someone you usually communicate with constantly – you know about their routine, activities, and plans. All of a sudden, you aren't privy to such information. That may drive your partner to come back to you after ghosting him.
Why do men come back after no contact? No contact rule works on men if you improve yourself during that time. Indeed, the intention might be to get rid of your ex or make them miss you.
But it is best to focus on being a better version of yourself. Find new hobbies, wear good clothes, and look good.
What goes through a man's mind during the no-contact phase is likely a lot. A man you have ghosted may be more than curious to come back. So, some people ask, "Does he think about me during no contact? Yes, he does.
Even if you might not come back together, he may feel it's essential to get your attention. Therefore, men respond to no contact.
What to do if he comes back after no contact?
Indeed, the no-contact rule works for men. But you must know what to do when he comes back after no contact. Meanwhile, what you do when your ex comes back depends on your intention.
For example, if you implement the no-contact rule to make your ex miss you, you can give room for discussion.
Similarly, if you want to get rid of your ex, it's best to give some explanation for your actions. While you have achieved your aim of making him come back, the mature thing to do is to have a conversation.
Let them know how you feel and their offense. Give them the chance to explain and understand from their perspective.
Understand that the no-contact male psychology works because men can also be emotional like the female gender. They crave intimacy and connection, even when they act strong.
So, when you employ the no-contact rule, they seek all possible means to get back to you. That's why some people say, "he came back after no contact."
23 reasons why men come back after no contact
After months of no contact, your ex suddenly drops a message on WhatsApp asking that you meet or says he misses you and needs to talk. Why? What goes through a guy's mind during no contact, and why do men come back after no contact?
The following are some likely reasons why men return after you've been apart:
1. He misses you
Do men always come back after you ghost them? Yes, they can. The male mind during no contact can divert them to feel your absence more strongly.
People find their way back to their ex if they realize how much they miss her. This may happen if you spend a lot of time together during your dating phase. Also, if he keeps seeing something that reminds him of you, it may be hard to let go.
2. He can't find someone like you
Why do men come back? One reason is that they can't find someone like their ex-lover.
While there are thousands of people better than you, there might always be one unique trait you have. If he cherishes this behavior and can't see it in other people, he can come crawling back to you in no time.
3. He is guilty
Another reason men respond to no contact is if they feel guilty.
The mind, during no contact, can work like a machine. He may begin to think about all the times he did something wrong and was never caught. Now that you use the no communication rule, he might think you knew about the offense.
4. He feels lonely
The no-contact rule works on men if they feel lonely. Loneliness can make you do many things, including reconnecting with your ex. It doesn't even matter if you are the one at fault or they are. What matters is that you see them.
5. His plan didn't work out after all
After the breakup, your ex probably thinks many people may come running to him, or he may be free. Unfortunately, it doesn't work this way. He might know that no one is perfect when reality dawns on him. Therefore, the following action is to go back to you.
6. He was just in a bad relationship
Why do men come back after no contact? One common reason men return is that they have dated another person and discovered what they lost. The saying goes, "We don't appreciate what we have until it's lost."
For instance, your ex might complain about your expressive nature only to meet someone who hardly communicates. In this case, he might pray to have you back in no time.
7. Friends and family keep asking about you
The no-contact rule works on men if their family and friends don't stop asking about their ex. This is usually the case if you and your ex have been dating for a long time.
Regardless of why you broke up, friends and families may never cease to make you understand what a big mistake he made. As such, he may be forced to reach out to you.
8. He's now a better man
Why do men come back? He may come back after no contact because he has improved. The fight you had was probably about some of his behavior. The breakup was the opportunity he needed to work on himself.
After no contact here, the man's mind may have worked tirelessly to figure out how to improve. Now that he's better, he's back to satisfy you. It's left to you to accept or reject him.
9. He wants to hook up
Why do men come back? Sometimes, some men return to your life only to have sex with you. It is unfortunate, but it's some people's reality. But then, how do you know if someone genuinely wants to come back or hook up?
If he drunk texts you around 2 am asking you to go to a club or sends flirty messages, know that he wants to hook up.
Research shows that drunk texting is a way of emotional dysregulation, so you can see an inclination to come when he does this.
10. The reality of the breakup hasn't set in
If your ex is confused about the breakup, it won't be long before he comes begging for your attention. You probably broke up messily, or he believes there is not enough reason for you to end it.
Either way, a guy may come back after the no-contact rule to understand what happened.
11. He notices you've changed
You have counted your losses after the breakup and moved on. You have improved yourself greatly, focused on your goals, and glowing more as an intelligent person. Whatever changes happen in your life, he can see that you are in better shape. It's only normal that he tries to come back.
Learn how to cultivate unconditional self-worth with Psychologist Adia Gooden by watching this video:
12. He wants to see if you miss him
Why do men come back after no contact?
Some men come back to check if you miss them at all. The logic behind this is simple – your ex is surprised you can go that far without communication. So, his coming back is to see how you are living fine without him in your life.
13. He's too lazy to date again
We all know that starting a new relationship demands a lot. You want to know this new person, their hobbies, likes, dislikes, strengths, and weaknesses, which takes nothing less than six months.
When your ex considers this, it may sound overwhelming to him. So, he believes it's better to come back to you.
14. He's not sure what's out there
What goes through a guy's mind during no contact? Your ex might be working with the phrase, "The enemy you know is better than the angel you just met." All relationships have ups and downs, and your ex-lover might consider this fact.
15. He's jealous of your new lover
Men sometimes return to your life when they see you have a new lover. Unfortunately, they can't stand another person enjoying the pleasure of dating you.
16. He has regained confidence
After some time apart, individuals may work on themselves, boosting their self-esteem and confidence. They might return to the relationship with a newfound belief in their ability to contribute positively.
17. There is unfinished business
Sometimes, men may feel that there are unresolved issues or unanswered questions from the previous relationship. They return to address these lingering concerns and seek closure.
18. He faces a lack of alternatives
After exploring other options, they might find that none are as compatible or fulfilling as the previous relationship. In such cases, returning can be a result of realizing your unique connection.
19. There's clarity
The break allows men to gain clarity about their feelings and what they want from a relationship. They may return when they're certain that you're the person they want to be with.
20. He has regret
Some men may leave a relationship hastily and later realize they made a mistake. Feelings of regret can prompt them to come back, hoping for a second chance.
21. You were his support system
If they've faced challenges or difficult times without your emotional support, they may realize the importance of your presence in their life and choose to return.
22. He has a desire for closure
In some cases, men come back to obtain closure. They may want to discuss the relationship, apologize for their behavior, or offer an explanation.
23. Circumstances have changed
Life is dynamic, and circumstances can change. Perhaps a job loss, relocation, or other life events have led them back to the relationship, as the timing aligns more favorably now.
Commonly asked questions
The "no contact" rule is a powerful strategy for navigating complex relationship dynamics. Whether you're trying to rekindle a connection or move forward, these answers provide insights to guide you through this process.
How long should I do no contact?
The duration varies, but typically it lasts around 30-60 days. This gives both you and your ex time to heal, reflect, and gain perspective on the relationship. It's essential to use this time for self-improvement and personal growth.
What if I reach out to him during no contact?
It's best to stick to the plan. Contact during this period can disrupt the healing and self-discovery process. The no-contact rule is most effective when both parties have space.
What if he doesn't come back after no contact?
While it's tough, don't lose hope. The no-contact rule isn't a guarantee of reconciliation. Focus on personal growth, self-love, and moving forward with your life, whether he returns or not.
What if he comes back but wants to be friends?
It's okay to discuss your feelings and desires. Be honest about what you want from the relationship. If you're open to friendship, make sure it aligns with your emotional well-being.
What if he comes back, but I don't want to get back together with him?
Your feelings are valid. It's crucial to express your emotions and have an open conversation. Decide what's best for your future and be true to yourself.
Understanding the no contact rule
The no-contact rule is used for different reasons in a relationship. It could be to end a relationship or make someone miss you.
So, why do men come back after no contact? This article highlights that the no-contact rule works on men for different reasons. If you are still unsure why men come back after no contact, it is best to have fair communication or consult a relationship expert.
Share this article on
Want to have a happier, healthier marriage?
If you feel disconnected or frustrated about the state of your marriage but want to avoid separation and/or divorce, the marriage.com course meant for married couples is an excellent resource to help you overcome the most challenging aspects of being married.
Learn More On This Topic
You May Also Like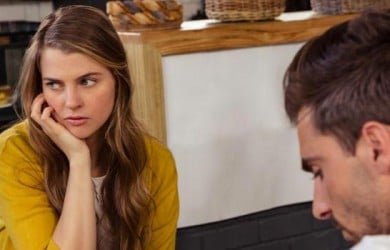 Popular Topics On Married Life