What to Do When a Friend Betrays You
Betrayal is a dirty word. If a malicious act didn't come from someone we trust, it wouldn't be a betrayal. Hence, the operative term here is trust.
When we trust someone, we leave a part of us or our entire being vulnerable. We do something this monumentally stupid because it is the only way to develop relationships with someone else. It's an annoying vicious circle for us social animals because we cannot live a fulfilling life alone. We also cannot fall unless we leave ourselves vulnerable to people we trust.
By fall I mean fall in love or fall flat on our faces.
We consent to mutual trust because we believe the person will watch our backs while we watch theirs. It's relationships like these that give life meaning. But what happens when the person that's supposedly watching our backs, stab us instead.
Then shit hits the fan. Here is what to do when a friend betrays you.
1. Analyze the damage done
Overreacting is a classic human reaction.
Did they do any lasting damage to you? Are you mad over a hundred dollar vase that you imported from Nepal that they broke? Are you just angry because they told others the secret recipe to your meatloaf? Did they break the heels on your beloved Jimmy Choo's that you bought from Paris?
So think, what did they do? Is it enough to ruin your friendship forever? A lot of issues can be resolved by fixing the damage done. Sometimes a simple well-meant apology is enough.
2. Talk to them
There are times when just thinking about it without knowing the full story will not give you the truth. So reach out to them and hear what they have to say. A lot of bad things can happen from good intentions.
Misinterpreting someone else's actions can also happen even among friends. Besides, you can't possibly lose anything more than what you already have by listening to them. Make sure you calm down and listen to the story objectively. If you are still angry at the person because of what happened, you may say things you don't really mean and lose a friend.
3. Give them a chance to make amends
Just because they screwed you over, that doesn't mean they don't feel bad about it. People make mistakes, there are circumstances that may have lead to the unfortunate incident that's beyond their control.
Whatever the reason, it doesn't change the fact that they hurt you after what they did. If they truly value your friendship, then they will do what they can to appease you.
So let them and do not belittle their efforts.
They may not be able to fix the damage they have done, but a good friend will do what they can to compensate for the trouble.
4. Forgive and move on
After everything has been said and done, move on and continue being friends. Every relationship will encounter bumps and hiccups.
Bonds can only grow stronger.
After years have passed by, you will look back and have a good laugh over the incident.
5. Once bitten twice shy
Just because you let something pass, that doesn't mean you're a total idiot and let the same thing happen all over again. Dial down the trust a bit, you are still friends, but it doesn't mean you will expose yourself to the same situation again.
If they care about you, they should understand how you feel.
It may take years to build and rebuild trust, but only a moment to lose it.
Giving a second chance doesn't mean letting yourself play the fool again. Make them work for your trust, and if they value you as a friend, and as a person then there shouldn't be a problem.
So continue on with your friends and work on rebuilding the trust that was lost. Sometimes both of you will come out on the other side even closer than before.
What if they weren't repentant and did it with malice?
It's possible that you have done something to offend them prior to the incident. It's also possible that they are just plain bitches. Regardless of what you did, you are now at a point where it's impractical to continue on being friends.
So what would you do when a friend betrays you and did so on purpose. They did it so they can hurt you in the hardest possible way.
Cutting off your friendship right away seems to be the fitting solution to this.
People come and go, and they all leave an impression on our lives. This is one of those things elders call experience. It is an expensive lesson so don't forget it. Do not bother thinking about escalating the issue. The more time and resources you spend putting someone down, the less time and resources you have to build yourself up.
Recover and continue on
It's hard to recover after being victimized by a betrayal. The pain and anguish run deep. The emotional trauma can sometimes leave you incapacitated for days.
It can destroy your self-esteem and devalue yourself as a person.
But that's only how you feel. No matter how real it feels to you, it matters very little in the grand scheme of things. Everyone will encounter a devastating loss at some point in their lives. It's just your time to step up in the gauntlet.
Your real friends will reveal themselves to you after such an ordeal. They will be the ones who will stand by your side and help you get through it. In the end, you may have lost a friend, a bad one at that, but the bonds that you have with your real friends will be stronger than ever.
Trust is not something that can be easily patched up.
It also doesn't mean that you will close your heart forever. Humans are still social animals, and that includes you. Do not let one bad friend ruin your chances of making countless other good ones. Sulking for the rest of your life will only increase the damage they have done and give them the final victory.
Move on, be happy, and make new friends. It's the best way to live, the only way to live.
Share this article on
Want to have a happier, healthier marriage?
If you feel disconnected or frustrated about the state of your marriage but want to avoid separation and/or divorce, the marriage.com course meant for married couples is an excellent resource to help you overcome the most challenging aspects of being married.
More On This Topic
You May Also Like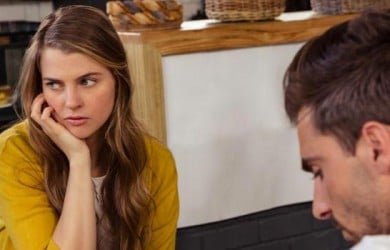 Popular Topics On Married Life