Too Close to Home Jokes About Marriage
Everyone loves jokes.
There is a saying that laughter is the best medicine. Marriage and relationships are some of the favorite topics for comedy. Jokes about marriage hit so close to home that you just can't help but laugh.
Careful not to laugh too hard or a Freudian slip may cause you to sleep outside tonight.
It's interesting that only husbands are punished that way. It's not like we don't want to stay out late, but if we do go outside and spend the night somewhere, it would be a world war III.
The entire thing is a marriage joke in itself.
Funny jokes about marriage
The reason why marriage gags are funny compared to other jokes like those about politicians and lawyers is it hits too close to our lives, that is unless you're a politician or a lawyer. If that's the case, then your life is a joke.
Jokes about marriages are not really jokes per se
They are short stories and anecdotes that married people encounter every day. There's one anecdote that goes:
"A man would overspend to buy something he needs, while a woman will pay half the price for an item she doesn't need."
That's funny because it's something people in a relationship, especially married couples always encounter. Because it's true, it hits hard. The funniest jokes about marriage aren't funny just because it's a great story. It's hilarious because it's true.
Another subgroup of funny jokes about marriage is when the wife dominates the husband. In a traditional family, the patriarch or husband rules supreme. But every happily married man knows that does not really case just like this story.
A newly married man asked his grandfather the secret to their long-lasting marriage. The grandfather replied. "It's simple, boy. Your grandmother does what she wants."
The young man asked. "How about you?" "I also do what she wants."
It's funny to hear that when you're not married, but it's amusing and witty to married men who know the truth about married life.
Unmarried men and jokes about marriage
It may give an impression that funny jokes about marriage scare unmarried men from popping the question since a lot of those jokes are deeply rooted in the truth.
It may look seem like marriage is such a difficult life that a man's only defense is to laugh.
There's an anecdote that goes like this:
"I went through an expensive and painful procedure yesterday. I had my spine and both testicles removed. Still, some of the wedding presents were fantastic."
That one had the same essence as the Grandfather story, but much more frightening for an unmarried man. That's not really true, for us, here in marriage.com, believe that men who pop the question and go through with it have big cojones. There are actually two anecdotes about that.
The first is about a man and his son talking about marriage.
Son: "Dad, I heard in some places, a man doesn't know his wife until he marries her." Father: "Son, that's true everywhere."
Here's another one
A couple was watching a TV news report about firefighters helping trapped victims in a burning building. Wife: "It's amazing how some men will go to a burning house and risk their lives for a total stranger." Husband: "Yeah, it's like getting married."
Ok, maybe it's not so scary, I mean life is about interacting with strangers and humor is used here as a warning to unmarried men what they are getting into that only the brave dare to tread.
When someone's boyfriend jokes about marriage, it means they are trying to gain the courage to go through it.
A lot of boyfriends will chicken out while others will take the plunge and shoot themselves in the foot. There are benefits to buying the cow, which is why men still marry. They say women are martyrs when it comes to love. Actually, this story will help everyone understand the reverse is also true.
A little boy and his grandfather are attending a wedding, and the boy asked his grandfather "Grandpa, why is the girl wearing white?"
"Boy, that's the bride. She is wearing white because she's getting married, and it's the happiest day of her life." The old-timer answered.
The little boy looked at the bride and then asked: "Why it the boy wearing black?"
So married men are not cowards, they are actually very brave to live in a burning house and gain a mother-in-law just for free milk.
The problem is when the novelty of unlimited free milk becomes a chore. To understand it better here's another story about Grandpa and a little boy.
Little Boy: "Grandpa, what is this?"
Grandpa: "That's a condom boy, men use it to make women happy."
Little Boy: "Why does it come in threes?"
Grandpa: "That's for high school boys, they use it twice on Saturday night and once on Sunday." Little Boy: "How about this one, that says a pack of six?"
Grandpa: "That's for college studs, they use it twice on Fridays twice on Saturdays, and twice on Sundays."
Little Boy: "How about this pack of twelve."
Grandpa: "That's for married men, One for January, one for February…"
Marriage is not a joke
Even if there are a lot of jokes about marriage, The union itself is not a joke, it takes a lot of commitment for man to take a woman and let her make all his decisions for her.
Marriage is also something sacred, that's why a lot of marriages are performed in a religious venue like a church or temple. Some religions let their priests marry to give them a taste of purgatory. Funny Christian jokes about marriage also exist, one goes like this, Adam and Eve have the perfect marriage.
Eve cannot complain about how other men are so much better than him, she has no mother-in-law, and shopping hasn't been invented yet.
Traditional age-old religions are not the only ones coming out with funny jokes about marriage. Modern technology is also extending a helping hand, like the story about asking your vehicle's Sat Nav GPS to go to hell. It will give you directions to your mother-in-law's house.
It can also be heartwarming. This is our favorite joke about marriage.
The husband came home drunk, pukes on the living room floor, breaks the vase, and passes out. He wakes up in bed in his pajamas with a note from his wife.
Honey, rest well. I'm off shopping to make your favorite meal for lunch, there's coffee in the brewer – Love you, Wife.
The husband was surprised, he was expecting to receive hell for what coming home plastered, he asked his son what happened last night. The son said. "Mom tried to change your clothes because you puked all over and then you said. Get away from me, I'm married!"
Share this article on
Want to have a happier, healthier marriage?
If you feel disconnected or frustrated about the state of your marriage but want to avoid separation and/or divorce, the marriage.com course meant for married couples is an excellent resource to help you overcome the most challenging aspects of being married.
Learn More On This Topic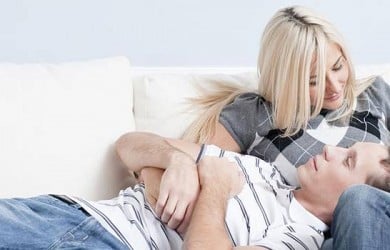 You May Also Like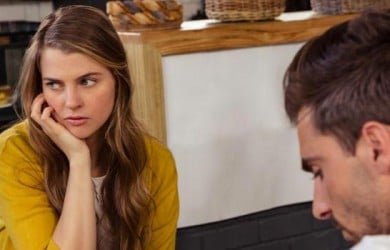 Popular Topics On Married Life