What Happens When You Meet Your Soulmate: 15 Amazing Facts
Love is indeed beautiful, magical, and mysterious. People have created movies, songs, and books so we can understand and share the feeling of love.
Most of us believe in love, and we all dream of finding our soulmate. Some say that once you find your soulmate, your life becomes complete, while others say that your soulmate could either be romantic or platonic.
What happens when you meet your soulmate? How do you know that you've found the one?
Who is a Soulmate?
Can you imagine meeting your soulmate? What if you already did? How will you know that you've already found each other?
Your soulmate is a person who is strongly connected to you spiritually and psychologically.
Contrary to popular belief, soulmates are not always your love interest. Some soulmates meet and develop a platonic relationship, while others develop a romantic relationship.
Whether you're romantically involved or not, when soulmates meet, lives change for the better. In fact, that is what happens when you meet your soulmate.
5 signs you've found your soulmate
"Are there signs that I'm close to meeting my soulmate? What if I already did, and I just don't realize it yet?"
Who doesn't feel excited and hopeful about meeting their soulmate? Though, with so many people we meet, how can we tell if we've found our soulmate?
Good thing there are clear signs that you have found your soulmate, and here are some of them.
You have an instant connection with each other. It's undeniable.

You meet at the right moment. It's like it was destiny.

It seemed like you've known each other for a long time, even though you've only met recently.

You feel at peace when you are together. Even without talking, you feel you're at home with this person.

Your connection is more than romance. It's a deep connection that even you can't explain.
Types of soulmates & how to recognize them
When will you meet your soulmate? Once you do, would you know this person is the 'one'? What if we tell you that there are different types of soulmates?
What does it feel like knowing that somewhere out there are people who you have a soul connection with? Consider yourself lucky if you get to meet all of them because some won't.
Here are the different soulmates. Get to know how you can recognize each one of your soulmates:
Your romantic soulmate

Karmic soulmate

Your twin flame

Business soulmate

Platonic soulmate

Your soul family

Soul ties

Childhood soulmates

Friendship soulmate

Soul partner

Your kindled spirit

Soul teachers
What happens when you meet your soulmate: 15 amazing facts
How do soulmates meet? Is there a special occasion or life event that triggers two souls to meet?
What happens when you meet your soulmate? Do you feel a change, or do you feel you're finally home?
There could be many questions about soulmates and how these people can affect our lives. The truth is, they could alter our lives, and once you realize that you're already with your soulmate, then you'd rejoice.
Here are just some things that will make sense when you meet your soulmate.
1. You just feel it
No app or test will tell you that you've finally found your soulmate. However, there's a better way to tell: through your gut or instincts.
This may sound like a fairytale or a movie, but it's true. Once you get that magical feeling or realization, you know it's true. You've found your soulmate, and you just realize how this person changes your life.
Though, we have to remember that 'connections' present themselves differently, and sometimes, this connection changes over time because of outside factors.
Related Reading: 

15 Signs You Have an Unexplainable Connection With Someone
2. You've found your best friend
What is it like to meet your soulmate? Well, most people who've met theirs felt it, and in no time, they have developed a strong bond and become the best of friends.
This works for both platonic and romantic soulmates because friendship is a strong and genuine foundation for any type of relationship. Have you ever watched a movie where two BFFs realized they were in love with each other, and it all made sense?
Well, that's a good example. In platonic relationships, their friendship will become stronger as they grow old.
3. Being with this person feels like home
What happens when you meet your soulmate? When you find your soulmate, you'll find a person who feels like home.
No matter where you are, distance doesn't matter. As long as you are with your soulmate, you're home. This person brings you peace and calmness, and when you're troubled, you just want to be with this person, and you'll rest.
In this chaotic world, having your soulmate is the same as having your safe place.
4. You feel what they feel
If your soulmate is happy, you feel it too, and when they are facing troubles or problems, your heart senses it. That connection is far stronger than you think and your empathy toward each other is the proof.
Even without talking, your soul senses what the other is going through. Good or bad, it's like you're sharing the same sentiments.
Do you know how to communicate with empathy? Empathy in communication can make a huge difference with how we deal with people.
Let's join Coach Lyon in learning how to communicate with empathy.
5. You have utmost respect for each other
Every relationship needs respect. May it be platonic or romantic. Even if you are madly in love, if there is no respect, then that is not your soulmate.
A soulmate respects your feelings, ideas, and everything important to you. It should be mutual and should be given without being asked. Respect is one foundation for a strong and lasting relationship.
6. You're yin and yang
You don't always have to be like your soulmate. You can totally be opposites of each other but balance each other out. Think of yin and yang, and you'll get it.
Your soulmate might be an introvert or an extrovert, yet you know how to meet in the middle and work things out perfectly and effortlessly.
7. You help each other grow
How does it feel when you meet your soulmate? Aside from that deep connection, you will also find someone who wants to grow with you.
Platonic or romantic, you're both thrilled to set goals, reach them and grow together.
You're also always there to cheer your soulmate to give them a boost of confidence. Having a soulmate energizes you to become better.
Related Reading

: 

20 Steps to Becoming a Supportive Partner
8. You can be yourself with this person
When you have found your soulmate, you have this overwhelming feeling of being comfortable. You don't feel the need to impress or be scared to show your vulnerabilities.
With your soulmate, you can be yourself and know that this person will accept you. Also, you feel comfortable sharing your deepest secrets, weird habits, and even your guilty pleasures.
9. Undeniable chemistry
Do you know when you will meet your soulmate? Well, you'd notice your undeniable chemistry right away. Even people around you notice your chemistry.
"You look so good together," or "You look like sisters!"
Sometimes, you feel you want to always be with this person, but you're respectful and empathic towards them, too.
They won't have to tell things. You just know when to give them space, know when they are going through something, or when they just want a hug and a person to talk to.
10. You will always have a backup
You know you're not alone when you've met your soulmate. Whether you're in a relationship or are best friends, you know that you have each other's backs.
It makes you feel like you can take on the world because you know someone's there for you, ready to cheer and ready to hug you if you fail.
That's what happens when you meet your soulmate, and it's one of the most beautiful feeling knowing that when you're down, you have someone to call, hug, or just talk with.
11. You feel security
It's normal to get jealous, even when your BFF meets a new friend. You feel a little jealous, but give your 100 percent trust in any relationship.
When you have met your soulmate, you have this calming sense of security, knowing that this is your person, and no matter what, you know you're secure in this person's heart.
To feel secure in a relationship is liberating, assuring, and beautiful.
12. You can't get enough of each other
You don't need to go to a fancy restaurant when you're with your soulmate. Just being with this person completes your day. Do you know what's better? Spend the whole weekend bonding, watching movies, and eating!
You don't have to force and start small talk because being quiet with this person is totally okay. No forced interactions. Just being together makes total sense for soulmates.
13. You feel complete
Have you ever felt like something's missing? You have everything you need, but somehow, something is missing.
When soulmates meet, a gap is filled. You can't explain it, but you know that you've found your missing piece. Falling in love with your soulmate is indeed one of the most beautiful things that could happen to us.
14. Your heart and mind recognize this person
Have you ever felt like you've known this person all your life? You've just met, yet your bond is as strong as ever.
That is because your soul and heart recognize this person. Sometimes, you get to talk to a stranger and realize that it feels different like you've known this person for a long time.
The world is enormous, yet somehow, you've found your way to meet again. That is what it feels like to meet your soulmate.
15. You share the same love language
Another thing to notice when you have finally found your soulmate is when you share the same love language. While it's okay to have different love languages, sharing the same will improve your relationship and make it stronger.
In couples counseling, the licensed therapist would encourage couples to get in tune with their love language and use this to show their love and affection to their partners.
This way, you both know how to express, appreciate, and nurture each other using your preferred love language.
Related Reading

: 

10 Things to Do When a Couple Has Different Love Languages

®
FAQs
Are soulmates drawn to each other?
Yes! Most people who have found their soulmates recall being drawn to this person by a mysterious force. You just can't explain it, but you will recognize it when it happens to you.
Some recognize or get drawn to this person from the start. Or, after meeting their soulmate, they can't get this person out of their head, and they notice the unmatched connection immediately.
There can be different ways to get connected to your soulmate, but one thing is for sure, it's always special.
Do soulmates recognize each other right away?
It's not the same for everyone. People with a higher sense of intuition may recognize a soulmate sooner than those without one.
Some people recall a special connection at first glance, like what we see in movies. You recognize this person, and your heart races when you first meet them.
Some factors play an important part in this meeting of souls. Other people may take time to realize they've had their soulmates with them. Again, it differs for everyone.
Conclusion
We all want to meet our soulmates. Aside from wishing that we fall in love with our soulmate and feel that empty void is filled, we also want to get to know someone who completes us.
Somewhere out there is our soulmate, and we all wish we somehow get to meet each other. When you do, your life changes, and you'll know.
Intuition and soul recognition are real and can make a big difference once you experience these things. That's what happens when you meet your soulmate.
Once you meet this person, nurture your relationship, and treasure each other.
Share this article on
Want to have a happier, healthier marriage?
If you feel disconnected or frustrated about the state of your marriage but want to avoid separation and/or divorce, the marriage.com course meant for married couples is an excellent resource to help you overcome the most challenging aspects of being married.
More On This Topic
You May Also Like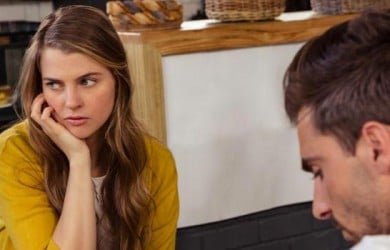 Popular Topics On Married Life