What Does It Mean When a Guy Introduces You to His Friends
It can be pretty exciting when a guy introduces you to his friends and is confident about being seen with you around.
It might be thrilling, but it might also give you the chills. Knowing why a guy introduces you to his friends and how you should act thereafter is important, hence this article will address this along with what to do when you finally meet his buddies.
When should a guy introduce you to his friends?
It's tough to gauge how soon someone should introduce you to their other social circles. The answer to this question is heavily reliant on the kind and sort of relationship you share with the person in question.
On the other hand, a guy won't bring you into his inner circle of friends until he's established a level of trust with you and can imagine himself hanging out with you in the future.
Before he decides whether or not to take the relationship to the next level, he may want to get a sort of feedback when he introduces you to his friends.
How long into dating should you meet his friends?
''When should you meet his friends?'' This is a question for which there is no clear answer, and the timing of its occurrence is largely dependent on the specific characteristics of each man.
It could happen within the first few weeks of dating, or it could take several months, either way, it's possible.
Never force a man to introduce you to his friends before he is ready; instead, let him take the initiative. You may finally say with confidence, "he introduced me to his friends" only after he has settled in and has determined the timing is perfect.
What does it mean when a guy introduces you to his friends?
When a guy introduces you to his friends, there are a couple of different ways to take in what he's doing. To begin, if he has introduced you to his friends, it may be because he is seriously contemplating continuing the relationship and wants to know what his friends think of you.
Second, it might mean that he's proud to tell his buddies that he's taken and wants to show you off to them.
If you're still wondering "he introduced me to his friends; what does it mean" then tell yourself that it may reflect his pride in me and his desire to include me in his social circle.
How do you act when you meet his friends: 10 useful tips
"He wants me to meet his friends" If you are thinking about how to handle this situation, keep in mind that it is critical to establish a favorable first impression.
You will get the chance to see him in a new light and demonstrate to him that you are at ease in the company of new people if you meet his friends.
The following is a list of 10 suggestions on how to conduct yourself when a guy introduces you to his friends.
1. He invited me to a party with his friends, what should I wear
Make sure that the event you'll be engaging in and the environment in which it will take place is well-suited for the clothes you've chosen to wear so that you can fully enjoy and interact well with his pals. Remember, your clothes can communicate a lot about you.
2. Be yourself and stop trying to be someone else
When you already have an understanding of who you are, there is no point in wasting time pretending to be someone else. Just make sure not to exert an excessive amount of effort; rather, focus on being genuine and allowing your unique personality to come through.
Keep a level of familiarity with those who are around you at all times as well.
3. Be confident
It is essential to have faith in one's abilities if one wants to succeed in achieving their goals. You should also be able to relax and sense that you are at home in your own skin in addition to having confidence.
Tell yourself that "He invited me out with his friends" and mean it. You need to have the same level of self-assurance that he does about you in order to succeed.
Related Reading: 

20 Things You Can Do To Feel More Confident In A Relationship
4. Maintain a friendly approach
When a guy talks about you to his friends, he also hopes that you are approachable and have a cordial demeanor. Therefore, you ought to make an effort to be cordial with the individuals that he considers to be his friends and associates.
5. Don't be possessive
Make an effort to prevent getting overly possessive. When a guy introduces you to his friends he also expects to have his space in the gathering.
Don't cling to your partner the entire evening. Talk to the people he spends time with and tries to strike up a discussion with the others he goes out with.
6. Be considerate
Demonstrate to his friends and acquaintances that you hold them in high regard and that you are truly interested in what they are accomplishing with their life. Ask his friends questions about themselves and their interests.
This will help you to build a connection with them and show that you are interested in getting to know them. When a guy introduces you to his friends he would feel good about the fact that you are indeed bonding in and accepting his circle.
7. Avoid engaging in controversial discussion
Yes, you have to hold your horses and stay calm. When a guy introduces you to his friends the least he wants is unpleasantness.
Because doing so could lead to further disagreements, thus it is advised to refrain from discussing touchy subjects like politics and religion. Additionally, it is best to refrain from heated conversations.
8. Offer to help in the evening when a guy introduces you to his friends
Help out with any task that needs to be completed, such as putting up the food or drinks. Offer to help with any task that has to be completed.
Alcohol consumption should be moderated, and being wasted should be prevented at all costs. You face the risk of humiliating yourself in front of others if you drink excessively.
9. Maintain your politeness and respect
Always treat everyone, even his friends, with the same level of decency and respect you would expect from them. Always remember to say "please" and "thank you," and don't ever criticize another person in front of others.
Also, make yourself accessible to others even after the event. This will convey to everyone around you that you are a kind and courteous person who is mindful of their feelings.
Related Reading: 

Mutual Respect in a Relationship: Meaning ,Examples and How to Develop It
10. Fun to be had
Last but not least, it's essential to remember the importance of laughing and having fun when being in the company of others. Relax and try to find more humor in the situation; there's no need to take yourself or the circumstances as seriously as you might otherwise.
When a guy introduces you to his friends, remember this, he would love to see a happy and joyful person around.
Some more questions
It's a significant step in your relationship when a guy introduces you to his friends, and it may be an exciting time.
Having said that, it is possible for it to also create some doubts and ambiguities. The following is a list of frequently asked questions and answers pertaining to this subject.
When a guy won't introduce you to his friends?
A guy who is too shy to introduce you to his friends may not be committed to the relationship or may not envision a future with you, especially if he seems nervous about introducing you to his pals.
So, you and your significant other need to have a serious discussion about the reasons behind his decision to not introduce you to his friends and family at this time.
If he is unable to offer an explanation that is convincing for his conduct, it is possible that it is time to reconsider the relationship.
How do you make him introduce you to his friends?
You may bring it up in conversation with your significant other if you've been dating for some time but he hasn't yet introduced you to any of his friends even though you've been seeing him on a regular basis.
Make it known to him that you are keen on interacting with his pals, and enquire as to when he thinks it will be possible for you to do so.
If he is still on the fence about it, you shouldn't put too much weight on his decision to make a choice, or maybe you should give him some time to think about it.
Meeting your partner's friends is an important step in any relationship in life. It shows that your partner is serious about you and wants to include you in his social circle.
If you're wondering when to meet his friends or how to act when you do, remember to be yourself, be friendly, and show an interest in his friends' lives.
If your partner is hesitant to introduce you to his friends, communicate with him or try couples therapy for professional help or guidance to understand his reasons.
If you're still unsure about his intentions for you, you can watch this video for some cues:

Share this article on
Want to have a happier, healthier marriage?
If you feel disconnected or frustrated about the state of your marriage but want to avoid separation and/or divorce, the marriage.com course meant for married couples is an excellent resource to help you overcome the most challenging aspects of being married.
You May Also Like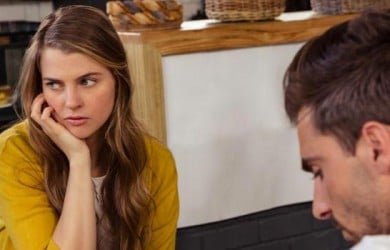 Popular Topics On Married Life