Is He Thinking of You? Here Are 4 Things to Make Him Crazy About You
One of the main aspects of a relationship is to keep the love flame burning and charm alive. The real hard work is not merely finding the courage to spill out those 3 magical words but giving the relationship constant nurturing. Considering men and women are entirely different species, it is essential to understand the alternative point of view, find common ground and keep the effort two-way.
The book Men Are From Mars, Women Are From Venus talks about how men think and, likewise, different emotional needs of a woman. As a woman, you might wish for a magic potion to understand what your man might be thinking, to make him constantly crave for you and have him go crazy.
Well, let's bust the myth.
In order to peep into his heart and know what your man is thinking, the rule is to understand his perspective. Psychologically, men and women think differently, and in a relationship, it becomes essential to work on this fact. So, drive him crazy with the following tips in mind, and be sure he can't stop thinking about you.
Let Your Guard Down
Vulnerability is about consciously choosing to be expressive and lay your heart out just as it is. In University of Houston Professor Brené Brown's 2010 TEDxHouston talk, The Power of Vulnerability, she says,
Staying vulnerable is a risk we have to take if we want to experience connection.
We advocate being vulnerable enough to open up about yourself and drive away all the inhibitions. Being hurt, frightened or happy is a part of our existence and there should be no shame in being uncensored. However, do not overcompensate to make a place in his heart.
There's no affirmation etched in stone about how to make your man go crazy, but expressing your joys, goals, and passions freely surely goes a long way in strengthening the bond. Vulnerability is attractive. It is one of the building blocks of the relationship and will inevitably lead your man to think that he is holding power in the relationship as much as you do.
By being vulnerable, you subtly draw him closer to you emotionally and help him bring out his boyish charm. And if you are wondering how to make him keep thinking of you, he needs to be assured through your gestures that he can open his heart too. Rather than keeping the rope in your hands, hold one end of the rope and have him hold the other end. He'll appreciate it.
The Mirroring Effect
If you want your man thinking of you, one of the effective ways is to catch his attention by matching him at a subconscious level. This will reflect your efforts for him and at the same time, add an element of fun into the relationship. He'll find this romantic gesture extraordinarily appealing and won't stop thinking about you.
Mirroring happens a lot at subconscious levels too. It becomes an active practice in a relationship with time and builds a solid foundation. When you have a definitive idea about the way he thinks, you both begin mirroring each other on an emotional level as well.
Emotional mirroring, however, will take its own sweet time when you both will begin to read each other's mind and see through expressions. There shouldn't be any hurry. Make sure you're not trying to be desperate to get him to love you. Don't be a pushy salesperson.
Be True To Yourself
The one thing men appreciate the most in women is sincerity. If you want him to think about you all the time, you must present yourself in a sincere and genuine fashion. Not being true to yourself is one of the most common mistakes women tend to make.
A man does not want a woman to think the way he does, to like the things he likes, to act as he acts. If this was the case, he would marry himself. Men do not want women to stifle their own opinion because they might conflict with them; instead, men love women who can express their point of view and who is original.
One of the main advantages of staying true and honest is that it will give him a leeway to express his thoughts too. Once he finds that space that he can place his trust on you too, he will be thinking of you always.
Men don't want to know women who will fidget at the thought of showing their authentic self. So, in order to get your man thinking you are the one, stay authentic.
Be Kind
Kindness is a universally attractive quality, studies show. Research also shows that kindness is linked to an ability to form social alliances. As the famous poet Maya Angelou said:
People will forget what you've said, people will forget what you did but they'll never forget the way you made them feel.
So on that first, second, third or any subsequent dates, he may not notice and remember the dress you wore but he will remember if you were kind and polite with him and any other person you interacted with. So be kind and you can be sure that he is always thinking of you in the nicest way possible.
Final take away
Men find self-confident and opinionated women refreshing and irresistible. If you want your man thinking you are different, then express yourself how you are. If he is looking forward to committing in the long run, playfulness, independence, and affection are some of the additional qualities he would appreciate.
Sometimes, expressing your emotions plain and raw makes you who you are. So be that woman, act as you want and let him see all of your glory along with your flaws if you want him thinking of you all the time.
Share this article on
Want to have a happier, healthier marriage?
If you feel disconnected or frustrated about the state of your marriage but want to avoid separation and/or divorce, the marriage.com course meant for married couples is an excellent resource to help you overcome the most challenging aspects of being married.
More On This Topic
You May Also Like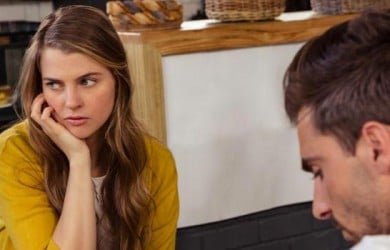 Popular Topics On Married Life