25 Noticeable Signs He Thinks You're the One
Let's be honest with ourselves.
A feeling of fulfillment comes when a guy thinks about you as the one for him. When this happens, you feel assured of your position in his life, and everything else can follow.
However, the challenge lies in identifying the signs he thinks you're the one. This is because while some of them are glaring, others are relatively subtle, and you'd have to pay close attention to what he doesn't say to identify them.
Nevertheless, by the time you're done with this article, you will discover how to tell if he thinks you're the one and what to do when you have confirmed this.
How do you know if he thinks you are the one?
Being in a committed relationship means a lot to many committed Americans, as revealed by a recent column reported by the New York Times.
Among many other things, this suggests that at some point in your life, you'll soon pray to find a man who knows what he wants and is ready to settle down. Then again, the fact that you're reading this article is proof of that!
If you are at that place where you wish to know precisely what he thinks about you (so you don't end up committing to a man who doesn't feel anything serious for you), there are 25 classical signs you must look out for.
We will examine all of them in the next section of this article.
25 signs he thinks you are the one
Have you been hanging out with this guy for a while? Have you started looking for the signs he sees you as the one? Here are 25 sure ways to know that he may be thinking along the same lines as you.
1. He has become your biggest cheerleader
One of the biggest signs he thinks you're the one is that he suddenly becomes your biggest cheerleader. He shows up whenever you need him, makes time to support your dreams and ambitions, and sometimes even keeps his goals aside to help you reach yours.
The most intriguing part is that he does this regardless of how ridiculous you may think your ideas are.
2. He pushes you to become better
When a man finds the one, he'll stop at nothing to make you better. You may find him encouraging you to get back to school for an extra degree. He may push you to apply for a promotion or just to reach out for an opportunity.
3. At some point, he may have mentioned that this is different from what he has had in the past
Although you may not want to base your decisions on this statement alone, you may want to pay some more attention to this statement. One of the signs he thinks you're the one is that he may have mentioned it at some point.
Then again, one thing that would most likely make this memorable for you would be the sincerity in his voice as he says that. Does his body language echo these words? Then it could be the truth.
4. He doesn't shy away from tough conversations
This may come as a shock, but research has shown that willingness to have tough conversations is a sign of a healthy relationship.
One of the signs he thinks you're the one is that he doesn't shy away from having hard but necessary conversations. Even when hurt, he talks to you and is committed to helping you understand why he feels the way he does.
He would rather talk things through than disappear on you and start giving you the cold shoulder.
5. He starts talking about the future
One of the clearest signs that a guy sees you as an integral part of his life (not just a plaything for this immediate enjoyment) is that he begins to speak about the future. He tells you about the plans that he has for the future.
Then again, if you listen closely, you'll hear the parts he hopes you'll play in his future. In simple terms, he may start dropping hints about a future he plans to spend with you. He will bring you into that picture.
6. He tells you how he feels
Men are smooth talkers, yes!
However, when a man constantly tells you how much you mean to him, that could be one of the signs he thinks you're the one. As an act of caution, don't just take this in isolation. If he means what he says, his actions should also show that he feels exactly the way he says.
7. He spends a lot of time with you
Sometimes, you can't help but wonder how he gets anything done with the amount of time you spend together. Here's the thing!
When a man believes you're the one for him, he will do all he can to spend quality time with you. Regardless of how busy he is, he will always manage to show up when he is done with a stressful day at work. When he can't show up, he will keep in touch.
Related Reading: 

11 Ways to Spend Some Quality Time With Your Partner
8. And it is not just all about sex
It is one thing to have a man who spends time with you because he genuinely loves your company, and another thing to be with a man who only looks for you when he is horny and in need of a quick romp in the sack.
One of the signs he thinks you're the one is that he doesn't just stop by when he wants to take you to bed. You find yourself spending quality time together. You even enjoy a lot of intimacy, and it is not only about sex.
9. However, sex with him feels different
Make no mistake about it. That he thinks you are the one doesn't mean he will automatically translate into a eunuch with no sexual desires. While his libido doesn't drive his desire to spend time with you, this also doesn't mean that his desires automatically go to extinction.
When you finally get down to the 'having sex' part, one of the things you'd notice is how different it feels with him. Sex with him will feel like a passionate exploration of yourselves instead of a mad rush to the finish line.
As research has shown, there is a direct relationship between emotional intimacy and sexual satisfaction.
Sex with your partner becomes more enjoyable when you feel deeply emotionally connected to them.
Related Reading: 

Ways to Increase Sexual Pleasure and Get down and Dirty with Your Partner
10. He introduces you to the people that matter to him
One of the signs he's thinking about you as a long-term, commitment-worthy partner is that he starts introducing you to the people that matter to him. He may start by arranging a 'coincidental' meet-up with his friends or inviting you to hang out with his family.
Has he done any of these to you? Then he most likely thinks you're a keeper.
11. You have similar values and morals
Yes, you may be different in many things (like your hobbies and favorite holiday locations). However, when the chips are down, you'll discover that you are similar in more ways than one.
The things that matter to you (like morality, honesty, and family) also matter to him.
12. He is willing to compromise where it matters
When a man has figured out what makes him think you're the one for him, he will do all it takes to keep you in his world. This included the willingness to make compromises where it matters.
He will be willing to understand how your mind works and to make the necessary adjustments that will keep you comfortable around him.
Even as you do the same for him!
Related Reading: 

6 Compromises in a Relationship Needed for a Healthy Marriage
13. You accept your flaws
This isn't just a one-sided attempt at keeping a failing relationship. One of the clearest signs he thinks you're the one is that he is willing to accept your flaws and help you become better, even while you do the same for him.
At this point, it becomes a collective effort on both parts, not just a situation where one party finds faults but does nothing to fix the relationship.
14. He is committed to you
When a man believes you're the one for him, he takes himself off the market. You'd see less of that if he used to be a flirt. As time passes, he'll withdraw his activities from dating sites.
Then again, when hit on, he won't be ashamed to admit that he is in a committed relationship.
Related Reading:

  

10 Undeniable Signs He is Committed to You for Real
15. Secrets slowly disappear
When a man knows you're the one, secrets begin to disappear from your relationship. He becomes more open and honest with you and supplies more information about his life than he used to.
Who knows? He may even give you the passwords to his devices at some point. That's a whole new level!
Is it okay to keep secrets from your partner? Know in this video:
16. He asks you to move in
Considering how big this step is (and the fact that it comes with many lifestyle changes), a man will only ask you to move in with him when he believes that he is ready to commit to a long-term relationship with you.
17. He starts dropping hints that he wants to meet the people that are important to you
Another glaring sign he thinks you're the one is that he soon starts hinting at his intentions of meeting the people that matter to you. Once he opens you up to his world, he may ask you to do the same for him.
18. Your friends and family approve
Studies have shown that a person's parents play a major role in their choice of life partner. Although, in recent times, many people have become bolder in choosing for themselves, we cannot alienate the role of the family in your choice of life partners.
One of the clearest signs he's the one for you is that your family and parents accept and approve of him. Although this may not always be the case, it can be a sign nonetheless.
19. His friends and family also approve
And this isn't just because you made a stellar impression on them the last time you met. It might also be because he speaks highly of you and talks to them about how you are a blessing to him.
His excitement about you has no choice but to rub off on them too!
20. He's not ashamed to be seen with you in public
When a man is not afraid to take you out and treat you right in public (especially if he'd be meeting the people he knows and respects along the way), it is usually because he loves you and wants everyone to know that you've got something special going on.
21. His gifts become more thoughtful
When he sees you as a permanent fixture in his life, he will go beyond giving the regular gifts he is known for. His gifts go beyond regular things like chocolates and flowers, and he starts giving you more practical and thoughtful gifts.
For example, he may decide to take you to a favorite spot you mentioned desiring to visit some time ago.
Related Reading: 

5 Gift Ideas to Strengthen Your Relationship
22. He compliments your cooking, even when it is horrible
At this time, he stays back to eat your food because he respects the effort you put into cooking, even when it is your least favorite thing in the world. The best part is that he never makes you feel bad for not being a chef.
Instead, if he has better culinary skills, he may even offer to help you brush up.
Related  Reading: 

How to Compliment a Girl- 15+ Best Compliments for Girls
23. He isn't ashamed to be vulnerable with you
One of the signs he thinks you're the one is that he isn't afraid to show you his vulnerable side. To others, he may be the big go-getter that inspires them to keep pushing toward the life they desire. He may even be the brooding boss who no one can approach.
However, he opens up and shares his deepest feelings when he's with you. He might even cry on your shoulders when he feels overwhelmed.
24. He can't hide the 'look'
You know the glazed look of one who's fallen hard for another? That look they give when they think they won't be caught staring? You may find him giving you that look (with a slight smile on his lips) at some point.
Once you catch him, he will try to get his act together immediately. He may even deny that he did such.
25. He is ready to make things work with you
One of the most significant signs he thinks you're the one is that he is ever ready to make things work with you. Like every normal relationship, you will fight and quarrel. However, he will always be ready to reach out and make things right.
He won't ever give you the cold shoulder, no matter how hurt he is.
How soon does a man know he found the one

?
This is one of those questions that don't have a straightforward answer. Different men will have different answers to this.
For some men, they'll know you're the one from the minute they set their eyes on you. While others may take their time to catch up with that memo. In any case, just focus on spotting the signs discussed in this article. If he believes you're the one, you'll know.
Takeaway
Beyond the signs we have covered in this article, please trust your instincts. Your guts will tell you when a man loves you and is willing to commit to you. If he is just a player looking for a quick fling, you'll also have that nagging feeling.
While you keep an eye on the signs we have discussed, please don't switch off that little voice in your mind.
In the end, you'll be glad you paid attention.
Share this article on
Want to have a happier, healthier marriage?
If you feel disconnected or frustrated about the state of your marriage but want to avoid separation and/or divorce, the marriage.com course meant for married couples is an excellent resource to help you overcome the most challenging aspects of being married.
More On This Topic
You May Also Like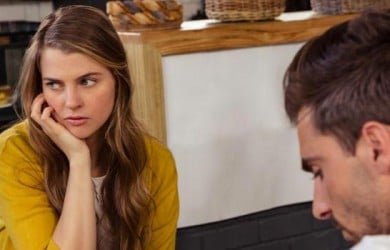 Popular Topics On Married Life