5 Ways to Deal With a Love Triangle
Love triangles are not reserved for fictional characters. A triangle relationship can happen to any of us.
In fact, life can get creative when "writing" love triangle trouble putting you in uncomfortable and challenging situations.
People dealing with a love triangle often are facing unfulfilled expectations and hurt feelings. If you feel trapped in a two-way love affair, there is hope and love triangle solutions that could work for you too.
Before we continue to love triangle advice, let us understand better what is a love triangle.
What is a love triangle?
A triangle relationship is a complex love situation in which there are more than two people romantically involved.
A triangle relationship means that there is a sexual and/or emotional attachment between two people, with one of them being involved with another person.
A relationship triangle often starts with casual contact and gradually evolves.
Ways to deal with a triangle relationship
A triangle relationship is rarely something people intentionally pursue. No one wants to be stuck in a love triangle since it can be quite challenging and hurtful.
However, once you find yourself there, you start to wonder how to resolve a love triangle and what could be the best steps to take.
If you need a love triangle help to understand if you should stay or leave, consider the following ways to approach and untangle the situation you are in.
1. Recognize your role in a triangle relationship
In a triangle love affair, you can find yourself in different roles. Before taking any steps, take a look in the mirror and come to terms with the situation and your role in it.
You could be the rivalrous person looking to become exclusive with someone, meaning you are involved with someone who is involved with someone else.
Alternatively, you could be splitting your attention between relationships with two people at the same time.
Regardless of how you found yourself in this situation or the role you have, there is no judgment here. It can happen to anyone. In fact, according to the authors of "Splitting Up" (p.149), in Western society, "willingly or not, most adults have been involved in a love triangle."
Research shows that dwelling over feelings of guilt or shame is not going to help you change the circumstances, and might lead to unconstructive consequences like anxiety, depression, and difficulties in physical health.
The focus is on analyzing the situation you are in, so you can decide how to approach the resolution of the triangle relationship.
2. Understand the purpose of a triangle relationship in your life
Before you make your mind up about staying or ending a love triangle, comprehend its purpose in your life.
Each relationship we enter has a purpose, and understanding it gives you a chance to do something differently.
If you are looking for the answer to "how to solve a love triangle', ask yourself what is the affirmation, attention, or validation you are receiving in this triangle relationship?
Whether you decide to stay or leave, do so consciously. The awareness of why you choose one solution over the other can help you stay determined and decrease regrets later on.
3. List your alternatives
There is no easy answer to how to handle a love triangle or one simple solution.
Consider all the options you have as well as the potential consequences of them.
If you pick to stay, what do you expect to happen? Or, if you decide to leave, how would that turn out?
List all the options and choices you have in this situation and consider each from many angles. This approach will help you clarify what lies ahead and help you prepare better.
4. Accept there isn't a perfect solution
Love triangle psychology can help you with understanding yourself and love a bit better, but it won't offer a perfect solution or advice.
Like Cinderella's shoes, advice only matches the owner. If you are to move forward, you must recognize there is no such thing as a perfect solution or advice.
This way of thinking and waiting until you figure out an ideal way out of this might be keeping you stuck in a triangle relationship.
If you are asking how to win a love triangle, you might want to refocus your attention to a more useful question, "what alternative provides the most of what I want to achieve?"
Any triangle relationship is complex, and so the solutions won't be ideal, but some can be better than others.
5. Focus on caring for yourself
No one can offer a straightforward response to what to do in a love triangle. However, there is one way to deal with a triangle relationship that is sure to pay off.
When you focus and take proper care of yourself, you are sure to win. Any investment in personal growth is sure to have a return on investment.
Furthermore, whatever decision regarding the love triangle you end up making, it will be easier to stick to it and overcome the consequences.
How to deal with a love triangle?
Allow yourself some time to reflect, heal, and re-energize before making any definite steps.
When you are being kind and supportive of yourself, anything life throws at you becomes easier to overcome.
If you feel you need additional support with untying the knots of triangle relationship, professional help is always a good idea.
Wrapping up
When asking yourself how to get out of a love triangle, take it one step at a time.
Admit and comprehend your role in the triangle relationship, as well as the purpose it has in your life. If you chose to be in it, it must have meaning for you.
Knowing more about why we choose something in the first place helps us with elaborating on the choices, we think we have going forward. Each alternative comes with its own set of pros and cons, so consider them carefully.
While going through this list, accept there won't be a perfect solution, just the best among the rest of them.
Most importantly, invest in yourself and take proper care of yourself so you have more capacity, resilience, and endurance in figuring out what to do with a triangle relationship.
Also, to understand the love triangle better, here's a video on the science of love to help you understand what does it mean to fall in love.

Share this article on
Want to have a happier, healthier marriage?
If you feel disconnected or frustrated about the state of your marriage but want to avoid separation and/or divorce, the marriage.com course meant for married couples is an excellent resource to help you overcome the most challenging aspects of being married.
More On This Topic
You May Also Like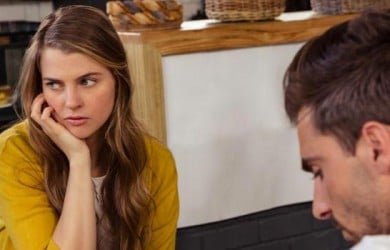 Popular Topics On Married Life