A Virtual Wedding Story-When Love Triumphs Over Quarantine Crisis
Love conquers all difficulties, surmounts all obstacles, and effects what to any other power would be impossible ~ William Godwin
Relationships amidst the COVID-19 crisis are undoubtedly going through a different set of challenges — especially when it comes to rethinking one's wedding plans.
Should this impact your relationship? Absolutely not!
If you are wondering how to get married during these tough times, read along for an exciting virtual wedding story of Jessica Hocken and Nathan Allen that took place amidst the lockdown restrictions.
Their virtual wedding saga is an inspiration to all those who are motivated to overcome this situation.
Childhood love stays true
March 21, 2020, was the day when the high school sweethearts, Jessica Hocken and Nathan Allen, with a lot of love in their eyes, spoke the two magic words ' I do' in the dry deserts of Arizona.
The venue that they had booked initially wasn't available and the wedding ceremony didn't take place the way they had envisioned.
And yet, the whole affair turned out incredible, with both newlyweds saying that it couldn't have been more romantic
The proposal
It was May 2019, when the lovebirds had gone hiking at the ocean side cliff in Seattle, and Nathan went down on his knee to propose to Jessica.
Talking to Marriage.com, Jessica called the experience 'the perfect millennial proposal.' Although she knew it was meant to happen someday, she truly didn't expect it at that time.
And it was obviously a "Yes" from her!
Jessica being the 'go-getter,' got going with extensive wedding planning as soon as the couple returned to Arizona.
The venue was selected, and the wedding date was settled on March 21, 2020, at a country club in Scottsdale, Arizona.
The wedding preparations
With the guest list prepared by Jessica and Nathan, they shared their invites with the relatives and close friends around September 2019.
The COVID-19 crisis had not shaped up into the global disaster it is today back then, and the couple was very much immersed in the wedding preparations.
Jessica had invited six bridesmaids, one of whom lived in Hong Kong. It was around January when the bridesmaid in Hong Kong shared her lockdown stories and intimated in advance that she wouldn't be able to make it to the wedding.
January rolled by, and it was then that the first few Coronavirus cases started being detected in the U.S.
Although the couple knew that the Coronavirus scare was coming, they certainly had not imagined the magnitude of impact it would have on the world.
As the wedding date approached, with about a week left, Arizona began to shut down.
Weddings could take place but the gatherings had to be limited to 50 people only.
Jessica and Nathan had anyway planned for an intimate wedding, so they decided to go ahead with their original plans.
Five days before their wedding, their pre-booked venue canceled on them. With only two days before the wedding, Jessica and Nathan updated their friends and family about the unforeseen development.
Jessica said, "Although we were contemplating postponing, with the level of uncertainty, we thought it is best to get married anyway. Just that we didn't know how, when, and where!"
They kept the invitations open-ended. But, with the restrictions on travel and celebrations, the couple knew that most of them wouldn't be able to make it.
That's when the couple decided to go for an online wedding. The virtual wedding was planned so that their friends and family would be a part of their wedding during the lockdown.
Nevertheless, all their invitees were very understanding and supportive of the couple's decision to get married.
Finally, the wedding day!
Despite the wedding not happening the way the couple had envisaged, they kept their spirits high.
The new wedding venue was in an Arizona desert, hardly a minute away from Jessica's parents' house. She had never realized that the place where she grew up was so beautiful and perfect to host her wedding!
And, finally, the day came when everything fell into place. With all the vendors being supportive, the wedding venue was decked up with a lovely floral decoration.
Jessica looked stunning in her lovely mermaid style wedding gown from Essense of Australia complimented by the perfect hairdo and makeup by Monique Flores. Nathan, dressed up in an elegant blue suit, complemented the gorgeous bride.
"With two bridesmaids and six groomsmen, Nathan looked more like a diva," chuckled Jessica while talking about her experience.
And, with the beautiful arid locale of Arizona in the backdrop, the couple finally recited their wedding vows. The officiant, Dee Norton, who was familiar with the hand-fasting ritual, aided the couple with the wedding ceremony.
Jessica and Nathan had their close family and friends to physically attend the wedding, which included both their parents and Jessica's grandmother.
They had a standing wedding ceremony in order to maintain the social distance and keep everyone safe from the Coronavirus infection.
And, it was through a Zoom video call that Jessica's brother in Chicago, Nathan's brother in Dallas, and their other invitees in almost every part of the U.S., attended their online wedding.
After the couple sealed their eternal bond with a passionate kiss, Jessica and Nathan were showered by the heartfelt wishes and blessings through the virtual Zoom session.
The couple then had a cozy backyard reception at Jessica's parents' house, and Nathan's Dad did the first look for the duo.
With the marriage license arrangement done much in advance, the couple had no reason to worry and had a hassle-free legal marriage.
So, despite all odds, with love and support from their friends and family, Jessica and Nathan had the most surreal wedding ceremony that they could ever have imagined.
Advice from the newly married Jessica
Jessica and her husband followed all the guidelines set by the government and abided by the social distancing norms and had a very safe virtual wedding.
For those who are still wondering- is it possible to get married online during the uncertainty of the Coronavirus pandemic, Jesica has a small piece of advice for couples who feel trapped in the whirlwind of uncertainty.
"Stay open-minded. The wedding day probably won't go exactly how you envisioned but, sometimes it ends up being better than what you could have planned just because of the pure joy that surrounds weddings. It's tough but it is definitely worth it," says Jessica.
"We were missing core family members at my online wedding like my brother who stays in Chicago (which was a hotspot) and Nathan's brother who stays in Dallas but they were able to join through Zoom.
A lot of people weren't able to make it but also, just the flood in the morning, for example of my bridesmaids sending me videos of them in their bridesmaid dresses, watching it, or just getting ready with me even though they were in a different state or country, was really touching. People really understood the situation and why we would want to keep moving forward. I felt like it was really supportive," shares Jessica.

While the isolation period keeps getting extended, Jessica's story is among several others who are opting for online or virtual weddings as a way to let love triumph in this time of crisis. Marriage.com extends its best wishes to all such couples and we hope that through these stories, others can get the much-needed hope for their own weddings.
Here's a look at another interesting wedding story of a couple who held their wedding on Instagram during the lockdown:

Share this article on
Want to have a happier, healthier marriage?
If you feel disconnected or frustrated about the state of your marriage but want to avoid separation and/or divorce, the marriage.com course meant for married couples is an excellent resource to help you overcome the most challenging aspects of being married.
Learn More On This Topic
You May Also Like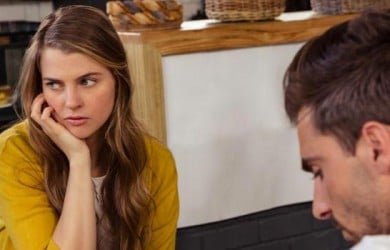 Popular Topics On Married Life