15 Ways to Deal With Being a Third Wheel
While it's okay to daydream periodically about what it would be like to have what a friend or family member has that you don't, it's vital to embrace life as you know it now.
It won't always be this simple and free. Most likely, your attached friends and family members have moments where they wish they had a little bit of what you have going on.
Still, being a third wheel does have its drawbacks, like meeting friends of friends for blind dates or sitting through bouts of cuddle time.
Still, the perks outweigh the downsides, the most significant of which is having two best friends looking out for you, having your back, and serving as the ideal support system. I wouldn't have traded my third wheel friendship for anything when I was single.
What is the third wheel in a relationship?
"Third wheel" is a derivative of what used to be termed "fifth wheel," which came to be due to there being an "extra wheel for carriages, coaches, and wagons that rode with four wheels (interesting fact).
So, what is a third wheel?
The third wheel in our scenario is an extra person that tags along with a couple. While the situation could prove awkward depending on the perspective you choose to take, it can also be a blast, plus the quality of friendship with each person can turn out to be exceptional.
What does it feel to be the third wheel in a relationship?
Being a third wheel can give you a chance to experience things with the ones you love, but it can also make you feel sad and isolated if this happens too often.
Being a third wheel can make you feel unwanted, isolated and sad. You might feel unwelcome because you are not a part of the couple. It can be devastating as it can make you feel alone, despite being with two other people.
5 signs you might be the third wheel in your relationship
Whether it's a friendship relationship or a romantic partnership, you might feel you've become the third wheel when you present as an extra person in a scenario where everyone else is preoccupied with something or someone else.
Perhaps your mate takes you to a work event and decides to interact with colleagues leaving you standing in the corner (in that case, you could be the 10th or maybe 16th wheel, depending on the number of colleagues he's schmoozing with.)
Or if friends have coupled up and you're the only singleton, it might become apparent that you are an island unto yourself. Let's see a few signs that you are officially the third wheel.
Designated drink tender
Someone needs to watch the drinks at the table and babysit everyone's personnel. Since the couples want to dance and you have no one to share the floor with, it seems logical you would be the designated drink tender.
Lost in the corner
Your mate invites you to attend a special, elaborate work event only to position you in a corner and disappear upon arrival. Periodically your partner arrives with a snack or a drink and disappears again into the crowd.
Troubled times
Best friends are supposed to lean on each other, but now that the friend is partnered up, they reach out to other couples when there are problems with you being the last to know when your best friend is in trouble.
Related Reading: 

25 Warning Signs Your Marriage Is in Trouble
Left out on date night
Date night is supposed to be the one night with no interruptions or distractions; instead, a focus on spending quality time together.
When your mate spends the evening on the mobile with a business call, it can feel like you're in a third-wheel relationship.
Fighting over you
If friends fight over you (and not in a good way) trying to decide who will take you home after an evening out, actually attempting to pawn you off instead of leaving you to fend for yourself, these equate to third wheel problems.
Related Reading: 

15 ways to Stop Constant Fighting in a Relationship
15 ways to deal with being the third wheel
Being a third wheel is genuinely not that bad. If you prefer to learn how not to be a third wheel, you can do lots of things to avoid it, including always having a friend standing by to attend outings with you.
Otherwise, third-wheeling can be rewarding with the addition of some awesome friends who are there for support, advice, companionship, and a reason to be home early on a Friday night for solo popcorn and a movie.
1. Even the playing field
Work out an arrangement with your friend or even a mate where there is quality time periodically just the two of you. On days when it appears you will be the third person, cancel the date in favor of some "me time."
It will be a more enjoyable experience than when you are a third wheel.
2. Support system
As a friend and a partner, you should show a support system when a mate develops a new colleague that you might not be thrilled about or a friend strikes up a new friendship or becomes a part of a couplehood.
You don't want to appear jealous or become an unpleasant sort showing your insecurities. Adding a third person to a relationship can be good if you remain positive and supportive toward the other person.
3. Communicate
Being the third person in a relationship can be a challenge if you're never receiving individual time or quality time; or if you're always the third wheel.
It becomes vital to have a conversation with either the friend (or perhaps a partner) to suggest that you miss the occasional bit of time you used to spend with just the two of you.
It's not that you dislike your friend's new mate, only that you would enjoy periodic bouts without them. For a partner, you need quality time. That should be expressed and the expectation if you feel "my marriage has a third wheel."
Related Reading: 

20 Ways to Improve Communication in a Relationship
4. Establish a connection
In some instances, the third wheel meaning or the basis for you being the third wheel can be simply that a friend or partner wants you to establish a connection with this individual or group that has come into their life.
5. Positivity invokes the positive
When you present as a third wheel that is bright, brilliant, vibrant, people enjoy your vibe, but when you're a third wheel acting like the world owes them something with a moody, glum, hostile demeanor, people will shove you in a corner and ignore you.
6. Avoid awkwardness
If a friend arrives and you're surprised to find that you will be the third wheel for the evening, try to avoid being awkward with the situation, especially if you want to be invited out again.
You never know if you'll see this particular friend without their new acquaintance, so it's wise to avoid any weirdness between you until you subtly discuss it privately.
Related Reading: 

5 Ways to Cure Awkward Silences with Your Partner
7. Backup friend
It's not a bad idea to always have a backup friend that you can call in case you wind up being a third wheel. Whenever there's an activity or a social event, you can suggest a group outing when you get an invite. It's an ideal way to ensure everyone has a good time.
8. No can be nice
If you don't want to be a third wheel, you don't have to go only to be polite. It's okay to decline the offer when you know the situation.
You should also communicate the truth with a friend or mate that you prefer not to be a third wheel. Perhaps then they will invite you for one-to-one interactions moving forward.
9. Intimacy is for two
In that same vein, being a third wheel in an intimate environment seems taboo.
If a couple invites you to a park picnic, an elegant restaurant dinner, or perhaps a movie at the drive-in theater is more suited for two people romantically involved without a third tagging along. It could prove awkward for the third wheel.
Related Reading: 

How Important Is Intimacy in a Relationship
10. Getting a ride
As a third wheel, it's no fun watching everyone try to pawn off the responsibility of getting you home at the end of an evening. The best way to avoid that interaction is to arrange to have your transportation ahead of time.
11. Provide some privacy
If friends need a moment and you're the third wheel, instead of feeling awkward or out of place, allow them some space and enjoy a bit of your independence for a few minutes. It offers a nice balance of time with them and your own for the evening.
Related Reading: 

How Much Privacy in a Relationship Is Acceptable?
12. Mutual meetups
You don't have to wait on invites from friends just because you're single. Make your share of arrangements for special evenings out. Then these two will be the "third wheel couple" to your party.
13. Make suggestions
When your friend is busily making plans for the three of you to go out, step in and help with the arrangements. You can suggest more "festive" locations where perhaps you won't be in such an isolated circumstance.
If the venue is busy, you'll be able to talk with other people, make some acquaintances, and perhaps run into people you know.
14. Enjoy the perks
Sometimes being a third wheel has its perks. Not only do you become a valued friend to two people, but these individuals find reasons to search for the perfect mate, setting their singleton up for blind dates with every opportunity they get. Is that a perk or a negative? Maybe a little of each.
Watch this video to learn more about five types of people you should stop being friends with:
15. Have a blast
You might be the only single person in the room. While you might get a jolt of envy at the feelings each couple shares between them, they are all probably jealous of the simple, free life you're leading.
Have a good time regardless if you're the third wheel. Try to make the most of it. At some point, you'll be half of a partnership watching the third wheel enjoying a good night. Let them see what they're missing.
Some commonly asked questions
Being a third might seem all bad, but it is not always the case. Here are some answers to some pressing questions pertaining to being a third wheel in a relationship that can clear up some of your doubts:
Is being a third wheel such a bad thing?
Whether you consider being a third wheel a bad thing is all about perspective. If you have a negative vibe, it can bring the situation down to that level. In many instances, particularly with friends, everyone else will also if you're positive and having a good time.
With a mate, feeling like a third wheel can detriment the partnership if it interferes with quality time. They can address this in couples therapy.
A partner who parks a date in the corner while they have a good time at a work gala is rude, as is the spouse having a business meeting on the mobile on date night. So, it will depend on the situation and how you handle being a third wheel.
Why is being a third wheel good?
Being a third wheel is not always bad, as it can give you a chance to get close to your friend's partner and help them feel supported. It can also give you a chance to have loving company and experience new things with them.
Final thoughts
Some of the best friends you meet will be when you're playing the part of the third wheel. I know that might sound a bit off, but it's authentic. When you have a best friend, and they meet someone, it can take time to become acquainted with that person.
Still, if you open yourself up to establishing a connection with that person, the friendships between these two people can carry you throughout your lifetime and come to be among the most cherished. Third wheel meaning in relationships does not mean it's all bad.
Playing the part of the third wheel can be a valuable experience in that you have the biggest support system when things get tough, receive the best advice when you aren't quite sure what to do in a life circumstance, and serve as the best cheerleader when you're chasing dreams.
Plus, they try to suit you with every person they contact.
You won't always be the third wheel. The moment will come when you find a mate that your best friends will need to establish a connection with, then make them a sort of third-wheel couple. But you will or should always treasure those moments when you played the part of their third wheel friend.
Share this article on
Want to have a happier, healthier marriage?
If you feel disconnected or frustrated about the state of your marriage but want to avoid separation and/or divorce, the marriage.com course meant for married couples is an excellent resource to help you overcome the most challenging aspects of being married.
Learn More On This Topic
You May Also Like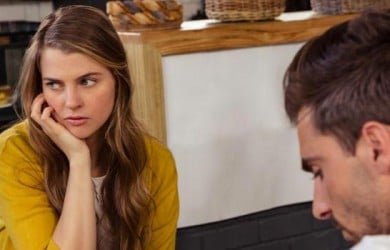 Popular Topics On Married Life