5 Ways to Cure Awkward Silences with Your Partner
Whether you and your partner have been together for ages or your relationship is in its beginning stages, we all struggle with the occasional awkward silence.
Perhaps one of you is a natural chatterbox while the other is more introverted. No matter your personality, experts agree that communication and connection through conversation is a vital part of keeping a healthy relationship flourishing. And working on communication doesn't have to feel like a chore. In fact, with a little planning and effort, it can be quite fun!
Let's take a look at five different ways you can cure awkward silences and stimulate conversation with your partner.
Take evening walks together
If you're struggling with awkward silences in your relationship, instituting evening walks is a great way to set aside time to focus on one another and get the conversation going. We all know that life can get busy. Work is demanding. House projects pile up. Add kids to the mix and it feels like there is hardly any time left for adult conversation or connection.
But do not downplay the importance of doing things together. The simple act of a nightly walk around the neighborhood after dinner provides an amazing opportunity for conversation. Walking together bonds you as a couple and helps you zero in on one another without the distractions of phones, kids or to-do lists.
When you're walking, the conversation almost naturally arises and you can take time to decompress together. Talk about your day – the hard moments and the good ones. How did that meeting go? What did do for lunch? These seemingly meaningless bits of info we don't often share become a great opportunity to know each other more deeply.
A lull in the conversation during a walk isn't a bad thing either. You can take in the natural beauty around you in the silent moments and it won't feel awkward.
Shared experiences, like nightly walks, help us block out the excess noise in life and focus on what were are doing together. Additionally, they allow us to create memories we can look back on and talk about.
Get rid of distractions
After a long day at the office or chasing after small children, it is so easy to turn on the TV or scroll through our social media feeds instead of talking with our partners. Trust me, I am guilty of this!
If you can resist the urge to turn to a screen to decompress and instead turn to one another, you will be so surprised by the genuine connection and conversations that will naturally arise with your partner.
Make a cup of tea or enjoy a glass of wine together.
Schedule date nights
You have probably heard this one before, but it truly is so important! As the busyness of life escalates, romantic dinners out become fewer are farther between.
Intentionality is the name of the game. Pick a date once a month – or ideally twice if possible – to set aside time completely for one another. No distractions. Just the two of you!
Since the date is set, you have time to talk about what you want to do each month. Maybe your partner wants to check out the new restaurant that just opened in town. Or when was the last time you went bowling? Why not give it a try again? No doubt you'll have some shared laughs and memories to look back on together.
Use dates nights as an opportunity to learn about your partner's likes, dislikes, and burgeoning interests and to try new things together. New experiences stimulate conversation like nothing else!
Take time for yourself too!
As important as it is for you and your partner to spend time together, it is also vital that you take time to invest in yourselves separately. Chances are, you and your partner are not going to have all the same interests and that's okay!
Time apart devoted to your own personal growth and exploring new hobbies and experiences actually provides for a wealth of conversation when you are together.
Perhaps you've always wanted to join a book club. Or your partner is interested in learning to play an instrument. Don't neglect these personal needs or interests – they are wonderful fodder for conversation. You will love sharing with one another the new things you're learning!
Discover a new activity or hobby together
Another great way to stimulate conversation and avoid awkward silences is to spend time trying new things as a couple with friends or the community around you. You could join an adult kickball league or meet friends for trivia night at the local pub each week.
Investing in friendships together with your partner brings a lot of life, laughter, and conversation into your relationship with one another.
The journey to curing awkward silences in your relationship can actually be quite fun. I truly believe when both partners are committed to spending intentional time together and sharing new and exciting experiences, there will always be something new to talk about and you'll see the joy and romantic energy in your relationship multiply!
Share this article on
Want to have a happier, healthier marriage?
If you feel disconnected or frustrated about the state of your marriage but want to avoid separation and/or divorce, the marriage.com course meant for married couples is an excellent resource to help you overcome the most challenging aspects of being married.
More On This Topic
Recent Articles
You May Also Like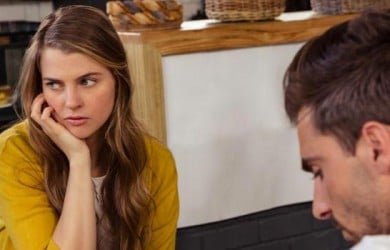 Popular Topics On Married Life