The Relationship Alphabet – G Is for Gratitude
Have you thanked your spouse lately? If not, I urge you to say 'Thank you,' right at this moment because G is for "Gratitude" in The Relationship Alphabet.
The Relationship Alphabet is the creation of Zach Brittle, a Licensed Mental Health Counselor, and a Certified Gottman Therapist based in Seattle. Zach's initial blog posts on the Gottman Institute have attracted much attention that it has since been published in a book–The Relationship Alphabet: A Practical Guide to Better Connection for Couples.
The Relationship Alphabet gives letters a definition based on what the author thinks it should stand for in a relationship, like an encyclopedia of love, per se.
The author began his alphabet with A standing for Arguments, B for Betrayal, C for Contempt & Criticism, etc.
True to its form, the book is a helpful guide to help couples work on the nitty-gritty of relationships. Among the 'practical guide' offered is expressing gratitude to your spouse.
Factor in gratitude if you are looking for a happy relationship
The dictionary defines gratitude as "the quality of being thankful; readiness to show appreciation for and to return the kindness." Brittle and many relationship scientists see gratitude as an important factor in making relationships last, and ourselves, happier.
Giving thanks has a tremendous benefit on our overall well-being. Don't believe me yet? Let me ask you to think about a time when you gave someone a small present. Think about how you felt when they said 'Thank you' after receiving that present. Didn't that feel good?
Now, think about the time when you receive a small present. Think about how you felt when you received the present. Weren't you compelled to say 'Thank you'?
If you answered a big 'yes' to both, I think it's the manifestation that by saying 'thank you' or receiving 'thank you,' we get an overall good feeling when we experience gratitude.
Other benefits of expressing and experiencing gratitude include:
Increased happiness and optimism

Increased resiliency

Increased self-worth

Decreased anxiety levels

Reduced risk of depression
Let's step back a bit and put these in the context of our romantic relationships.
Saying 'thank you' strengthens our partnership with our spouse. Saying 'thank you' is saying 'I see the good in you.' Saying 'thank you' is an 'I love you' wrapped in gratitude.
There's no reason why G should not stand for Gratitude in The Relationship Alphabet!
Breaking away from the path of egoism
By way of gratitude, we are being led to do one of the most important things in relationships. Break away from the path of egoism. By way of gratitude, we then, recognize that we are receiving the following gifts from our relationship: love, care, empathy.
Can you imagine living in a world where gratitude is the people's number one value? Utopia.
Can you imagine being in a relationship that values gratitude? If it's difficult for you to imagine, why don't you start practising it for yourself?
Take a moment to thank your spouse, and do it every day. You don't have to immediately think about huge things or material gifts – maybe you could start with a chore that they did, even if you did not ask them to.
'Thank you for washing the dishes last night. I really appreciate that.'
Put on the glasses of gratitude to see your spouse better
The little things count in relationships, but, for us to see these little things, we must put on the glasses of gratitude to help us see better. Being appreciated helps in increasing our self-worth and value as a person.
The secret as to why gratitude works in a relationship lies in the fact that you appreciate your spouse as a person of value. That you truly value them and in turn, that the relationship is equally valuable.
With all of these good feelings combined, we are more compelled to hold on to the relationship, to give more into the relationship, to work more on making the relationship last. Simply because your spouse feels appreciated for every 'thank you.'
Brittle even joked that if couples practised saying these two words, a lot of relationship therapists would be put out of business.
Gratitude provides us with special glasses that help us see our spouse on a whole new level of knowledge.
Gratitude will change your relationship and your spouse
With the help of gratitude, their best traits are illuminated. Gratitude helps remind both of you why you've chosen each other.
Start by thanking your spouse for washing the dishes, and see how gratitude will change your relationship and your spouse. It may not be a quick change, but over time, studies have guaranteed a more satisfying relationship for couples who practice gratitude.
The Relationship Alphabet by Zach Brittle is a compelling collection of insights on relationships and is truly a good place to start if you want to bring more focus on working on your relationship. It truly stands by its word of being a practical guide for connecting better with your partner.
Share this article on
Want to have a happier, healthier marriage?
If you feel disconnected or frustrated about the state of your marriage but want to avoid separation and/or divorce, the marriage.com course meant for married couples is an excellent resource to help you overcome the most challenging aspects of being married.
Learn More On This Topic
You May Also Like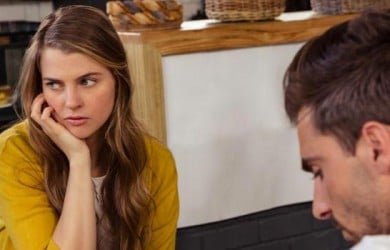 Popular Topics On Married Life