27 Subtle Signs He Loves You Without Saying It
Love often shows itself quietly, not with words, but with things people do. "I love you" is important, but sometimes, the small actions and looks say even more.
In a world where big gestures get attention, the little things can mean the most. Like when her face lights up when she sees you, or when she makes sure you're comfortable and happy. These actions might not be loud, but they're full of love.
Learn about these signs that he loves you without saying it and what they mean. Whether you're just starting a relationship or in a long one, they will help you understand the quiet but powerful ways love is expressed without using words.
27 subtle signs he loves you without saying it
How do you know if someone loves you? Learn signs that he loves you without saying it shows how he feels about you. From listening to you carefully to sharing your dreams, these signs that he loves you without saying it will make his emotions clear.
1. Prioritizing your time
Time is a valuable resource, and when someone consistently carves out moments for you, it reveals a deep commitment. Prioritizing time means not only fitting you into their busy schedule but actively creating space to nurture the relationship, reinforcing your importance in their life.
2. Remembering details
Remembering little details about your life that you may have mentioned in passing is one of the signs that he loves you without saying it. It shows his genuine interest and active listening.
It signifies that they value your conversations and find your life story intriguing enough to remember and reference later.
3. Supporting your goals
Beyond just listening, showing sincere support for your goals is also one of the signs that he loves you without saying it. It shows their investment in your well-being and happiness.
They not only care about what you're passionate about but also want to see you achieve your dreams and aspirations.
4. Active listening
Active listening involves more than hearing words; it's about understanding emotions, intentions, and the unsaid. When someone engages in active listening, they show a willingness to comprehend your feelings and perspectives, fostering a deep emotional connection.
5. Offering help
Anticipating your needs and providing assistance without being asked demonstrates their attentiveness. It's a way of saying, "I care about your well-being, and I'm here to make your life easier."
6. Physical touch
Physical touch is a powerful communicator of emotions. Subtle touches like holding hands, a gentle touch on your arm, or a playful nudge reveal a desire for physical closeness and affection.
7. Protectiveness
Displaying protective behavior stems from a sense of emotional attachment. It shows that they feel responsible for your safety and well-being and want to shield you from harm.
8. Making sacrifices
Making sacrifices for your sake indicates that they value your happiness and comfort above their own convenience. It's a selfless act that demonstrates their deep affection.
9. Consistent Communication
Maintaining consistent communication goes beyond just sending the occasional text. It involves making an effort to engage in meaningful conversations regularly. This means sharing thoughts, updates, and experiences even when you're not physically together. Consistency here demonstrates a strong desire to keep the connection alive and growing.
10. Long conversations
Engaging in lengthy, meaningful conversations showcases a strong intellectual and emotional bond. These discussions imply that you're not only comfortable with each other but that you also enjoy exploring each other's thoughts and ideas. The willingness to delve into deep topics signifies a level of trust and openness.
11. Jealousy
A hint of jealousy can arise from their attachment and fear of losing you. While excessive jealousy isn't healthy, a subtle display might reveal how much they value the connection you share.
12. Thoughtful gestures
Thoughtful gestures, no matter how small, showcase their ability to put your happiness first. These gestures could range from leaving a sweet note to surprising you with your favorite snack.
13. Including you in decisions
Seeking your input on decisions indicates that they value your opinions and want you to have a say in their life. It reflects a desire to create a partnership where choices are made together.
14. Actively engaging
Engaging in activities you enjoy, even if they aren't personally interested, shows a willingness to bridge gaps and connect on shared experiences. This indicates their commitment to your bond.
15. Respecting boundaries
Respecting your boundaries shows maturity and respect for your individuality. It means they acknowledge and honor your personal space and comfort zones.
16. Supportive during challenges
How does a man show he loves you? He stays there for you when you need him.
Being a source of support during tough times demonstrates emotional maturity and a genuine bond. Their presence in your difficult moments signifies a strong emotional connection.
17. Encouraging independence
Encouraging your independence is how a man shows love without saying it and highlights his respect for your individual growth. It shows they love you for who you are and not just as part of a couple.
18. Expressing vulnerability
Opening up about one's vulnerabilities requires a high level of trust and emotional intimacy. When they share their fears, insecurities, and innermost thoughts, they're inviting you into their inner world. This level of transparency indicates a profound connection where they feel safe being their authentic selves around you.
19. Lending an ear
We have already talked about active listening as one of the signs someone loves you dearly.
Being a trustworthy confidant speaks volumes about their role in your life. Your willingness to share your thoughts and emotions shows they've created a safe space for you.
20. Laughing together
Sharing laughter is a profound connection builder. When you laugh together, it indicates not only shared humor but also a level of comfort where you can let your guard down. Inside jokes, in particular, show an exclusive bond that only the two of you share, deepening your emotional connection.
21. Eye contact
Sustained eye contact can communicate emotions that words often can't capture. It's a form of silent communication that says, "I see you, I value you, and I'm present with you." Gazing into each other's eyes for extended periods can evoke a strong sense of intimacy and connection.
22. Taking care of you
Expressing concern for your well-being is a sign that they genuinely care about your health and happiness. It goes beyond just asking if you're okay; it's about actively making sure you're comfortable and content in various aspects of your life.
23. Respecting differences
Respecting each other's differences and handling disagreements maturely highlights the depth of your emotional connection. It shows an understanding that love doesn't mean uniformity; it means appreciating and embracing each other's individuality.
24. Shared future plans
Talking about future plans that involve you signifies a long-term perspective and one of the signs of man in love. It's a clear indication that they see you as a part of their future journey and want to share experiences together.
25. Making time for you
In our fast-paced world, dedicating quality time to someone is a rare and precious gift. When they consistently make time for you, it reveals their commitment to nurturing the relationship and creating lasting memories together. This act of prioritization speaks volumes about their feelings for you.
26. Celebrating achievements
Celebrating your achievements signifies their joy in your accomplishments and is one of the ways guys show they like you without saying it. Their happiness for your success reinforces their investment in your happiness.
27. Introducing to others
Introducing you to friends and family is a significant step that indicates they consider you an integral part of their life.
It's a way of integrating you into their world and acknowledging your importance. At its core, introducing you to their inner circle represents an invitation to share in their most cherished connections.
Commonly asked question
Curious about his feelings? Check these usual questions on signs that he loves you without saying it and the subtle cues you can read about his gestures. From communication to gestures, understand the unspoken language of affection:
What makes a person shy away from expressing their love verbally?
Some people may find it hard to say "I love you" because they fear rejection, vulnerability, or commitment.
They may also have trouble identifying and describing their emotions, or they may have had negative experiences with expressing love in the past. Some people may prefer to show their love through actions rather than words.
Learn the simple way to help men express their feelings. See how we can make it effortless for them to open up to us emotionally:
Can a person's actions speak louder than words when it comes to love?
Yes, sometimes a person's actions can convey more truth and sincerity than their words. For example, a person may say they love you, but their actions may contradict their words, such as lying, cheating, or neglecting you.
On the other hand, a person may not say they love you often, but their actions may show it, such as doing nice things for you, listening to you attentively, or supporting you in difficult times.
What role do body language and non-verbal cues play in conveying love?
Body language and non-verbal cues are important ways of communicating and understanding emotions, especially love.
They can reveal how a person feels about you, even if they don't say it verbally. For instance, eye contact, smiling, touching, hugging, and kissing are some of the signs that a person is interested in you and cares for you.
Body language and non-verbal cues can also enhance intimacy and connection between partners.
How does someone's behavior change when they have strong feelings of love for you?
When someone has strong feelings of love for you, their behavior may change in several ways. They may become more attentive, affectionate, and generous towards you. They may also become more protective, supportive, and loyal to you.
They may want to spend more time with you and share their thoughts and feelings with you. They may also show signs of jealousy or insecurity if they feel threatened by someone else
Is spending quality time together a sign of someone's affection and love for you?
Yes, spending quality time together is one of the ways to express love and affection. Quality time means giving your undivided attention to your partner and doing things that make them happy. It shows that you value them and enjoy their company.
Quality time can also strengthen your bond and improve your communication. It can be as simple as having a meaningful conversation, watching a movie together, or going for a walk
Love is to be felt more than heard
Recognizing subtle signs that he loves you without saying it is crucial in any relationship. It allows for a deeper understanding of our partner's feelings and can foster a stronger and more meaningful connection.
By paying attention to small gestures and behaviors, we can gain valuable insight into our partner's emotions and intentions.
These subtle signs that he loves you without saying it may include acts of kindness, thoughtful gestures, and prioritizing our well-being. It is important to remember that love is not always expressed through grand gestures or verbal declarations.
Sometimes, it is the subtle actions and behaviors that speak volumes about someone's love for us. Understanding and interpreting the subtle signs of love can greatly enhance our relationships and bring us closer to our partners.
Share this article on
Want to have a happier, healthier marriage?
If you feel disconnected or frustrated about the state of your marriage but want to avoid separation and/or divorce, the marriage.com course meant for married couples is an excellent resource to help you overcome the most challenging aspects of being married.
Learn More On This Topic
You May Also Like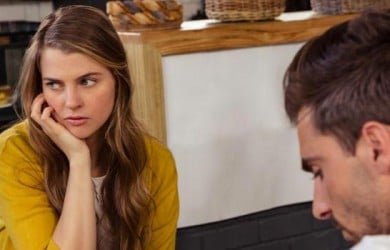 Popular Topics On Married Life