16 Reasons Online Dating Might Not Be for You
The thought of scrolling through profiles and swiping right on desirables while sitting on your couch does sound enticing. And whether you are newly single or have been struggling to date for long, online dating is an option you must have considered.
With time and a change in societal perception, online dating holds almost no stigma and is a valid choice when it comes to dating. From one-night-stands, casual hookups to dating, relationships and even marriages, online dating is strengthening its roots in the world of courtship.
However, there are reasons why looking for a relationship online is a bad idea for some. So, before you nosedive into the pool of online dating, it would be a good idea to know the positive and negative sides of online dating.
The ugly truth about online dating
1. Too many types
A lot of people on online dating sites don't positively know what they're looking for. The fast-paced and aloof nature of online dating magnifies this inevitability tenfold. Along with that, many people are simply searching for casual sex despite their profile claiming otherwise.
2. A sea of bad decisions
It's predicted that by 2040, 70% of us will have met our significant other online. With a variety of dating apps available at your disposal, the realm of choices widens every single day. Many of us simply download all the dating apps and fall down a rabbit hole of scrolling through profile after profile.
3. Reality vs online
With a sort of a divide, a partition if you will, between the real world and the internet; the impossible seems possible.
This results in us swiping right on anyone who strikes our fancy or daredevil decisions. We summon less cognitively taxing decision-making approaches when choosing from an array than when we choose in real life.
4. A galore of friends
The whole point of online dating is the buzz-inducing factor of meeting new people that you otherwise, in your mundane life would not me. According to a 2,373-person survey, more 18- to 34-year-olds met their current significant others through mutual friends than through any other means, including dating apps.
5. Introverts, extroverts, and ambiverts
Online dating aids introverts, busy bees and lonely people in finding what they are seeking.
People whose social lives don't extend much beyond the workplace, find online dating hugely beneficial for them. They go outside their immediate circle and attempt to meet new people.
6. A familiar dating pool
People with a large group of friends and acquaintances, online dating may be redundant.
Having a large social circle increases the likelihood of meeting new people through friends. Most people meet their significant others through mutual friends. And a strong base of mutual friends leads to a better quality of dating experiences and relationships.
7. The mystery can be frustrating
When we meet someone new in person, we gather a lot of subtle information along with the obvious that helps us create an impression of that person.
Body language, gestures, speech, appearance, and even style can say a lot about a person. As humans, we are extremely intuitive and this helps us recognize the vibe of an individual.
8. Lack of information
The more information with which we are presented, the easier it becomes to form impressions of others.
However, online dating profiles present us with only superficial information about our potential matches. This means that we are not being presented with the individual as a whole.
9. Fake profiles are abundant
An approximated one of every 10 dating profiles online is fake.
According to the FBI, more than $50 million is lost to romance scams annually. One dating app reportedly deletes more than 600 fake accounts per day.
10. Scroll, swipe, chat and fizzle
As it is with the majority of online dating apps and websites, people match and then engage in chatting before setting up a date.
Since there are a lot of online dating options and millions of profiles to choose from, people end up matching with more than needed. This leads to a brief chat, some flirting and then the connection fizzles out.
11. Conversations become stagnant
If you are someone who relies on conversations to further cement the bond, this might disappoint you a lot.
Both the individuals get a chance to evaluate, understand and gauge the other. This is an example of the fast-paced, ever-changing world and a generation of people who expect things to proceed at a lightning speed.
12. Busy schedules and time constraints
If you are one of those people who end up working even on the weekends or bring work home every single time, online dating might not be for you. An individual who has a tight schedule, other commitments and zero time for themselves may find online dating a bit too much.
13. Tasks time consuming rather than fun
For online dating, one needs to spend time scrolling, reading bios, assessing profiles and then engaging in conversations via texts or calls.
This might seem like a tedious process for those who count every minute. Here, you're basically sifting through a remarkably large pool for one special person. It can be time-consuming and emotionally exhausting.
14. Rejection and its effect on self-esteem
If you struggle with self-esteem and self-confidence issues, online dating will drain you completely.
Many of us struggle from social anxiety, appearance concerns and a lot more which hampers our self-esteem. With the focus, willingly or unwillingly, on looks, appearance, and physical attractiveness, rejection and disappointment are rampant.
15. Bring on your A-game
If the idea of "playing the game" makes you sick to your stomach, online dating might not be for you.
In a world that enjoys playing tricks and games and hold their card close to their hearts; online dating has become an exciting, thrilling game. Many on these dating sites seek joy in being mysterious, tweaking the truth or lying through the teeth.
16. Holding back a little
The key to being victorious at online dating is playing the game and not seeming too needy or making yourself appear popular in demand.
In a generation afraid of emotions and feelings, if you let people on Tinder or Grindr know your true feelings, you might just scare them off with your intensity.
It's estimated that there are nearly 8,000 dating sites worldwide.
These include Match, Bumble, Tinder and even Bristlr, a dating site for beard lovers. And people from all around the world are participating in this unique experience. The key is to confirm what you are specifically looking for and whether you fit into this category of online dating enthusiasts.
Share this article on
Want to have a happier, healthier marriage?
If you feel disconnected or frustrated about the state of your marriage but want to avoid separation and/or divorce, the marriage.com course meant for married couples is an excellent resource to help you overcome the most challenging aspects of being married.
Learn More On This Topic
You May Also Like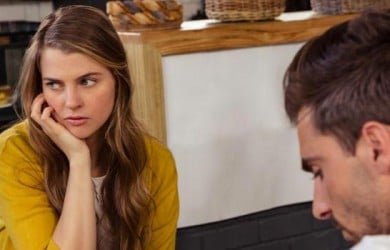 Popular Topics On Married Life