The 4 Steps to Conscious Online Dating
We all want to find that soul-stirring partner to spend our lives with.
A partner with whom we can grow old, whom we can turn to after a hard day at work, who is not only our lover but our deepest, most intimate companion.
However, it seems to be more and more difficult to find this kind of relationship lately, due to recent tendencies and trends in the dating industry.
To say the least, many people feel frustrated and let down, instead of thrilled and in love and hopelessly wonder, how to survive online dating.
Modern dating makes singles feel like a product—if the wrapping is not what someone is looking for, you run the risk of being one finger-swipe away from oblivion.
Online dating feels like a boxing match in the twelfth round, trying to keep up with the punches and catching your breath while you're getting continuously slapped in the face with useless tips and tricks for finding that sexy keeper.
In this fight for love, you are bound to come painfully close to sacrificing who you truly are just to get the attention of someone you deem worthy with an alluring Facetuned profile photo.
In the online dating world, people often fail to connect in a meaningful and lasting way with a potential partner because the focus is on standing out.
You must be noticed to even have a chance at finding true love on the Internet, so people regularly compromise themselves or create false identities to become more marketable now that everyone has a personal brand (thanks to social media).
It's time to uplevel your dating skills and become a mindful dater, so that you can create a conscious, loving relationship with a partner.
Tips for conscious dating
Here are some conscious online dating tips to help you date more mindfully.
Conscious online dating is all about attracting potential partners who are in alignment with your most solid and genuine self.
Conscious dating commands and appreciates you as an individual being and offers you an emotionally healthy way to attract and find love.
4 conscious dating steps to screen in your soulmate
1. Know the puzzle piece you are and love it
When you know your quirks, strengths, weaknesses, triggers, dreams, and desires, then you also know what you need in a potential partner.
It's all about sanding the edges of your own puzzle piece in order to find the part that matches you perfectly.
It's as simple as that, right?
Not always. Getting to know yourself requires some deep soul-searching and self-analysis. And a healthy dose of self-love.
When you know and love yourself, it means you accept yourself, shadow parts included. Your body, mind, and heart have gotten you to where you are now and should be loved and respected for exactly that.
When you know yourself and love the full range of your radiant being, you will make different choices, creating a shift in the people and the situations you attract.
To receive healthy, true, and lasting love, you must first show it to yourself. This doesn't mean you think that you're perfect. It means that you can love yourself through your imperfections, while staying on the path of growth.
This will help you show up as your true self both in conscious online dating world and in real world dates, which can increase the quality of your connections.
2. Ditch the masks and show your true colors
It is time to throw away your guise and show your most authentic self; to ditch every superficial illusion you might have created to attract potential partners.
Have you ever kept your opinion to yourself on a date? Or even pretended to be interested in something your date was excited about even though you didn't actually feel that way?
This is completely normal!
Most people put politeness ahead of connection. If you think it's rude to share your opinion on something your date is excited about, you're likely to hold your tongue.
The problem is this can make your date think you're someone you're not.
Your date needs to meet the real you. Authenticity should be your first concern in conscious online dating! That's how you attract someone that matches your puzzle piece.
3. Recognize your worth and commit to your standards
When you can acknowledge and identify clear values that are important to you, you will improve your self-worth and self-expression.
Self-worth is born from the congruency between your values and your deeds. You have to look into your values and adapt your actions to them on a daily basis.
When it comes to conscious online dating though, many people settle for things or situations that offer no happiness whatsoever, up to a point that it even hurts. And dating becomes an act of self-flagellation.
By committing yourself to only those things that are important to you, you naturally let go of people and situations that turn you away from who you truly are.
If it no longer feels right, quit partaking in it.
4. Practice alignment and respect yourself
Self-respect means that you don't put your longing for a relationship above tuning into your own heart, body, mind, and spirit.
One of the ways to make online dating sites work for you is by aligning yourself with your feelings, the sensations of your body, your thoughts, and the messages you might receive from life itself.
You are a sacred and sensual being. Start seeing yourself that way! Do not degrade yourself or suppress your feelings to be liked by others.
When you respect yourself, you will attract someone who respects you too. It's a universal law: as within so without.
In the arena of conscious online dating it looks like:
– Saying no when you don't feel aligned with something
– Sharing things that are important to you
– Thinking before you act to see if what you want to do is in alignment with your values and self-worth
– Honoring the differences between you and the wishlist your date made for their ideal partner before they met you
When you respect yourself, you are able to make aligned and mature choices about who you let in your heart.
Likewise, you're able to show your potential partner who you really are, so you can see if there's truly a match there.
Conscious online dating can make you feel you're only as worthy as the amount of swipe rights you get in a week, but when you make a commitment to strengthen your dating skills and engage in conscious online dating, the process of finding a match changes drastically.
It's from this space that you can cultivate the loving, romantic relationship that you've been dreaming about. It's not a fairytale. It's a dedication to conscious online dating.
Share this article on
Want to have a happier, healthier marriage?
If you feel disconnected or frustrated about the state of your marriage but want to avoid separation and/or divorce, the marriage.com course meant for married couples is an excellent resource to help you overcome the most challenging aspects of being married.
Learn More On This Topic
You May Also Like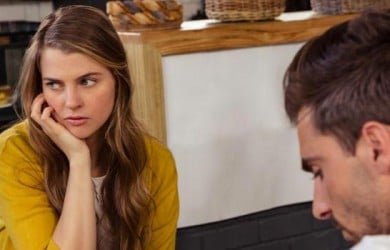 Popular Topics On Married Life