9 Reasons Single Moms Shouldn't Be Afraid of Online Dating
Whenever a long-term, committed relationship ends, it can be very jarring, especially on the emotional front. And if you have kids, this just gets ten times harder.
But children don't stay small forever. As they grow, you as a single mom would start to find enough time to be on your own, and you may slowly start craving that intimacy you once had. Being single for long with children can be difficult, yes, but it also comes with way too many inhibitions as you try to start dating again. "I haven't even talked to another man in 8 years!" is just one of the most common things your mind is going to remind you of, but, it doesn't have to be like that. So, is dating hard for single moms?
For those who want to navigate online dating, and are asking, how do single moms start dating, here's the right help along with key online dating tips.
First, here are 9 reasons why you shouldn't be afraid of online dating
1. You have already been through it
Why most single moms don't date? They are apprehensive that marriage, babies, and separation have left them jaded.
But the truth is having lived a life where you had to deal with marriage, babies and then separation, you're a veteran. You're no longer looking for a man to settle or seeking that perfect Y chromosome to your X chromosome. You just want some fun, and online dating is perfect for you since you're not seeking for permanence, you're not going to every date ticking off that mental checklist for a partner anymore.
2. You are kinder to yourself
A divorce can cause pain but it also teaches you the power of forgiveness. You learn to be kind as you find yourself slowly forgiving your ex, his parents or yours and so on. Time moves on and you become empathetic and you understand other's perspectives better. This gives you a certain kind of confidence and personality that will surely attract the right guy for you.
3. You have become the woman you're meant to be
Speaking about confidence—emerging out of the fire that was the mess in your life, you learn more about yourself and you change into the best version of yourself eventually.
You have seen the worst and you have been through the absolute worst outcome of a relationship there is. This too adds to your personality and who doesn't like a person who is unpretentious, aware of themselves and knows what they are not?
One of the online dating tips is to remember it is a lot about that first impression, so don't forget to put the best version of yourself out there!
4. You are so much sexier than you were ever before
You have been through a lot, both emotionally and physically. Your body has changed and so has your perspective on a lot of things. Previously, you may have been uncomfortable with wearing a tight dress or flirt, but now that you're the woman you were always meant to be, your confidence is at its peak. The whole world is your oyster and as Shakira said, don't let the she-wolf hide in the closet!
Wearing your confidence as an accessory is one of the best online dating tips!
5. You are less vulnerable to wasting your time on the wrong man
Since you have already been through a relationship, you know instinctively what the wrong guy looks like. You just know what a certain sentence or gesture means—you probably have a Ph.D. in minute gestures by now. You won't be tearing your hair out if he ignores you, you will simply move on to the next one and just one man ghosting you will mean nothing to you. This keeps you safe and makes sure you are not wasting time on the wrong guy.
6. You don't have to do everything on your own
Your children are the apple of your eye but heading back into the dating world means you will have to spend plenty of time outside leaving your babies unsupervised. You may want to be a hands-on parent, but sometimes it is better for you (and them) if you step back and seek some help.
One of the crucial online dating tips is to ask your trusted friend, neighbor or someone from your family to babysit them every now and then. Take some time for yourself, your children won't hate you for it.
7. You accept your body
Giving birth and post-natal life changes your body forever. There are stretch marks, maybe scars if you didn't have a normal delivery and you may find yourself unable to fit into the size of the jeans you wore in college. Yet, you know you look better than ever before and you accept all the flaws the world tells you to hide—you're proud of them and you have accepted them and this confidence in yourself makes you sexy.
So don't be afraid and post your best selfie on your dating app profile today!
8. You can always be honest
You are a full-time mother and you have work, and a whole other life to lead. You don't have time for a whole lot of shenanigans that come with dating, so you can be brazenly honest about yourself and your life.
So don't be afraid, to be honest on your profile—mention the fact that you are a single parent and that you have children who come before anyone else. You don't have to lie to be attractive to anyone else, and who knows, you might even match with a single dad who is perhaps looking for the same things as you are!
9. You don't have to give up that soon
Lastly, be patient.
There will be too many men who will run in the opposite direction the moment they learn you are a single mother and it can be disappointing and frustrating at times. But that doesn't mean you won't find a diamond in the rough, so don't give up so easily. You may find someone just right for you and your life if you only keep looking.
Also, it is important you follow online dating safety tips for single moms like creating a separate screen name in your dating profiles, trusting your instincts and leaving the conversation if it makes you feel uncomfortable, and scheduling dates in a populated area, avoiding isolated places altogether. As much as it is exciting to dive into the world of online dating, do not send sexual images to people you have just begun to chat with.
Jumping into the world of online dating as a single mom can be difficult since there are other people (i.e., your little ones) to think about, your own safety to worry about and you know your time is valuable.
However, it is extremely fun if you don't take everything too personally or jeopardize your integrity. Online dating apps can be an amazing way to meet new people because you're otherwise busy with your kids and work! Lastly, remember this important online dating tip: you have emerged intact in the aftermath of your last relationship, so you can totally do this.
Share this article on
Want to have a happier, healthier marriage?
If you feel disconnected or frustrated about the state of your marriage but want to avoid separation and/or divorce, the marriage.com course meant for married couples is an excellent resource to help you overcome the most challenging aspects of being married.
More On This Topic
You May Also Like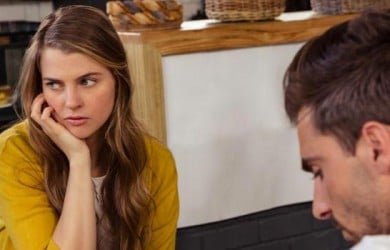 Popular Topics On Married Life