Signs of Post-Traumatic Stress Disorder in Children
PTSD is a mental health problem that develops in people who have been victims of violence, injury, or harm in the past. PTSD tends to grow in the first few weeks after the trauma has occurred, but it can occur years later.
The trauma is relived by the patients in the form of flashbacks of the event itself, manifesting in the form of nightmares and traumatic memories. These may be triggered by the objects that remind them of the event itself, or events similar to what they faced.
With the help of the proper therapy, people who have PTSD can come to terms with what happened to them. This way, they can lead a healthy life once more despite the horrors they faced in their past.
PTSD can affect people of all age groups. However, post-traumatic stress disorder in children needs special attention as this can impact a lifetime if not treated on time. A PTSD child can have scary and traumatizing thoughts, nightmares, and anxiety due to unpleasant events from the past.
Post-traumatic stress disorder in children can be followed by anxiety, depression, substance abuse, etc.
Events which can cause PTSD
There are several causes of post-traumatic stress disorder in children. Any physical and mental trauma can lead to a person's mind being fractured.
The unexpected death of a close family member, harm to oneself, or injury to a dear loved one can bring on post-traumatic stress disorder in children.
A few causes of PTSD in children afterward are as follows:
Sexual Abuse
Fire
Shootings/Bombings/War
Natural Disasters
Car Crashes
Surviving a trauma; survivors guilt
Signs and symptoms of PTSD
What are the symptoms of PTSD?
Post-traumatic stress disorder in children has several symptoms. Stress, depression, etc. are one of the many PTSD symptoms in children that can point a finger towards the underlying problem. Some of the post-traumatic stress disorder symptoms are given as follows:
Nightmares

An incomplete recollection of the trauma

Nervousness

Fear and jumpiness in case that event is mentioned

Avoiding places or people connected with that event

Negative Mood

Lack of interest in any activity

Intrusive thoughts or memories of the event

Self-blame

Feelings of shame, guilt, and anger

Lack of positive emotions

Trouble sleeping

Eating disorders
These signs of PTSD in children may start showing a few days after the event itself or may appear after a long time has passed. If some event triggers the memory, that past trauma, the symptoms, and signs may start showing because of that. Usually, anniversaries of such events cause of trigger to the bad memories, occurring as the signs of childhood trauma
Most often than not, we miss or disregard these signs and symptoms as strange behavior on the part of children.
Friends, family members, or school teachers who know the child well enough can play a very significant part in recognizing these symptoms and getting the proper help required.
Is PTSD a mental illness? What are PTSD coping skills?
PTSD is a mental health condition or a psychiatric disorder that can pose long term chronic illness. It can lead to trauma and a lot of factors as aforementioned can cause the same.
Can bullying cause PTSD?
Yes, bullying can have a negative impact on the child's brain and cause withdrawal symptoms. However, there are ways of dealing with post-traumatic stress disorder in children. Know some of them below:
Engage in physical activities
Exercise and engagement can help achieve a focused mind. There's no denying the fact that physical and emotional health are related. Therefore, a healthy body can lead to a healthy mind.
Reduce PTSD signs and symptoms in children with the help of art therapy. Art therapy is a form of creative expression that helps achieve a peaceful state of mind. It helps gain insight and develop a calm sense of self.
Pets decrease boredom and provide care and comfort. Pet therapy or animal-assisted therapy is a structured field with animal-assisted activities. It helps lessen depression, cope up better with health problems, and nurture empathy.
The best treatment of PTSD is having the support of friends and family. PTSD childhood trauma can be rapidly curbed if children have someone to talk to them and understand their problems, no matter how menial they are.
Emotional validation goes a long way in helping someone recover from PTSD.
Treatment of post-traumatic stress disorder in children
Many people go through a traumatic event and do not develop PTSD. The development of PTSD and its severity is directly linked with certain things like family history, the nature of the trauma, personality of the child, etc.
Most often, people tend to recover from post-traumatic stress after some amount of time has passed.
But if your child has suffered from trauma, and you see the symptoms of PTSD lasting for more than a month, it's time to get professional help for your child from an expert.
Many recover from a traumatic event after some adjustment. But if your child or teen has experienced a traumatic event and shows symptoms of PTSD for over a month, get help from an expert.
With the help of therapy, patients suffering from PTSD can once again start living a normal, stress-free life.
In the video below, Julia Torres Barden talks about her trauma exposure being high during childhood and how she converted her trauma into extraordinary bravery through therapy. Listen to her experience below:
Psychologists, Psychiatrists, and Professional counselors can use cognitive behavioral therapy in children suffering from PTSD.
Play therapy is also used to help the children become less sensitive towards the trauma and get used to the trauma that took place.
If the symptoms are severe, medicine might be used to treat those symptoms like anxiety and depression.
Share this article on
Want to have a happier, healthier marriage?
If you feel disconnected or frustrated about the state of your marriage but want to avoid separation and/or divorce, the marriage.com course meant for married couples is an excellent resource to help you overcome the most challenging aspects of being married.
Learn More On This Topic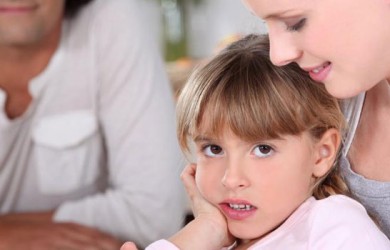 You May Also Like