What Is Hyper Independence in a Relationship? Signs & Solutions
In some cases, a person may be hyper independent and not know it. They may have this personality trait for a number of reasons, and it might affect different aspects of their life.
Keep reading to learn more about hyper independence and ways to lessen it if it affects you.
What is hyper independence in relationships?
If you are wondering about the hyper independence meaning, it indicates that a person is unable to ask for help and chooses to do everything themselves, even if they have trouble doing so.
Perhaps your partner doesn't talk about their feelings or ask you for help. If so, then you may be familiar with this type of independence.
When this type of individual is in a relationship, it could mean that they may have difficulty trusting others or leaning on them, which can lead to problems within platonic and romantic relationships.
10 signs of hyper independence in a relationship
Here are some signs to look for if you feel like you or your partner have a hyper independence attitude in your relationship.
1. They're a loner
If your partner is a loner who doesn't talk to others much and doesn't worry about what other people do or think about them, chances are they are ultra-independent. This may have been with them since they were a child or due to a traumatic event they were exposed to.
2. They don't ask for help
Have you ever noticed that your mate never asks you for help, even for simple tasks? This is another sign that they may have this type of independence. It may make more sense to them to do everything themselves, even if it is difficult to accomplish alone.
3. They do most of the work
The division of chores in the household may be skewed, where you aren't responsible for doing much. This could be because you live with a hyper independent woman or man. This person may prefer to handle certain jobs so they will be sure that it is done the way they want it done.
4. They don't mind doing the work
In many cases, a hyper independent person doesn't mind doing the work they do, even if they do almost everything themselves.
Hyper independent people have a hard time trusting others and asking for help, so it seems easier to them to accomplish everything without the aid of other people. They may feel they don't have anyone to count on besides themselves.
5. They often meet the mark
Even though they may decide that they are going to do all the work or chores, they will accomplish their goals almost every time. Some people may only stop working once they meet their goals, no matter how much time it takes or how worn out they feel.
6. They don't lean on people
Someone with hyper independence will likely be unable to lean on people for help or support.
Of course, they may be able to rely on people after they create trust with certain friends and family members, but it could take years for them to feel comfortable enough to talk to them or ask them for advice or help.
7. They are quiet and reserved
You may notice that your partner doesn't often talk. They may guard their thoughts and feelings, even from people that they care about. This can change after a while, but it is also something that hyper independent people may do to protect themselves.
8. They become stressed often
Considering that they may be doing a lot of work without stopping, this can often lead to a person becoming stressed or burned out. If you notice this is happening to your mate, be as supportive as possible and help them if you can.
Another reason they may become stressed is due to being hypervigilant, which can be stressful and may play a role in other health issues.
9. They don't have many close friends
A person who has a great amount of independence won't trust many people. They will have a small circle of friends and family that they interact with. This is likely an attempt to protect themselves and their feelings so they don't become hurt or betrayed.
10. They avoid certain types of people
Something else that might become obvious is that a person who is ultra-independent may stay away from certain types of people. For example, if a person loves drama or needs a lot from a relationship, they will likely steer clear of this.
How is hyper independence a trauma response
You may experience a hyper independence trauma response if your caregiver or parent could not give you consistency with your care when you were a child.
In other words, if your needs weren't provided for in the same manner and efficiently, this could cause you to be distrustful of your parents. This is related to attachment theory, which suggests that how you attach to your first caregiver will influence traits that become a part of your personality.
You may also experience this independence if exposed to trauma or a large amount of stress throughout your life. Trauma may have a lasting effect if it isn't treated and could lead to mental health conditions in some cases.
7 tips to stop being overly independent in relationships
It may make dating or relationships challenging if you feel like you have the symptoms of hyper independence. This is to be expected, but there are things that you can do to alleviate some of the burden. Here are a few tips to consider.
1. Learn to ask for help
If you know that you have difficulty asking for help, try your best to work on this aspect of your personality.
One way you can do this is to ask someone to help you do something small. If they can assist you in a small way, you may understand that you can ask for help on something bigger. It is okay to take small steps when you are learning to ask for help.
On the other hand, if you ask for help with something small and are let down, do your best to understand that this doesn't mean that everyone will let you down. Keep trying and someone may surprise you.
2. Try to lean on someone
Similarly, if you don't normally lean on others, it may be time to do so. Think about if any people in your life try to be there for you, even if you have shut them out in the past.
If you are in a relationship, you may want to lean on your partner when you need help or advice. They might be waiting for the right opportunity to show you how much they care and that you can lean on them. Give them a chance when you feel comfortable doing so.
For more information on trust in a relationship, watch this video:
3. Let another person help you
It may make sense to you to keep to yourself, even if you are having trouble completing something on time. If this is the case, let someone help you.
Consider letting a co-worker or friend take a task off your hands and see how they handle it. They can provide you with much-needed help, where you can concentrate on tasks that are more important to you.
4. Find people to trust
When you don't know who you can trust or you don't have others by your side, it is okay to try to find people to put your trust in. This can be a friend, a family member, or a work associate.
If you put yourself out there and talk to someone, you may find that they are willing to be a friend to you and a person that you can trust. Again, it is okay to take this process slowly, especially if you haven't trusted anyone in some time.
5. Talk to a therapist
You can work with a therapist anytime for further assistance in learning to lean on people and trust others.
A professional should be able to help you learn more about how to accomplish these things. They can offer a hyper independence test to measure if you are experiencing trauma or another mental health concern.
For some, ultra independence is a trauma response, meaning it may require treatment from a therapist, in order for a person to be able to make changes. Keep this in mind if you feel like you are very independent.
6. Don't try to do everything
When you are trying to change how independent you are, it is necessary to make sure that you aren't trying to do everything.
Once you have started to trust people and build relationships with others, you should find that you don't have to finish all tasks by yourself. You can ask for help with chores or small things until it is easier to share the load.
Besides that, you may start to notice that some things you do are causing you to become stressed. You should limit doing these things.
7. Take it one day at a time
It can be difficult to trust others and let them in. Even if you want to talk to a loved one about your feelings, you might think that it isn't worth it or that you can't trust them. However, you owe it to yourself to try.
Of course, you should remember that you don't have to do these things overnight. It is okay to do things slowly and take it a day at a time. Some days may be harder than others and this is something that is okay as well.
Treatment for hyper independence
Once you are ready to seek help for ultra independence, you can reach out to a therapist for expert advice and techniques. They will likely be able to offer you resources you cannot get elsewhere.
If you are hesitant to trust a therapist, meeting with them and asking them questions is okay until you feel comfortable talking to a specific professional.
When you work with a therapist to treat hyper independence trauma, you may need treatment for PTSD or post-traumatic stress disorder. Additionally, an individual might experience symptoms of anxiety or depression when they are hyper independent.
Keep in mind that anytime you feel like you need help with your mental health, support is available. Feel free to contact a mental health professional or search online for help.
In a nutshell
If you are a person that experiences symptoms of hyper independence, it may be hard for you to trust others and let your guard down. While this can work for you to an extent, you may wish you had help or could talk to a trustworthy individual.
This is why you owe it to yourself to trust others and ask for help if you are in a position to do so.
You can also work with a therapist to ease you into the process of doing this, and they may be able to provide a proper treatment plan for the underlying cause of this independence, whether it was past trauma or something else.
Remember to do your best and hang in there, especially if there are people you would like to trust and need help with. Strengthening these friendships and relationships is likely worthwhile and can help you build your support system.
Share this article on
Want to have a happier, healthier marriage?
If you feel disconnected or frustrated about the state of your marriage but want to avoid separation and/or divorce, the marriage.com course meant for married couples is an excellent resource to help you overcome the most challenging aspects of being married.
More On This Topic
You May Also Like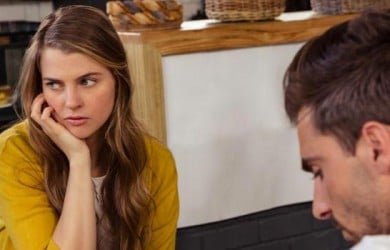 Popular Topics On Married Life